Sports Medicine
Whether you're a competitive athlete or a weekend warrior, trust Genesis Orthopedic Sports Medicine for expert medical care after an injury. You'll get help safely returning to the activities you love.
Our team includes orthopedic sports medicine surgeons, a physical medicine and rehab/sports medicine-trained physician, physician assistants, athletic trainers and caring staff. From diagnosis to surgery to rehab, our skilled and experienced providers are dedicated to getting you back in the game.
Conditions we treat
Turn to Genesis' specialists to find the full spectrum of services and treatments, including orthopedic surgery, for sports-related injuries such as:
Achilles tendon tear or inflammation
ACL tear
Bursitis
Concussions
Dislocations
Fractures (broken bones)
Meniscus tear
Pulled muscles
Rotator cuff injury
Shin splints
Sprains and strains
Tendonitis
Tennis elbow
Supporting our community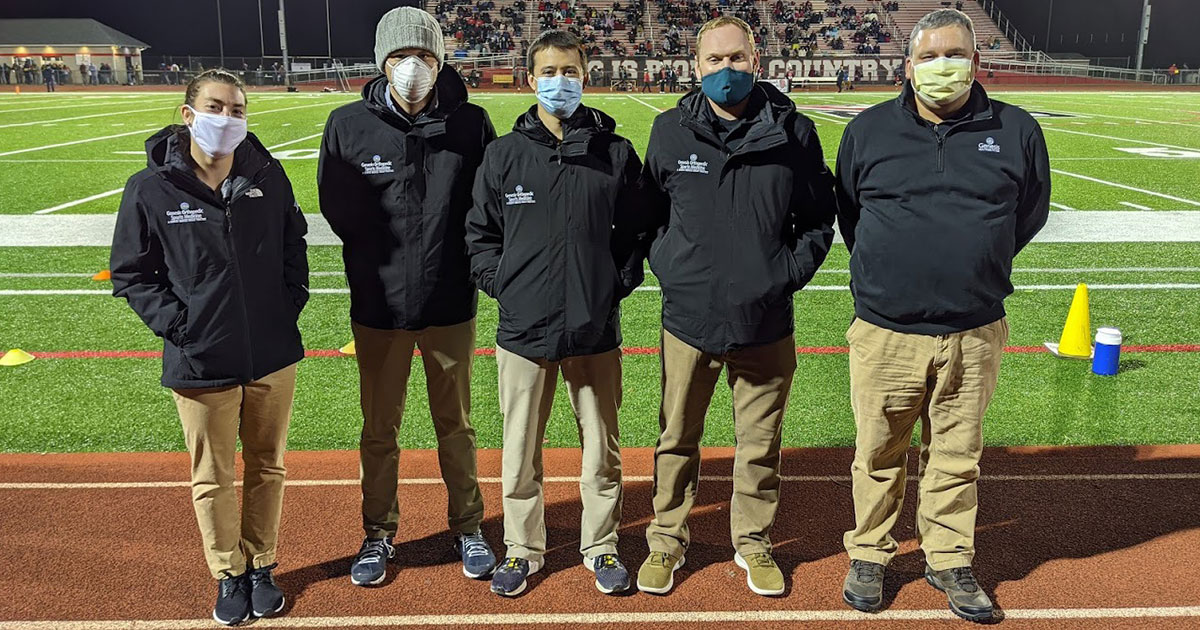 The Genesis Orthopedic Sports Medicine team supports our community's student athletes and sports programs. You will see them on the sidelines at games where they are not only tending to athletes' medical needs but cheering on all the student athletes. 
Each year, the team provides free sports physicals to student athletes, providing this state requirement to participate in sports to all who need it.
The Genesis Orthopedic Sports Medicine team also works with area schools to provide sports medicine and athletic trainer services.
Updates from the Sounds of Good Health with Genesis Podcast:
"When to Take Your Child to the Ortho Clinic" - Orthopedic surgeon, Dr. Brenton Bohlig, helps parents and guardians know when it's time to visit the orthopedic walk-in clinic for those sports-related injuries. Listen Here.

"How to Avoid Getting Sidelined with a Knee Injury" - Hear orthopedic and sports medicine Dr. Matthew Craig share ways to prevent - and what to do - with knee ligament injuries. Listen Here.

"Knee Pain, What Can It Be?" - We all feel a tweak in our knee from time to time, or our knee catches. Is it normal, or the start of something long-lasting? Listen Here as Corey Jackson, D.O., an orthopedic surgeon with the Genesis Orthopedic Group, shares his expertise on the subject.
Need help with concussion management or testing?
After a concussion, a type of traumatic brain injury, the experts with Genesis Rehabilitation Services can help you or your child safely return to athletic activities.
Sports medicine training programs
If you're a female athlete in middle school or above, Sportsmetrics™ can help you reduce the risk of a knee injury such as an ACL tear—which is up to 10 times as common in women as in men. During a six-week training program, you'll learn how to:
Develop overall leg strength
Perfect your jumping and landing techniques
Improve flexibility
Safely engage in high-intensity strength training
Properly perform sprinting and cutting movements
If you've already experienced a knee injury or surgery, Sportsmetrics' Return to Play program can help you safely get back to the field, court or anywhere in between.
You'll find the area's only certified Sportsmetrics trainers at Genesis Rehabilitation Services.
Improve your throwing technique and decrease your risk of injury with guidance from the Genesis Orthopedic Center. A therapist will record you on video, closely examine your throwing motion, and then develop personalized recommendations for safely enhancing your skills.
Run properly and safely with personalized advice from a certified athletic trainer. You'll learn how to improve your stride after our thorough physical assessment, computer analysis of your technique and footwear evaluation.
Ready to take the next step in your journey?
Make an appointment to see how Genesis HealthCare System can help