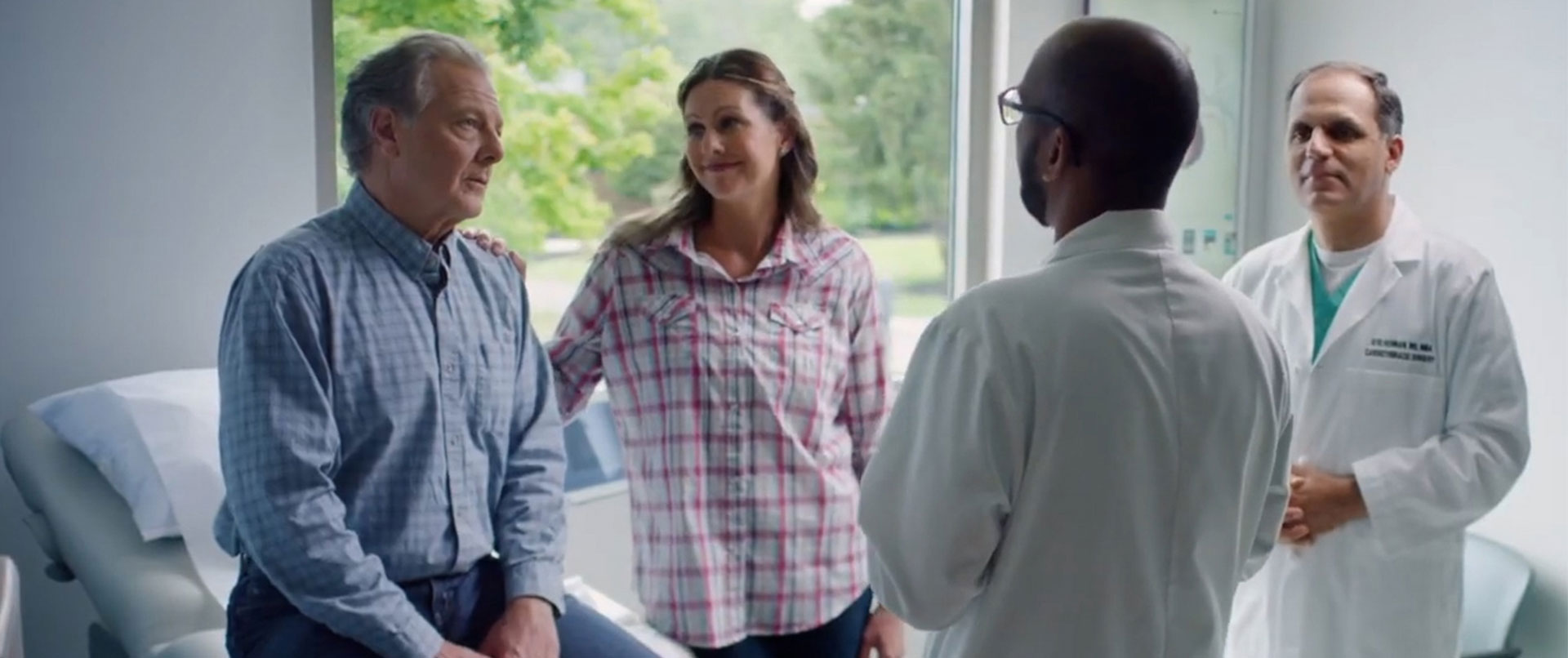 Cardiology
Throughout every aspect of our Heart & Vascular Services we strive to provide compassion, trust, dedication, innovation and excellence. From prevention through rehabilitation, Genesis provides the comprehensive heart and vascular care you deserve.
With immediate access for emergencies, expert physicians and staff, and nationally-accredited care, we're committed to providing superior outcomes and creating an outstanding experience for each and every patient and family.
Download the Heart Information You Need to Know (Infographic)
Departments
If you need heart and vascular care, there's no need to look any further than Genesis HealthCare System, where you'll find a full range of cardiovascular testing and treatment options.
Cardiothoracic Surgery
Since the inception of the Genesis open-heart surgery program in 2000, thousands of open-heart procedures have been performed with outstanding quality outcomes. The cardiothoracic and vascular surgical teams at Genesis HealthCare System perform a wide variety of complex and high-risk cardiac, thoracic and vascular procedures.
Electrophysiology
Cardiac electrophysiology involves the treatment of arrhythmias (abnormal heart rhythms) to restore a regular heartbeat. This may be done through catheter- or device-based therapies. The electrophysiology team at Genesis utilize state of the art technology to offer a wide range of treatment options to those with heart rhythm disorders.
General Cardiology
When patients experience cardiac related symptoms or conditions, general cardiology is typically one of the first specialties consulted for diagnosis and treatment. Our general cardiologists utilize the screenings and diagnostic tests available at Genesis HealthCare system to help you protect your heart and blood vessels.
Interventional Cardiology
Our board-certified interventional cardiologists have years of experience and extensive training in performing both cardiac and peripheral interventional procedures, and our quality outcomes for interventional cardiology far exceed national averages.
Structural Heart
Our structural heart program evaluates, diagnoses and treats patients with heart conditions that affect the mechanics of the heart, meaning its valves, walls and chambers. Some of these issues may have existed at birth, while others are caused by aging, injury or illness. Genesis Heart & Vascular Institute physicians treat multiple types of structural heart disease, including aortic stenosis, heart valve disease and PFO closure, performing minimally-invasive and robotic-assisted procedures that eliminate the need to open the chest during surgery.
Vascular Surgery
Our board-certified vascular surgeons lead our experienced Genesis Vascular Surgery Team. Combining their 40 years of expertise and experience they can perform a variety of procedures, including minimally invasive options, to get you back to your best health.
Clinics and specialty programs
Our specialized clinics focus on the treatment of specific disorders including congestive heart failure and pacemakers to cardiac rehab, venous disease and anticoagulation medication monitoring. Our team of cardiologists and nurses collaborate to create a treatment plan specific to each patient.
Anticoagulation Clinic
If you're on a blood-thinning medication, you know how important it is to monitor your health. The Genesis Anticoagulation Clinic can make it easier for you to do this. With your physician's referral, the clinic is your one stop for convenience in monitoring your medications and your health so you can stay healthy and active.
Congestive Heart Failure (CHF) Clinic
Congestive heart failure, also known as CHF, is a condition in which the heart does not pump as well as it should. The CHF Clinic at Genesis HealthCare System is available to patients with CHF for education, monitoring and treatment of their chronic condition.
Device Clinic
The Device Clinic at Genesis HealthCare Systems works in partnership with cardiology and electrophysiology to monitor patients with cardiac rhythm devices, from pacemakers to ICDs. We have the capability and technology to provide both in-person and remote monitoring of those devices to ensure that they are working properly and to identify any issues that may arise, allowing for prompt intervention by the physicians.
Vein Center
Genesis has a state-of-the-art vein center where physician experts take a comprehensive approach to vein care. A sign of venous disease is varicose veins. These are veins that have become enlarged and twisted and often appear as bulging, blue blood vessels that are clearly visible through the skin.
Cardiac Rehabilitation Program
The heart and vascular rehabilitation program is a safe way to bounce back after a heart attack, open-heart surgery or balloon angioplasty, or to reduce heart disease risk factors. The program combines exercise, education and support to help you restore and maintain your physical, psychological and vocational well-being.