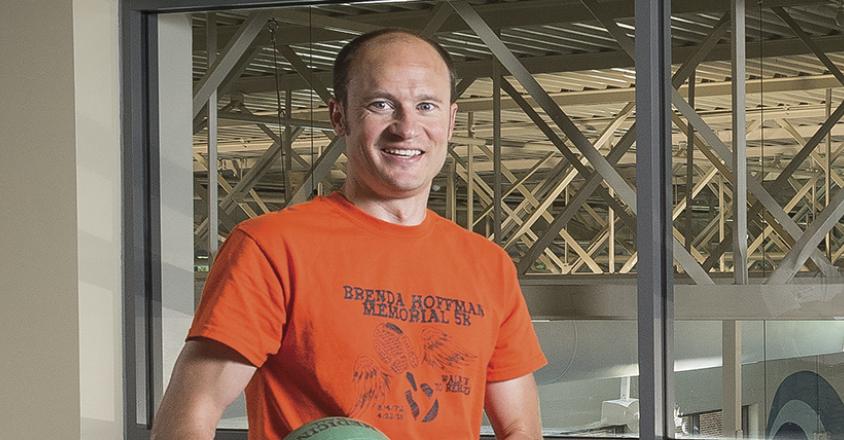 Rehab Team Helps Accident Victim on Road to Recovery
Patient required physical, speech and occupational therapy
Brad Hollingsworth and his cycling partner were riding near Zanesville when they were hit by a car. His cycling partner didn't survive, and Brad was flown by helicopter to a Level I trauma center where he spent 20 days in the hospital.
When it came time to go home, Brad had a decision to make. "They said I could continue my rehabilitation at Genesis or go someplace else. I knew I wanted to come here," Brad said. "I knew I would be treated well, and I would get the care I needed."
Broken back and traumatic brain injury survivor
When Brad first came to Genesis Rehabilitation Services, his physical therapist reviewed his medical records to develop a plan and was surprised by the severity of Brad's injuries. He had a broken back and a traumatic brain injury with more than a dozen brain bleeds. Brad was in a back brace, couldn't lift more than 15 pounds, wasn't able to drive, and his conversations were fragmented because he had problems choosing the correct word. He began physical, speech and occupational therapy three hours daily two times a week.
The caring staff at the Genesis Center for Occupational & Outpatient Rehabilitation (COOR) designed a plan to help him gain confidence and reach his goal. "The therapists tailored exercises to my injuries and the levels I wanted to achieve. They focused on what I wanted in life," Brad said.
Physical therapy is a holistic healing experience
Brad appreciated having all his therapy at one time at the same location because he and his wife have two small children. Berkeley DiNicola, MS, CCC/SLP, a speech-language pathologist at Genesis, helped Brad improve his concentration by doing complex thinking in noisy and distracting environments. "Brad was extremely motivated to do everything he could to improve his concentration in treatment sessions and at home," DiNicola said.
Less than four months after the accident, Brad began driving, running, swimming and working two days a week. "I'm very fortunate to have survived," Brad said. His cycling partner, Brenda Hoffman, who didn't survive, was a therapist at Genesis Rehabilitation Services. Along with physical healing, the therapists who worked alongside Hoffman helped Brad heal emotionally. "The therapy wasn't just a service transaction – like driving through a fast-food restaurant. It was a holistic healing experience for me. The rehabilitation staff has been a huge part of getting me where I am today."