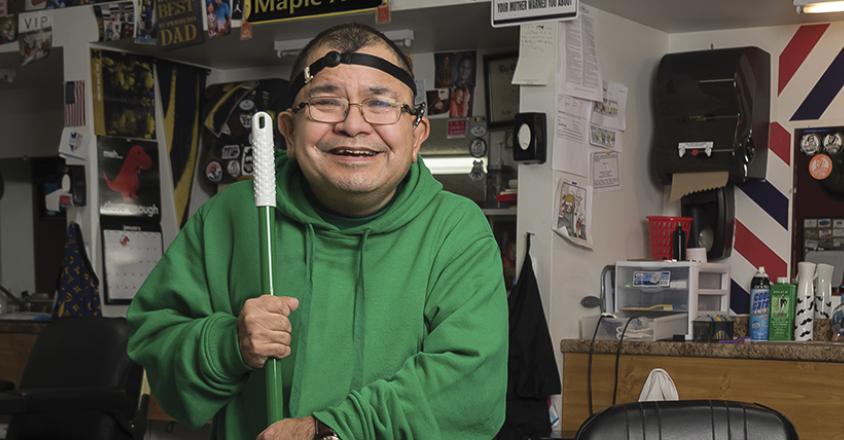 Hearing is Healing for Man with New Cochlear Implant
Monday, January 27, 2020

|

Audiology, Rehabilitation Services
Technology for those suffering with hearing loss
Jerry Nahanee, age 56, started to experience hearing loss in his late 30s. When he could no longer understand speech, he wore a hearing aid. As his hearing continued to diminish, he wore one on each ear. Over time, Jerry's speech began to slur because he couldn't hear. He compensated for his hearing loss by using closed-captioned TV, followed visual cues and was good at lip reading. However, conversation was difficult, if not impossible.
While living in Eugene, Oregon, Jerry's sister Ellen Knight, and their mother, explored a cochlear implant for Jerry. The nearest otolaryngologist (ear, nose and throat specialist) who could perform the procedure was several hours away from Eugene. Logistically, it just wasn't feasible.
In 2018 Jerry and his sister moved to Nashport to live with their aunt, Mary Norris. Jerry's hearing loss was a source of frustration for him and his family. Mary and Ellen would write notes or yell to communicate with Jerry. Since he could not hear his own voice, Jerry also yelled.
Discouraged by their effort to converse, Mary made an appointment for Jerry to see a hearing instrument specialist and were told hearing aids were not his issue. Jerry was referred to Max Pusz, M.D., otolaryngologist, Genesis ENT Group. After a series of hearing tests at Genesis Audiology, Dr. Pusz determined Jerry was a candidate for a cochlear implant, and the procedure was scheduled.
 "It's rare to have an ENT in a community the size of Zanesville be able to perform cochlear implants," Dr. Pusz said. "I'm glad we offer local access. It's so beneficial to our patients to have this surgery, and Jerry was an ideal candidate."
Genesis Audiology conducts the hearing tests leading up to a cochlear implant as well as the follow-up appointments to adjust the external device, so all the care for the cochlear implant can be provided locally.
Following the nearly two-hour surgery and monthlong healing process, Jerry had his cochlear implant activated. The change was immediate. He soon began to lower the volume of his voice on his own because for the first time in years he could hear himself.
Learning to hear again requires training our brain and ears
"We are amazed at Jerry's progress. It has made a huge difference," Ellen said. "Six weeks after surgery, Mary and I were in the front seat of the car and Jerry was in the backseat. I was talking to Mary about the Oregon Ducks and Jerry joined the conversation. I can't tell you how long it had been since he joined us in conversation. He wasn't reading our lips or looking for visual cues. He actually heard us."
The decision to have an implant includes a commitment by the patient to work at hearing. Although sound enters through the ear, it is interpreted by the brain. "The longer someone goes without sound, the more difficult it is to understand speech," explained Dr. Pusz. "With our ears, it's like a 'use it or lose it' sense. The brain must be taught the sounds again. It's not like putting on a pair of eyeglasses and being able to immediately see better."
Jerry listened to audio books and followed along so he could relearn consonant blends, like "ch" and "sh" that had become slurred over time because they were not heard. Dr. Pusz finds that the success rate of a cochlear implant is patient-dependent. Patients have a higher success rate if post-surgery therapy plans are followed. "Jerry is an extremely focused, compliant patient, which expedited his progress," said Dr. Pusz.
Reading the Bible aloud as a family every evening and helping with children's programs at his church are additional sounds of joy for Jerry. For someone who loves to be with people, hearing those he's around is the start of a new life.
When to see and ear, nose and throat specialist
An ENT is a medical ear doctor who treats more than hearing loss. Conditions such as ear pain, balance issues, ringing in the ears, vertigo or persistent ear infections can all be assessed by an ENT. Medical conditions with the nose and throat are also referred to this type of specialist. The ENT specialists are trained to perform surgery on the ears, nose and throat.
When to see an audiologist for hearing loss
Audiologists are trained professionals who test the type and amount of hearing loss. People of all ages – from infants to seniors – can get hearing tests at Genesis Audiology. They offer a wide range of services with licensed, certified staff to meet the needs of inpatients or outpatients having trouble hearing. Services include:
Newborn and infant hearing testing
Pediatric hearing evaluations
Adolescent through adult hearing evaluations
Adult hearing aid evaluations and fittings
Balance testing