Robotic-assisted surgery
Smaller incisions, faster recoveries, less scarring and shorter hospital stays.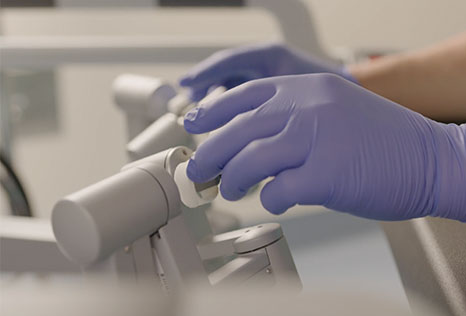 Minimally Invasive
Robotic-assisted surgery is an advanced form of minimally invasive surgery, but it is not new. It is a proven technique for reducing healing times and complications. That is why Genesis has been performing robotic-assisted surgeries for over a decade. As of August 2022, we have completed over 2,700 robotic-assisted surgeries. Our surgeons are experienced and dedicated to getting you back to your life as safe and fast as possible. 
Learn more reading the Q&As
Q.    Does the robot perform the surgery by itself?
A.     No. The robot acts as an extension of the surgeon's hands, letting them control every precise movement. 
Q.    Why is robotic-assisted surgery better?
A.    The robotic arms enable the surgeon to move instruments in ways that human hands can't and reach into smaller places. The system also provides a 3D viewing system that allows the surgeon to see more. 
Q.    What advantages does robotic-assisted surgery provide?
A.    Smaller incisions, pinpoint precision, faster recoveries, lower infection rates, less blood loss and scarring and shorter hospital stays.
Q.     What surgeries are performed with robotic-assisted equipment?
A.     Genesis has demonstrated success performing several types of robotic-assisted surgeries. The most common include cholecystectomy, colon resections, inguinal hernia repairs, hysterectomy and ventral/incisional hernias. If you need surgery, talk to your doctor to learn if robotic-assisted surgery is an option for you.