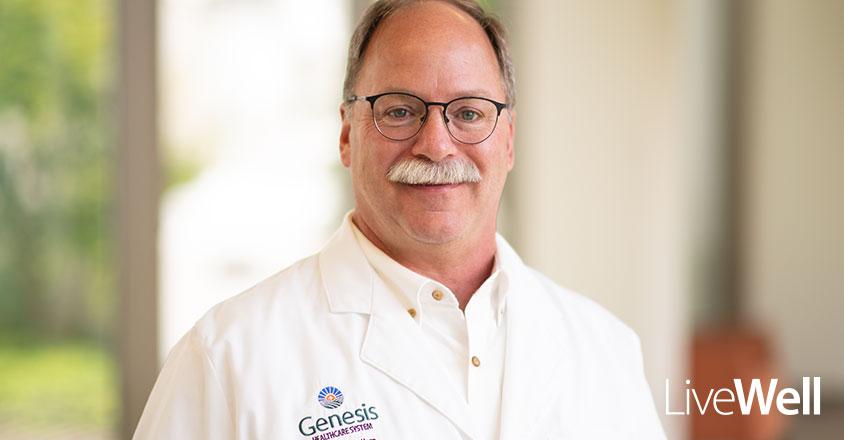 Spotlight on Walter Randolph, M.D., MS
After more than 24 years of a successful private practice, Walter Randolph, M.D., MS, joined Genesis Women's Health Specialists, serving the Coshocton area. When he was considering a change, Dr. Randolph said he wanted to join a system with a strong focus on patients and communities. "As soon as I started talking with the people here, I knew I was making the right choice," he said. "I have always worked to educate patients about their conditions, so they understand what is happening and why I do certain things to help. That happens best in this type of practice."  
A fourth-generation physician, Dr. Randolph said he initially pursued a career in the sciences, but "God always led me back to medicine." He considered other specialties but chose obstetrics and gynecology because it is a combination of clinical and surgical medicine. It also allowed him to see a variety of patients for a long period of their lives.
Dr. Randolph is also looking forward to the use of the new surgical suites in Coshocton. "The facility has all the technology to best serve our patients," he said.
Dr. Randolph, his wife and family like hiking, boating, birdwatching and spending time outdoors. "I enjoy fresh air and open spaces."  
Dr. Randolph's office is at 1417 Kaderly St. NW in New Philadelphia. His phone number is 330-602-5678. He is accepting new patients.
Doctor of Medicine:  
University of Toledo Medical Center
Toledo, Ohio
Obstetrics and Gynecology Residency:  
Aultman Hospital
Canton, Ohio
Board-certified:
The American College of Obstetrics & Gynecology 
---
Ready to get healthy?
Sign up for our digital newsletter to receive health tips, recipes, success stories for inspiration and information about new doctors to help you on your journey to better health.