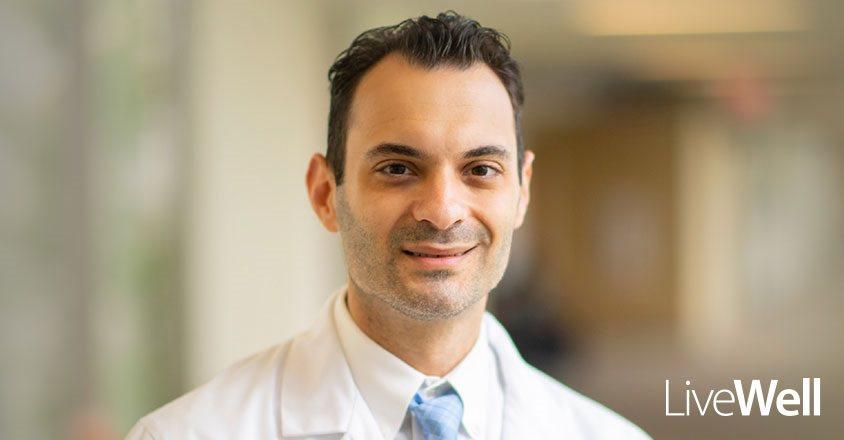 Spotlight on Kinan Kassar, M.D.
"One of the nice things about interventional cardiology is you can see the impact instantaneously on patients' lives. When I open a closed artery during a heart attack or place a new valve and watch the pressure decrease, I know I made a difference," said Kinan Kassar, M.D., who joined the Genesis Heart & Vascular Group in July, specializing in interventional cardiology. 
Cardiology is continually being divided into specialties. Dr. Kassar said the availability of a cardiologist locally with training in different areas, such as interventions, structural heart and imaging, is important. A cardiologist must be able to look a patient's condition as a whole and interpret data to determine the best treatment plan. 
"Patient management here is about prescribing medications and helping our patients have access to them," Dr. Kassar said. He also said it's essential to counsel patients to help them make healthier choices. 
Part of the care includes utilizing Genesis' advanced technology or finding innovative ways to use existing technology. "Computed tomography has been used to image the body for decades but is new for the coronary field," Dr. Kassar said. "It's a valuable tool for physicians to investigate coronary artery disease in low to moderate risk patients complaining of angina." 
Dr. Kassar said computed tomography also helps determines a patient's cardiovascular risk and guides preventative measures through coronary calcium scoring. Additionally, CT scan imaging has become the most important method for planning certain procedures. 
Dr. Kassar's experience practicing medicine in Syria made him mindful of certain aspects of patient care, including how socioeconomic status, access to healthy food and other challenges affect medication compliance. 
"Interventional cardiology requires a full understanding of the patient's condition," Dr. Kassar said. "Multidisciplinary decision-making and collaboration between specialties create the best treatment plan," he said. 
Following a workday, Dr. Kassar usually rides his bike or runs. "Spending time outdoors helps me recharge for the next exciting day in the cath lab," he said. 
Dr. Kassar's office is in the Genesis Heart & Vascular Institute, 955 Bethesda Drive, First Floor, Zanesville. His phone number is 740-454-0804. Dr. Kassar is accepting new patients by physician referral. 
Doctor of Medicine: 
University of Damascus, Damascus, Syria 
Residency in Internal Medicine: 
West Penn Alleghany Health Network, Pittsburgh, Pennsylvania 
Fellowships: 
Cardiology, interventional and structural cardiology at West Penn Alleghany Health Network, Pittsburgh, Pennsylvania 
Board-certified: 
The American Board of Internal Medicine and Cardiovascular Disease, the National Board of Echocardiography, Cardiovascular Computed Tomography Board Exam and the Nuclear Cardiology Board Exam