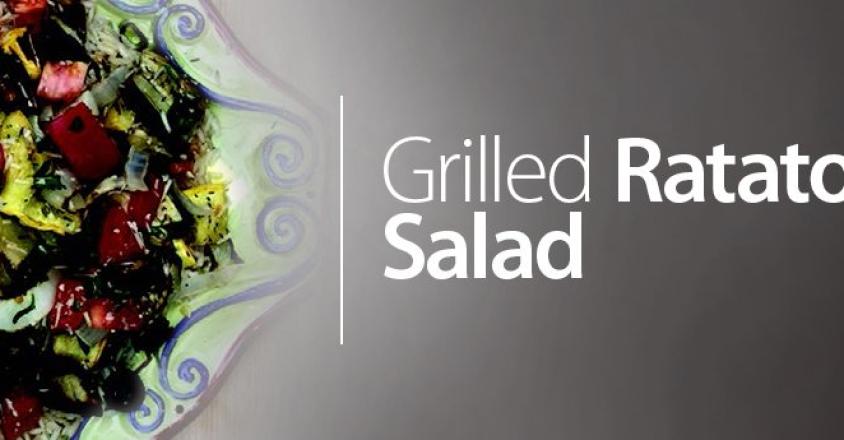 Grilled Ratatouille Salad Recipe
Eggplants are the main attraction in this healthy, easy to make Grilled Ratatouille Salad recipe. Eggplants are high in antioxidants, may lower overall cholesterol and help improve blood flow. Add colorful red bell pepper, yellow summer squash and ripe tomatoes to this version of ratatouille for the perfect "flavor of summer" any time of year.
Ingredients
Makes 4 servings
2 Japanese eggplants
1 medium sweet onion, such as Vidalia
1 medium summer squash
1 medium red bell pepper
Olive oil
2 medium ripe tomatoes, chopped
2 tablespoons chopped, pitted black olives
1 tablespoon chopped fresh basil
1 tablespoon chopped Italian parsley
½ teaspoon crushed dried oregano
¼ teaspoon crushed dried thyme
1 tablespoon red wine vinegar
Salt and pepper to taste
¼ cup grated Parmesan cheese
2 cups cooked brown rice, optional
Directions
Slice the eggplants ½ inch thick. Slice the onion ½ inch thick. Quarter the squash lengthwise. Cut the bell pepper into ½ inch pieces lengthwise. Brush the eggplant, onion, bell pepper and squash lightly with oil.
Place in a vegetable basket and grill on a hot grill. Remove the onion, bell pepper and squash after 10 minutes or when browned and tender; remove the eggplant after 12 minutes or when browned and tender.
Coarsely chop the grilled vegetables. Place in a bowl. Add the tomatoes, olives, basil, Italian parsley, oregano, thyme, 1 tablespoon olive oil, vinegar, salt and pepper to taste. Toss with cheese. Spoon rice onto 4 plates, if desired. Top with ratatouille.
Nutritional information
Per serving*
Calories 260
Fat 10 g
Cholesterol 4 mg
Sodium 450 mg
Carbohydrates 33 g
Fiber 4.5 g
Protein 6.7 g
*Per serving information includes rice seasoned with ¼ tsp salt.
Love the recipe? Download the recipe: Grilled Ratatouille Salad (PDF)