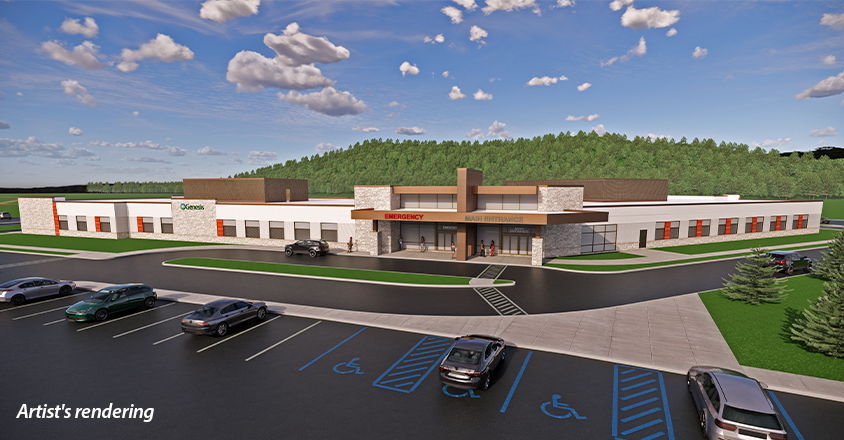 Genesis Coshocton Medical Center
Opening early 2023
Genesis HealthCare System is committed to providing improved access to innovative healthcare and patient support services for the residents of Coshocton County. That's why we're building a new, state-of-the-art facility – the Genesis Coshocton Medical Center – that will open in early 2023.
The Genesis Coshocton Medical Center will bring together 200+ full-time employees, including the region's best:
•    Physicians 
•    Advanced Practice Providers
•    Nurses 
•    Technologists
•    Support Staff 
It will include superior clinical information technology and advanced clinical equipment and use the latest healthcare facility design to create the optimum patient experience.
Comprehensive, high-quality healthcare
Services will include:
• Emergency Department open 24 hours a day, seven days a week
• Outpatient Surgery Center
• Overnight Observation Unit
• Imaging Department: 
    - MRI 
    - CT 
    - X-ray 
    - Mammography 
    - Ultrasound
• Laboratory
• Cardiac Diagnostics
• Respiratory Therapy
• Physical, Occupational and Speech Therapies
• Medical Office Building – Physician Specialists
More features
• Convenient location (link here to map address 48119 US 36, Coshocton, OH 43812)
• One-story structure with modern design using maximum natural light with easy access 
• 60,000 sq. ft. of floor space 
Support of community
The community supports the Genesis Coshocton Medical Center through generous donations from the Coshocton Foundation, the Montgomery Foundation and the Genesis HealthCare Foundation.
Watch construction as it happens
Want to see the progress of the new Genesis Coshocton Medical Center construction? Check out this camera that captures both a live image of the site and a time-lapse view dating back to the first days of construction. It will be exciting to see the building going up right before your eyes. Click here to see more live feed and a photo album of construction.