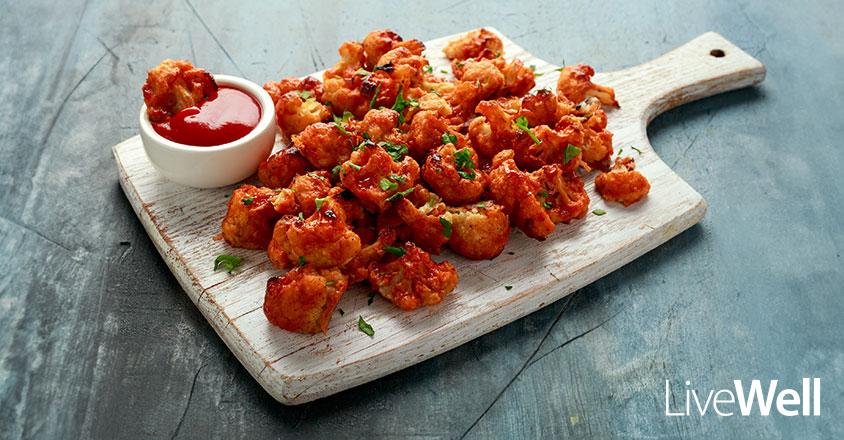 Air fryer BBQ cauliflower wings
These air-fryer "honey" BBQ cauliflower wings will be a hit at your next tailgate party. The wings have the flavor and crunch of traditional BBQ wings but contain fewer grams of fat and calories. While these cauliflower wings have the taste of honey, they have no added sugar since they're sweetened with an artificial sweetener. 
Ingredients:
1/2 cup unsweetened soy or almond milk
1/8 tsp kosher salt
10-ounce package of cauliflower florets
1/3 cup whole wheat flour
1/2 tsp onion powder
1/8 tsp black pepper
1/2 tsp garlic powder
Nutritional information:
Servings: 4 
Serving Size: 4 ounces cauliflower wings
Calories per serving: 80
Total Fat: 1.5 g
Saturated Fat: 0 g
Trans Fat: 0 g
Cholesterol: 0 mg
Sodium: 230 mg
Total Carbohydrate: 16 g 
Dietary Fiber: 3 g
Total Sugars: 4 g
Added Sugars: 0 g
Protein: 4 g
Potassium: 450 mg
Phosphorus: 90 mg
Instructions:
To make the wings: Preheat air fryer to 375 degrees F. In a medium bowl, whisk together batter ingredients. (If batter is too thin, add a little more flour and stir.) Add in cauliflower florets and toss to coat each piece evenly. 
Spray basket of air fryer with nonstick cooking spray. Using tongs, place each batter-covered floret into the basket. It's best to work in two batches so you don't overcrowd the air fryer. Air-fry each batch for 7 minutes, then remove and brush cauliflower wings with your preferred sauce. Return to air fryer another 1–2 minutes until crispy.
Remove and repeat for the next batch. 
Approved by:
Sarah Brauning, MS, RD, LD, CDE
Genesis Registered Dietitian
Diabetes & Nutrition Education

Find more recipes at genesishcs.org/eatwell.
---
Ready to get healthy?
Sign up for our digital newsletter to receive health tips, recipes, success stories for inspiration and information about new doctors to help you on your journey to better health.
Genesis HealthCare System's Health and Wellness content conveniently provides accurate and helpful information. Your health history and current health may impact suggestions provided through our Health and Wellness content. Although we hope this information is helpful, it is not a substitute for your doctor's medical advice. Before making any significant changes, please consult your doctor.