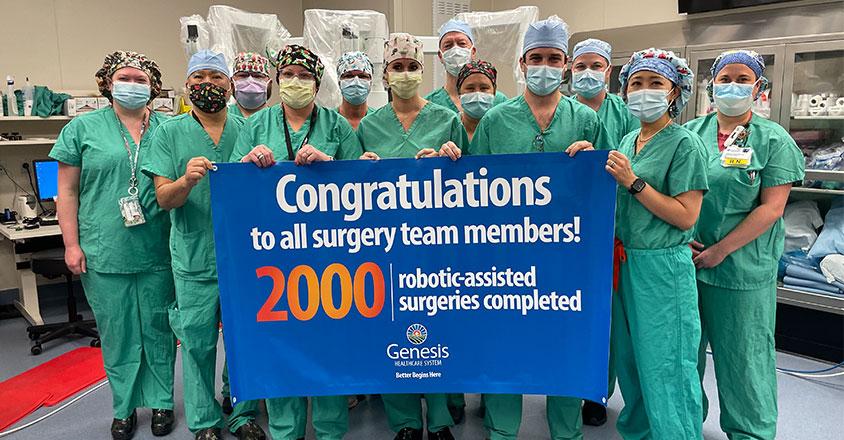 Genesis HealthCare System Celebrates Milestone For Robotic-assisted Surgeries
Friday, December 17, 2021
Genesis HealthCare System surgeons recently performed the 2,000th robotic-assisted surgery at Genesis. Robotic-assisted surgery is an advanced form of minimally invasive surgery. It is a solution for various health needs, including certain heart issues, hernias, GYN procedures and more. 
"One of the reasons I cherish working at Genesis is that we are constantly analyzing the best methods for treating patients, which routinely leads us to be an early adopter of technology. Genesis began performing robotic-assisted surgeries in 2010. Due to our commitment to the best care, we can now celebrate that 2,000 patients have benefited from our robotic-assisted technology, skills and experience. It feels good to have helped so many of our community members," said Stuart Chow, D.O., Fellowship-trained and Board-certified Surgeon with Genesis Emergency & Trauma Services.
During robotic-assisted surgery, the robotic arms enable a surgeon to move instruments in ways that human hands cannot and reach into smaller places. These advantages result in smaller incisions, pinpoint precision, faster recoveries, lower infection rates, less blood loss and scarring and shorter hospital stays. 
For more information on robotic-assisted surgeries, visit genesishcs.org/roboticsurgery.