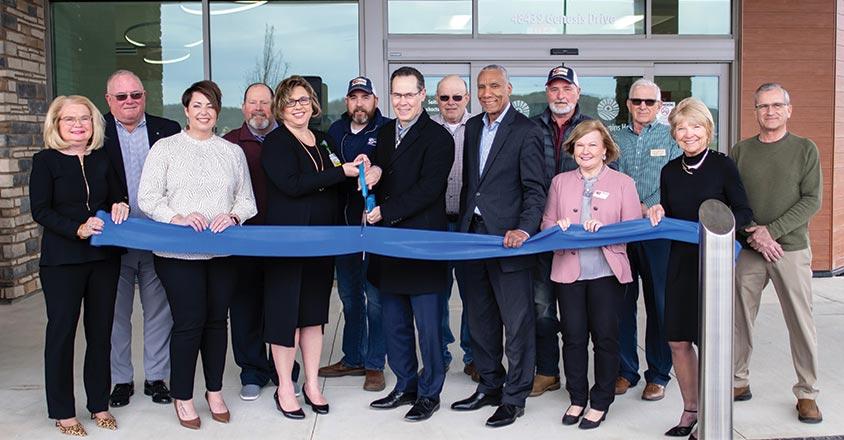 Genesis Coshocton Medical Center holds ribbon-cutting ceremony
Zanesville, Ohio (March 16, 2023) – Genesis HealthCare System held a ribbon-cutting ceremony for the Genesis Coshocton Medical Center at 48439 Genesis Drive, Coshocton. The center will open to the public on Monday, April 3.
"We are excited to celebrate the completion of the Genesis Coshocton Medical Center and what it means for residents of Coshocton and surrounding counties," said Matthew Perry, President and CEO, Genesis HealthCare System. "Throughout our history, we have been committed to meeting the healthcare needs of this community. With the new, state-of-the-art medical center, we are providing high-quality healthcare with a wide range of services to residents close to where they live and work."
Services at the Genesis Coshocton Medical Center include:
·      Emergency Department open 24 hours a day, seven days a week
·      Outpatient Surgery
·      Overnight Observation Unit
·      Imaging such as MRIs, CT scans, X-rays, 3D mammograms and ultrasound
·      Laboratory services with outpatient draw center
·      Cardiac diagnostics such as echocardiograms, stress tests, vascular ultrasound, EKGs, Holter monitors and cardiac CT scans
·      Respiratory therapy, including pulmonary function tests and arterial blood gases
·      Physical, occupational and speech therapies
·      Medical offices for physician specialists: surgeons, general cardiologists, gastroenterologists, and ear, nose and throat surgeons
The 60,000 sq. ft. facility combines superior clinical information technology, advanced clinical equipment, and the latest in healthcare facility design with the best physicians, nurses, technologists and support staff. More than 200 employees, many from the Coshocton area, work at the facility.
Construction began in June 2021. The $50.8 million cost of the project was supported in part by generous gifts from the Montgomery Foundation, the Coshocton Foundation and the Genesis HealthCare Foundation.
The community is invited to join the free Family Fun Day celebration Saturday, March 18, from 11 a.m. to 3 p.m. Those attending can tour the new medical center, enjoy refreshments and meet the staff. Entertainment for children includes face painting, a coloring station, superhero characters and clowns.
Pictured above:
Cutting the ribbon to celebrate the completion of the Genesis Coshocton Medical Center (GCMC), opening April 3, are left to right, first row: JoAnn Butcher, Genesis Board of Directors; Tiffany Swigert, Coshocton Port Authority; Tisha Babcock, GCMC Administrator; Matt Perry, Genesis HealthCare System President & CEO; James McDonald, Genesis Board of Directors; Amy Crown, Coshocton Chamber of Commerce; and Linda Scott, The Montgomery Foundation. Second row: Jerry Nolder, Genesis HealthCare Foundation; Bob Pell, Coshocton Foundation; Mark Mills, Mayor of Coshocton; Don Wells, Tuscarawas Township Trustee; and Rick Conkle, Dane Shyrock and Gary Fischer, Coshocton County Commissioners.