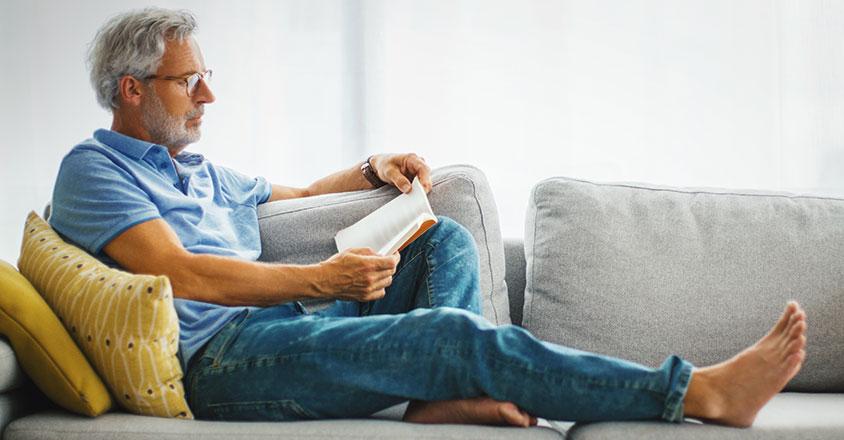 Confessions From a Couch: 10 Tips for Men to Stay Healthy
Thursday, September 23, 2021
It's not you; it's me. I love being your only couch and I'm always here to support you. Lately though, I'm feeling smothered. I love that you enjoy chillaxing with me, but I think it's time for you to see other furniture – perhaps a spin bike or bench press? I just want you to be the strong, healthy man I know you can be. In fact, here are some tips to improve life for both of us:  
Of course, spend less time sitting on me. The American Heart Association recommends at least 150 minutes per week of moderate aerobic activity or 75 minutes per week of vigorous aerobic activity, or a combination. 

You enjoy munching those potato chips while watching the game, but the CDC strongly recommends a diet emphasizing fruits, vegetables, whole grains and low-fat dairy products. Include lean meats, poultry, fish, beans, eggs and nuts, and limit fats, cholesterol, salt and added sugars.  

Please, live smoke-free. The Centers for Disease Control and Prevention says as soon as you quit, your body begins repairing itself, and I'll stop smelling like smoke and getting those little burn holes. Yuck! 

The CDC says keep track of your numbers for blood pressure, blood glucose, cholesterol, body mass index (BMI) and any others you may have. 

Instead of lounging on me and watching the television all day or staring into your phone, the American Psychological Association recommends giving the screens a rest every now and then. 

Visit your doctor regularly and always pay attention to signs and symptoms such as chest pain, shortness of breath and excessive thirst. If you have these, see your doctor or nurse immediately. The CDC warns, don't wait!  

Sleep, boy, sleep! The American Sleep Association says all adults need seven to nine hours per night. 

Myhealth.va.gov says it's important to stay connected with friends, family and other important people in your life. 

Learn to manage stress. Exercise and diet are important to help manage stress, but don't forget simply to relax. Mentalhealth.gov says discuss your stressors with trusted people and grab a spot on the couch! 

Have fun! You have my permission (as well as the CDC's)! Get out of the house and engage in fun activities. 
Remember, I'm not going anywhere. Even though we may not spend as much time together each day, if you keep yourself healthy, I'll be a soft place for you to land for many years to come!  
Genesis HealthCare System's Health and Wellness content conveniently provides accurate and helpful information. Your health history and current health may impact suggestions provided through our Health and Wellness content. Although we hope this information is helpful, it is not a substitute for your doctor's medical advice. Before making any significant changes, please consult your doctor.