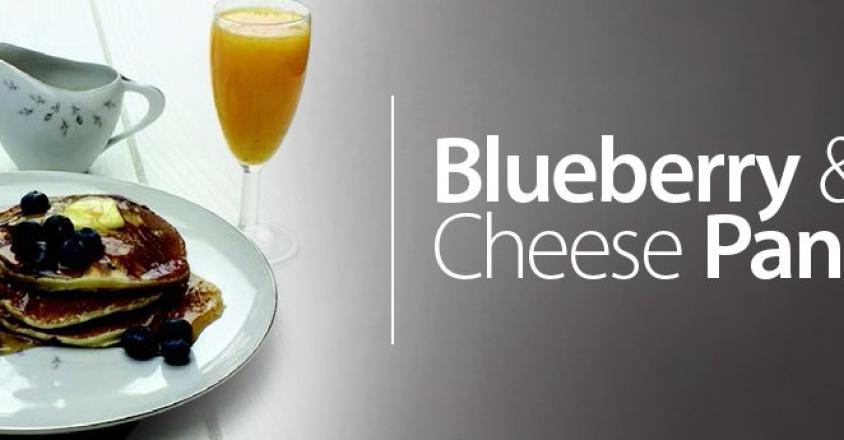 Blueberry and Ricotta Cheese Pancakes Recipe
Wednesday, January 2, 2019
Fresh ricotta makes these pancakes incredible
These pancakes are really easy to mix together and are so much better than any box mix. You can replace the blueberries with other fruit, but there's something so amazing about ricotta cheese together with blueberries.
Ingredients
Makes 4 servings
1 cup flour
2 teaspoons baking powder
¼ cup sugar
¼ teaspoon salt
1 cup reduced-fat milk
2 eggs, beaten
½ cup ricotta cheese*
2 cups blueberries, divided (may substitute raspberries or sliced strawberries)
Vegetable oil
Maple syrup (optional)

*Use either reduced-fat or regular ricotta cheese, which will result in richer-tasting pancakes.
Directions
Combine flour, baking powder, sugar and salt in a large bowl. Stir well. In a small bowl, whisk together milk, eggs and ricotta cheese. Pour over flour mixture and stir briefly to mix. Do not beat. Stir in 1 cup blueberries.
Lightly grease a griddle (or very large skillet) with oil and heat over medium heat. Drop in pancake batter to form 6 pancakes. Cook pancakes until bubbles form on top and edges turn golden, about 2 minutes. Flip over and cook second sides about 2 minutes or until golden. Remove pancakes and keep warm. Repeat with remaining batter to form 6 more pancakes.
Arrange on 4 serving plates. Top each stack with ¼ cup blueberries. Serve with maple syrup if desired.
Nutritional information
Per serving
Calories 325 (with whole-milk ricotta cheese)
Fat 7 g
Cholesterol 230 mg
Sodium 85 mg
Carbohydrates 48 g
Fiber 2.5 g
Protein 11.5 g
Download the recipe
Love the recipe? Download the Blueberry and Ricotta Cheese Pancakes Recipe (PDF).