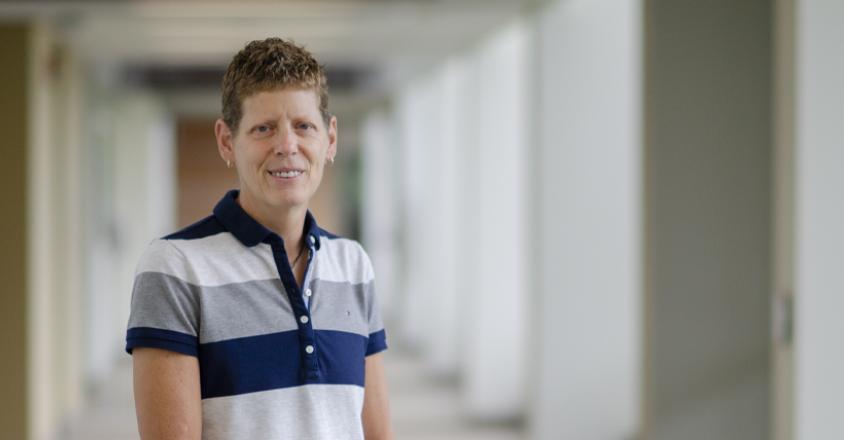 Woman Gets a Third Chance at Life After Cancer
Fighting aggressive breast cancer later in life
"Even tripping over a dog and breaking your rib can be a good thing," said the ultimate positive-thinker, Lori Taylor, a 54-year-old resident of Cambridge.
When Lori tripped over her energetic border collie, a series of events began rolling, leading to her second diagnosis of cancer in July 2017.
Lori first experienced breast cancer in 2011. She had a mastectomy and then underwent chemotherapy and radiation every week for 52 weeks – and it was successful. She was living cancer-free, or so she thought. After her fall, an X-ray showed a mass on her rib cage. Further testing revealed the breast cancer was back, and it had spread to her spine, ribs, liver and lungs.
"If you were to look at me, you'd never know it," Lori said. "I'm active. I'm healthy. I eat right. I don't smoke. I don't drink much. I'm one of those people who everyone said would be one of the last to go. This shocked a lot of people."
Lori herself felt shocked when she learned the cancer returned. This time, when deciding where to receive treatment, she turned to the Genesis Cancer Care Center.
"My mind felt at ease with the decision," Lori said. "I'm so glad I came here. The doctors are great, as are the people behind the scenes – the radiation techs, chemotherapy nurses and patient navigators. They work so well together; it's teamwork in action."
Chemotherapy treatment followed by radiation
"Lori has HER2 positive breast cancer. It's considered a relatively aggressive type of breast cancer and is known to come back," explained Shyamal Bastola, M.D., medical hematologist/oncologist at the Genesis Cancer Care Center.
Following the nation's standard of treatment for Lori's type and stage of breast cancer, Dr. Bastola organized a regimen of six cycles of chemotherapy, administered every three weeks. Dr. Bastola also collaborated with Shalini Gupta, M.D., radiation oncologist at the cancer center, as Lori received radiation to areas in her back, spine, ribs, neck and shoulders.
"We used radiation to alleviate pain caused by metastasized tumors, and it did just that," Dr. Gupta said. "Lori's goals are to remain active and maintain her quality of life. Likewise, those goals are central to our cancer center and our philosophy for treating patients."
The value of coordinated care – and of friends
Imaging, chemotherapy, radiation and palliative care teams work together at Genesis, and each patient receives a nurse navigator to coordinate care and to serve as a go-to contact person.
"I love that we're a team able to provide individualized, personalized care," said Wendy Long, B.S.N., R.N., OCN, CBHN, who is Lori's cancer navigator. "When patients have a question or concern, they call me and I coordinate any needed care. When patients feel poorly and need fluids to perk them up a bit, I set that up. We don't want anyone feeling bad over the weekend, so it's nice to live close and be able to swing by. We're here for our patients … our job is to make things go as smoothly as possible."
As Lori underwent her treatments, she witnessed her Genesis team, family and friends all rally around her. For example, teachers at her middle school created a calendar to freshen Lori's kitty litter box, cousins arrived to help with her basement, close friends cleaned her home drove her to chemo and radiation, and many delivered goodies and glad tidings.
"They say it takes a village to raise a child, and it takes a village to help people too," Lori said. "I feel blessed to have all these people in my life. As a strong, independent person, it's hard to ask for help – but people want to help. I'm very fortunate. I wish everybody could have this kind of support system."
Positively inspiring after cancer treatment – living the lessons
Lori has taught middle school art for 32 years, and she knew her cancer contained lessons worth discussing with her students. In fact, Lori says these lessons gave beautiful meaning to her cancer journey.
"We spent a lot of time talking about it – about cancer," said Lori. "I gave them time to ask questions. They asked a lot of questions – like what chemo is, how it's given, and if it hurts. I think that's part of the reason I had this experience … maybe I was meant to help one or two students in their journey. Maybe I was supposed to help others alleviate their fear. I guess my role wasn't just being an art teacher, it was helping them through something, too."
Even though Lori isn't formally teaching art right now, she continues to stand as a living lesson of positivity and a masterpiece of endurance.
"I always say, it's not what happens to you, it's how you deal with it. There are people worse off than you are, so make the best of it and go on," Lori said.
And Lori is definitely going on. She's often taking backpacking trips and enjoying water skiing, vacations and all that life has to offer.
Managing her disease with treatment and attitude
"Lori is an active and incredibly positive patient, and I think she has a good quality of life – and that's the goal," Dr. Bastola said. "Since her treatment at the Genesis Cancer Care Center, Lori's cancer has shrunk and is considered stable. To maintain the shrinkage from the chemo, she now undergoes what we call maintenance chemotherapy."
Lori continues to visit Genesis every 3 weeks for maintenance chemo, and will do so for the rest of her life.
"I think of it as a chronic disease that I just have to manage," Lori said. "I can handle this. My dad passed away of Parkinson's and dementia, and my mom has Alzheimer's and dementia – those are things you can't fight. I can fight this. I can fight how I feel. I can make sure my body is healthy and active … I tell everybody, be positive, positive, positive."