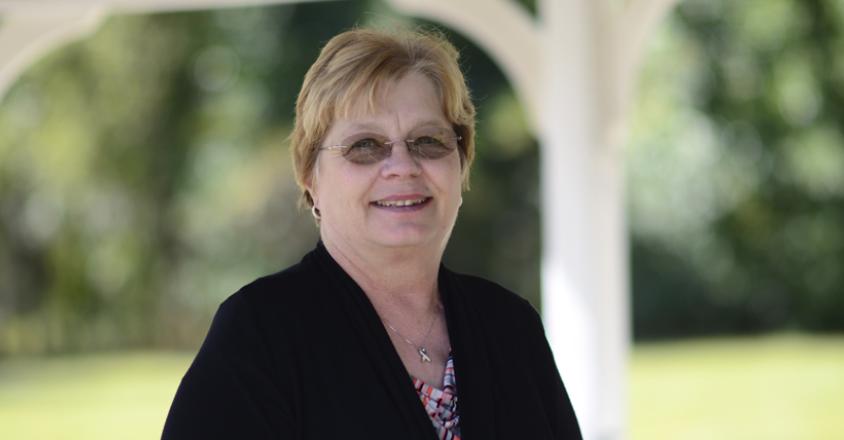 Avid Traveler Receives Treatment for Two Cancers in Same Breast
Monday, November 11, 2019

|
DIEP flap reconstruction after surgery and chemotherapy
"I never thought, 'Will I get cancer?' I thought, 'When will I get cancer?'" said Vanessa Brosie, a 61-year-old Zanesville resident. Vanessa's intuition stems from a family history peppered with a variety of cancer diagnoses including her father, who died of colorectal cancer, and her brother, who died of melanoma. So when she felt a solid, marble-sized lump on her breast, she took quick action.
"I used MyChart and sent a message to my family doctor that Sunday," Vanessa said. "On Monday he told me I had appointments scheduled for a 3D mammogram, an ultrasound and to meet Dr. Hanley at the Genesis Breast Care Center. I was happy and appreciative about that! There was no delay."
Shannon Hanley, M.D., breast surgeon, Genesis Breast Care Center, saw Vanessa's abnormal mammogram and biopsied her lump – but felt a need to gather even more information.
"What I felt in the physical exam just didn't match up on the imaging, so I ordered an MRI – and that's how we found another area in her breast that looked suspicious. That second area turned out to be a completely different type of cancer," Dr. Hanley said.
Two types of breast cancer in one breast is uncommon – but it does happen.
"Everyone is really different," Dr. Hanley said. "There's not a cookie-cutter response to each patient. We individualize care based on pathology and the patient's wishes. Vanessa had two separate cancers in one breast, and we had to treat each differently."
Types of breast cancer cells
Several types of breast cancer exist, and different types respond to different treatments. Physicians determine which treatments to recommend by testing breast cells for certain receptors that attach to hormones.
• ER Positive: Breast cancers that contain estrogen receptors
• PR Positive: Breast cancers that contain progesterone receptors
• HER2 Positive: Breast cancers that contain higher than normal levels of a growth-promoting protein
• HER2 Triple Positive: Breast cancers that contain higher than normal levels of a growth-promoting protein, and contain estrogen and progesterone receptors
• HER2 Negative: Breast cancers that don't have higher than normal levels of the HER2 growth-promoting protein.
• HER2 Triple Negative: Breast cancers that don't have receptors for estrogen or progesterone, and don't have higher than normal levels of the HER2 growth-promoting protein.
Vanessa's test results identified one of her cancerous areas as triple negative (not sensitive to estrogen, progesterone or targeted HER2 treatment) and the other as sensitive to estrogen and progesterone (ER and PR positive). Knowing the cancer cells' sensitivities allowed Vanessa's collaborative team of breast cancer physicians at Genesis to develop a customized treatment plan.
The treatment: A multistep plan with close-to-home care
First, Vanessa underwent eight rounds of chemotherapy over a 16-week period in order to weaken and destroy the cancerous cells. The chemotherapy came with expected side effects for Vanessa – like hair loss and energy depletion – yet she felt determined to continue working. She said having close-to-home care made all the difference during the physical exhaustion.
"I'm so glad I was in Zanesville to have my treatment," Vanessa said. "My cancer team knew what side effects I'd likely have, and then scheduled my treatments with timing to help me accomplish my goal of working. My husband could come to every doctor's appointment and to all my chemo treatments. Being close made it much easier on him, too."
Choosing the right surgery and breast reconstruction option
Next, Vanessa planned for surgery. Because she had different cancers and locations, Dr. Hanley recommended a mastectomy. During a mastectomy, the surgeon removes the entire breast (versus a lumpectomy, where just the lump and surrounding tissue is removed).
Vanessa chose to have a bilateral mastectomy followed by breast reconstruction. Dr. Hanley and Vanessa discussed two main reconstruction choices: traditional implant reconstruction and DIEP flap reconstruction.
DIEP (Deep Inferior Epigastric Perforators) flap reconstruction involves surgically removing a portion of excess skin, fat and tissue (no muscle) from the lower half the belly, and then moving and forming it into a new breast. To keep the removed tissue alive, highly trained plastic surgeons connect the tiny blood vessels from the removed tissue with the blood vessels in the chest.
"After I perform the mastectomy, plastic surgeons from Midwest Breast & Aesthetic Surgery come in and do the reconstruction – and if the patients are qualifying candidates, they can have the reconstructive surgery on the very same day," Dr. Hanley said. "There are only a few surgeons within the Columbus area who perform these microvascular surgeries. It's a tenuous surgery. I think it's a special, unique thing to be offered here."
When Vanessa learned that she qualified for the DIEP flap reconstruction option, she immediately felt confident that was the best choice for her.
"I would much rather have my own tissue than a foreign body implant," Vanessa said. "The surgery itself went smoothly. Now I kid around and say that I went in with breasts and came out with breasts – since they did reconstruction the same day. I am amazed they could do that!"
Her amazement spilled over into other areas of care too – like the quality, compassionate care she received.
"I'm impressed with all the doctors. It's so important to trust your doctors and to feel comfortable asking all the questions you have, and I could not have asked for a better team with this treatment. Their patience, knowledge and skills – I'm just super happy about everything. I wouldn't want anyone to have to go through this, but for what it was, it was a pleasant surprise," Vanessa said.
Life after cancer: Traveling and adventure
Today, Vanessa lives a vibrant, cancer-free life. She says she strives to make the most of her time on Earth by living with faith, humor and purpose. For example, Vanessa and her husband set a goal to visit all 88 counties in Ohio. They're thoroughly enjoying their travels and adventures together. Vanessa also finds herself talking openly with other women about breast cancer and encouraging routine mammograms and preventative care.
"Preventative care is priceless," Vanessa said. "Be vigilant. Catch it early – it's the best thing you can do. The only way to do that is through mammograms and self-exams. You cannot put a price on the few minutes it takes out of the day … and the little bit of discomfort does not compare to what you might have to go through if you didn't take preventative action."
Make an appointment today
Call Genesis Central Scheduling at (740) 454-4242 to schedule a mammogram. To make an appointment with a provider at the Genesis Breast Care Center, call (740) 454-5221.