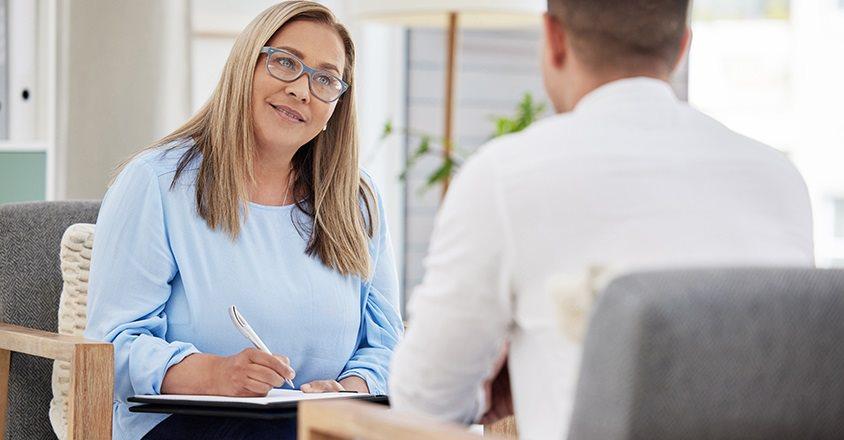 Suffering from Anxiety? Help is Available.
Wednesday, May 17, 2023

|
There are approximately 57.8 million Americans living with a diagnosed mental illness. Despite the fact that the number translates to 1 in 5 adults, there's still stigma attached to almost everything related to mental health. This sense of shame and reluctance to discuss disorders that affect the brain is why May is Mental Health Awareness Month.  
Jodi Dickson, R.N., at Genesis Behavioral Health, describes why it's so important for people to be aware of their own mental health. "We are still fighting the stigma that mental health is different from physical health and that individuals control their mental health. Mental health is a medical concern. You're looking at changes in brain chemistry."   
For example, one of the most common mental health disorders is generalized anxiety disorder. "People will suffer from anxiety for a long time before asking for help," said Dickson. "They're too ashamed to ask for help because they believe they're at fault. Once they understand the symptoms relate to an illness and we know how to treat those illnesses, we can start helping them feel like themselves again."   
Generalized anxiety disorder 
Anxiety is normal, and everyone deals with it. If you are experiencing excessive anxiety for a six-month period, or it begins to interfere with your daily life, make an appointment with your primary care provider. According to the National Institute of Mental Health, 5.7% of Americans will experience generalized anxiety disorder at some point. 
What happens at the doctor's office? 
Your doctor will likely rule out physical health issues or medication side effects with a physical exam.  
If there aren't any physical causes behind your anxiety, your doctor may look for signals that you're suffering from generalized anxiety disorder. These symptoms manifest in both physical and mental ways. Signs of generalized anxiety disorder can include: 
Inability to control excessive worrying    

Sleep difficulties 
Irritability 

Feeling frightened 

Difficulty concentrating 

Isolation from social support 

Muscle tensions and aches and pains 
Stomach pains, nausea, difficulty eating 

Rapid heartbeat, shortness of breath 

Needing to go to the bathroom more frequently 
On top of evaluating physical and emotional symptoms, your doctor may ask about your family history of anxiety.  
Generalized anxiety disorder treatment options 
If your doctor determines you are suffering from generalized anxiety disorder, there are treatments available. Treatment options are typically based on the level of anxiety you're experiencing.  
Medication 
If your primary care provider determines that you're suffering from generalized anxiety disorder, they may begin treatment," said Dickson. "They may order a prescription specifically for anxiety or an anti-depressant to treat anxiety. Some folks respond wonderfully to these tools. When it becomes a more intense form of anxiety or the patient is not having success with medication, that's when they refer to a specialist." 
Cognitive behavioral therapy  
"While a physician may refer to a specialist for medication management, another component of treatment is cognitive behavioral therapy," said Dickson. "This is a form of talk therapy with a trained therapist to process how you can change thought processes in your brain." 
According to the American Psychological Foundation, numerous research studies suggest that cognitive behavioral therapy leads to improvement in functioning and quality of life.  
If you are suffering from extreme anxiety or any other mental health problem, help is available. Contact Genesis Behavioral Health at 740-454-4201. They can direct you to services available to meet your specific needs.