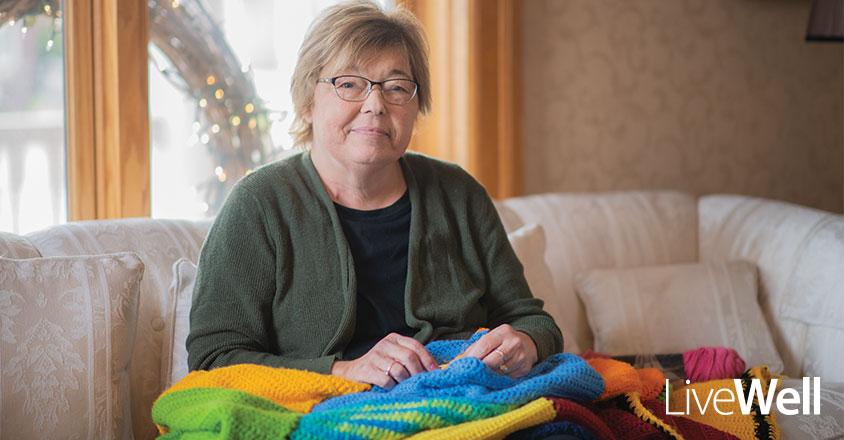 LiveWell Patient Story: Robotic Technology Makes Hard-to-Reach Lung Biopsies Possible
Monday, November 7, 2022

|
Doctors intended to use Shelly Grafton's abdominal CT scan to discover the root of her stomach pain. While the results led to a hernia repair surgery and the removal of her gallbladder, the image also revealed something unexpected: a suspicious, small spot on the lower lobe of her left lung. 
"When I learned about that spot on my lung, I felt devastated. I wanted the best and quickest help I could get, and that's what I received at Genesis," Shelly said. 
Shelly's tiny abnormality measured only 3 mm at the time of the CT scan (slightly wider than the tip of a crayon), which is too small to biopsy, but over a year, it grew to 10 mm (the size of a pea), the minimum size to biopsy. So, Emily Brawner, D.O., F.C.C.P., Pulmonary/Critical Care Medicine at Genesis HealthCare System, recommended gathering more information using the Monarch robotic-assisted bronchoscopy. This advanced technology allows physicians to access small lung nodules in hard-to-reach places. 
"The Monarch platform provides more stability and better visualization and precision. So, not only do we have a better chance of accessing hard-to-reach areas within the lung, we have a better chance of getting information and answers for our patients," Dr. Brawner said. 
Lung cancer ranks as the deadliest cancer. The sooner and more accurate the diagnosis, the earlier treatment can begin, and the better prognosis for patients. With that in mind, Genesis invested in the innovative Monarch platform, becoming the second hospital system in Ohio to offer patients the technology. 
"Dr. Brawner held my hand and helped me feel safe like whatever happened, she would take care of it. She was very compassionate."
Dr. Brawner used the Monarch technology in conjunction with another advanced bronchoscopy platform to perform two bronchoscopy techniques to assess Shelly's lung. The Monarch electromagnetic navigational robotic-assisted bronchoscopy helped Dr. Brawner access and take nodule samples. At the same time, an endobronchial ultrasound (EBUS) allowed for lymph node samples from the chest. For Shelly, biopsies from this combined procedure revealed cancer. 
"I was nervous and upset when I learned the diagnosis. However, Dr. Brawner held my hand and helped me feel safe like whatever happened, she would take care of it. She was very compassionate," Shelly said. "After the diagnosis, Dr. Brawner sent me to a medical oncologist and a radiation oncologist at the Genesis Cancer Care Center. Everyone is wonderful there. You don't feel like you're being treated for cancer. You feel like you're there for an appointment." 
At the Genesis Cancer Care Center, Shelly underwent chemotherapy five days a week for six weeks and then radiation therapy three times a week for another six weeks. For the next year, she'll undergo a monthly immunotherapy session. Shelly says the treatments have shrunk and shriveled the tumor, and she feels grateful for such incredible close-to-home care. 
"For me, Genesis was the only place to go. It's near enough to my home, the facilities feel light, bright and cheery and so are the nurses and everyone who works there. I had always heard the treatment was good there, and it is." Shelly said.