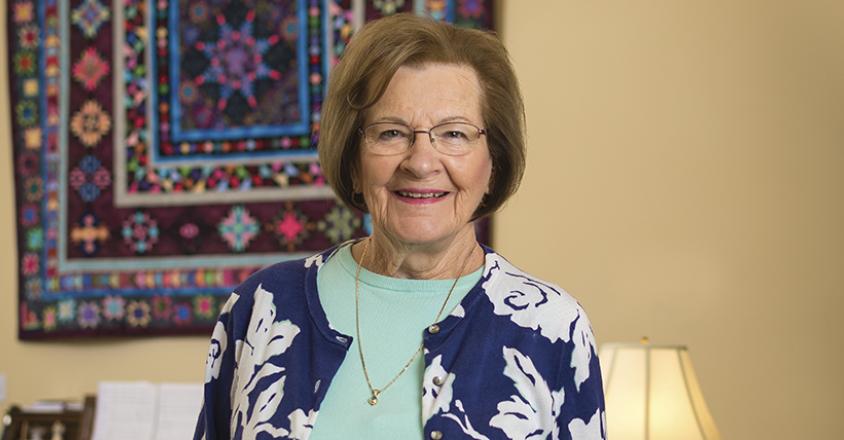 Rescued From Pain
Friday, October 9, 2020

|
Genesis Provides Minimally Invasive Spine Surgery
Mary Louise Cox stood in the church parking lot on one foot, or at least it felt like one foot. Numbness crept up her right foot, leg and hip, all the way to her pain-stricken lower back. At 88 years old, she knew the importance of staying upright on asphalt, yet she felt herself losing balance. Thankfully, friends rushed to her rescue in the nick of time.
"You brush off the pain for a long time, and then you can't do that any longer," Mary Louise said. "My pain had been going on for years and slowly growing worse. I decided I had better do something about it."
The Right Physician and Team
Before scheduling an appointment with a doctor, Mary Louise watched videos of physicians at Genesis – that's how she came to schedule an appointment with Yasuaki Harasaki, M.D., a neurosurgeon with specialized training and experience with the spine.
"Dr. Harasaki greeted me calmly, confidently and friendly," Mary Louise remembers. "He showed me the MRI and explained all about it in a language I could understand." Dr. Harasaki explained that Mary Louise's pain originated in her lower back, where herniated discs compressed and pinched surrounding nerves.
"If you live long enough, your discs and spine will show evidence of wear. With degenerative changes, discs collapse and bulge – it happens to everyone," Dr. Harasaki said. "Looking at Mary Louise's MRI, we could see nerve-pinching on multiple levels. These changes happened silently over years, building up until Mary Louise's body couldn't put up with it anymore, and she became symptomatic."
To eradicate the pain, Dr. Harasaki recommended a minimally invasive surgical procedure, called a multi-level lumbar laminectomy, to relieve pressure on the affected nerves.
Minimally Invasive, Major Benefits
By performing minimally invasive spinal surgery, patients experience major benefits, including:
Decreased tissue damage and disruption

Less pain

Shorter time in surgery

Smaller incision sites

Less risk of infection

Quicker recovery
"Minimally invasive surgery accomplishes the same goals as traditional surgery, but we do it through less disruptive means. With Mary Louise, we did a four-level decompression, because nerves were pinched at four disc levels. Traditional surgery would have been difficult to recover from at her age," Dr. Harasaki said.
That said, even minimally invasive surgery was a big deal to Mary Louise.
"When you're the patient, it's major even if it might be minor," she said. "What helped was Dr. Harasaki being keenly interested in how surgery would help my lifestyle. I told him I wanted to weed my garden after surgery because I missed doing that. Dr. Harasaki said he was also working on a garden with his two children. I knew he was a winner – you have to have patience to be a gardener – or a parent or a physician for that matter."
As a board-certified neurosurgeon with additional, specialized training in minimally invasive spinal techniques, Dr. Harasaki brings leading-edge knowledge and vast experience to our community. With all this in mind, Mary Louise felt confident Dr. Harasaki would perform the four-hour surgery proficiently – and he did. After the procedure, Mary Louise spent one night in Genesis Hospital before returning home.
Back to Life Without Pain
"I cannot tell you how wonderful it feels to suddenly not have pain in your back," Mary Louise rejoiced. "I noticed an immediate difference, and my recovery has been wonderful."
Since surgery, Mary Louise completed physical therapy to help regain strength. She's gone from using a walker post-surgery to moving about her garden with ease and walker-free.
"I'm back to doing things," Mary Louise said. "Of course, I have my normal 88-year-old aches and pains, but now I can garden and quilt, and do things I love. My husband calls me a human dynamo."
To those suffering from back pain, Mary Louise expressed sage advice: "Don't wait. It's silly to stay in pain. Go find out what you can do." Dr. Harasaki agrees.
"It's worth it to come in and discuss ways to feel better that don't involve a huge surgery. I'm not here to push any treatment, but I can teach you about multiple options available," he said.
To schedule a consultation with Dr. Harasaki or one of the expert neurosurgeons at Genesis, call (740) 586-6828.