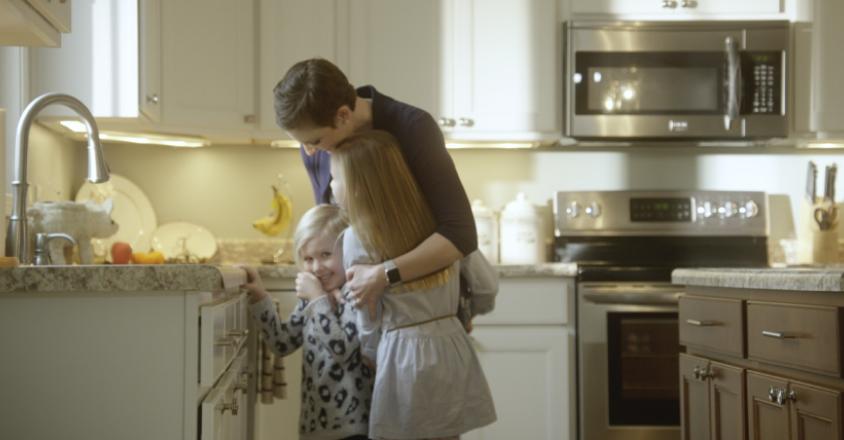 Mother of Two Survives Stage II Breast Cancer
Patient attributes recovery to compassionate surgeons and nurses
Ashley Tamasovich had a nagging, gut feeling that she needed to schedule a routine well-check with her primary care physician, but she had brushed it off. She's always been a healthy person, and not one to run to the doctor. But one night, as she rolled into a comfortable position in bed, her hand felt something peculiar in her underarm – something round and hard, about the size of a quarter.
"I thought to myself, 'Well, that's different. That shouldn't be there.' And it gave me the push to finally go in and be seen," Ashley said. "I knew something wasn't right, and this wasn't just a cyst."
That initial doctor visit led to an ultrasound, which revealed several abnormally large lymph nodes. The next step was a biopsy.
The diagnosis was breast cancer.
Research helps choose the right facility for cancer treatment
Ashley works in the medical field as a physician assistant for a local dermatologist. When it came time to decide where to receive her cancer treatment, Ashley used her medical experience to study her options.
"I did my research," Ashley said. "I found that cancer centers follow specific guidelines and standards set by national organizations, so I'd receive the same breast cancer treatment at the Genesis Cancer Care Center as in bigger, further-away institutions.
"I did my research on doctors as well, and Genesis has very knowledgeable physicians. I'm glad I chose to have my treatment at Genesis. They know you by name at the cancer center and ask how you're doing. My chemo nurses and I have conversations and then pick them up right where we left off during the next treatment. It's all very personalized."
Scott Wegner, M.D., a founding medical oncologist of the Genesis Cancer Care Center, says that receiving quality, personalized cancer care is both purposeful and powerful.
"The medical process for cancer treatment is extremely standardized. We follow the exact pathways and guidelines and administer the same drugs and treatment schedules. So really, it's not about that – it's about the care you receive from the people giving the treatment. The care at Genesis is extremely passionate, genuine and patient-focused. There's no better team," Dr. Wegner said.
With cutting-edge equipment and technology, three medical oncologists, two radiation therapists, two board-certified palliative medicine physicians, four nurse navigators and a team of specialized nurses and staff members, the Cancer Care Center offers first-class cancer care close to home.
"It's all about the patients, not us, so if there's something we need help from an academic institution, we'll do that every time. But for breast cancer specifically, there is nothing we can't do here, in the comfort of our center," Dr. Wegner said.
Optional video caption
Fighting aggressive breast cancer
Approximately 20 percent of breast cancer diagnoses fall into the high-risk category. Ashley received a diagnosis of stage two, HER2-positive breast cancer – a high-risk and aggressive form of the disease.
"HER2 has one of the highest risks of relapse and death without treatment, so surgery alone is very unlikely to cure the disease, but we do have effective chemotherapies for it," explained Dr. Wegner.
A specialized nurse navigator at the Cancer Care Center, Wendy Long, BSN, RN, OCN, CBHN, coordinated Ashley's treatment schedule so her treatments could begin right away. She also became Ashley's go-to contact and got things moving quickly.
"We always want to start therapy for cancer in a timely manner, but when patients are young like Ashley, who is 36 years old and have a fairly aggressive cancer, we get them started on their journey even quicker," explained Long. "As a nurse navigator, I get to be there for patients, answering questions, aligning appointments and guiding them through their entire experience – from abnormal imaging, through diagnosis, treatment and survivorship. It's our job to make things go as smoothly as possible, so patients can focus their energy on healing."
Being considerate even during cancer treatment
Ashley underwent chemotherapy every three weeks for six treatment sessions. She experienced fatigue, nausea, loss of appetite, muscle aches and hair loss. But she still managed to think of others.
After her husband shaved her head, Ashley donated her 12 inches of beautiful blonde hair to Wigs for Kids, an organization dedicated to helping children look like themselves again after traumatic medical issues.
"I just wanted to help someone else out," Ashley humbly said.
Dr. Wegner wasn't surprised about Ashley's generosity.
"A cancer diagnosis can bring out the best in people," Dr. Wegner said. "The humanity, the kindness, grace, forgiveness – I've seen it over and over again. Ashley is kind, stoic, logical and has been an amazingly strong person through this whole thing."
Breast reconstruction at Genesis after chemotherapy
Ashley finished her six treatment sessions that contained a mix of four chemotherapy drugs. Now, she'll continue one of those four chemo drugs as a "maintenance" routine for one year. She underwent a bilateral, nipple-sparing mastectomy by Shannon Hanley, M.D., Genesis breast surgeon, with immediate reconstruction by a plastic surgeon at Genesis. This is a new option for breast cancer patients who fit the medical qualifications – they no longer need to travel to Columbus and have a second surgery for reconstruction. It's all done at Genesis Hospital.
Following recovery from surgery, Ashley plans to undergo radiation treatment at Genesis Cancer Center. Regardless of where she is in her cancer journey, her family and her Genesis family, will be supporting and cheering her on.
Make an appointment today
Call Genesis Central Scheduling at (740) 454-4242 to schedule a mammogram. To make an appointment with a provider at the Genesis Breast Care Center, call (740) 454-5221.