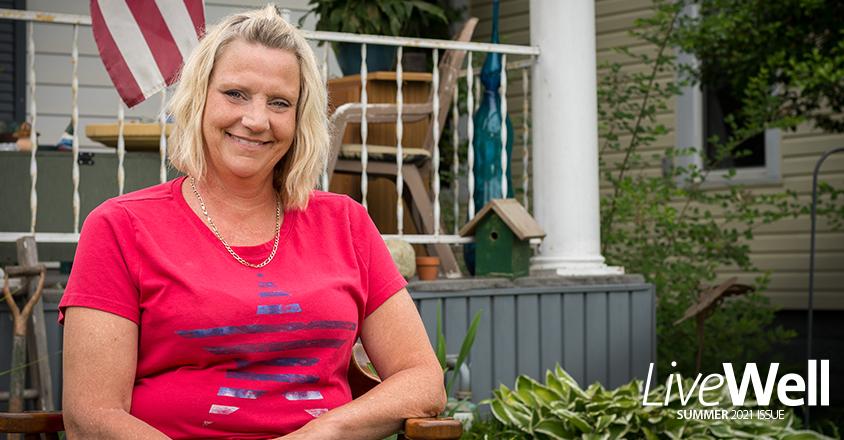 LiveWell Patient Story: Bouncing Back to Health
Wednesday, July 28, 2021

|
Laura Walker eagerly made her first attempt jumping on a trampoline at age 29. Unfortunately, she tumbled out of control, severely injuring her knee. As a result, Laura spent two decades in agonizing pain.
Then a chance encounter and recommendation for Corey Jackson, D.O., changed her life. Dr. Jackson is a board-certified orthopedic surgeon with the Genesis Orthopedic Group.
Knee injury worsens

"It was my first time on a trampoline and my last time off," Laura said. As years passed, arthritis aggravated the injury, and she suffered from an excruciating two-inch bone spur. Laura relied on her other knee for support, which eventually resulted in arthritis as well. Ultimately, the pain was too great for Laura to continue an 18-year career at a local restaurant in Cambridge, Ohio, her hometown. She is presently a contract driver for a local transport agency serving non-emergency medical patients.
"I learned to live with the pain," said Laura, now in her late 40s. "I spoke with several surgeons who insisted I was too young for the surgery." One day, Laura mentioned her situation to a transport patient experiencing similar symptoms. The patient enthusiastically recommended Dr. Jackson. "I called his office that day," Laura said.
Dr. Jackson to the rescue

"Admittedly, Laura is much younger than most patients who require such an extensive surgery," Dr. Jackson said. "The combination of the injury and time caused her to have a severely afflicted knee with severe osteoarthritis."
Osteoarthritis is the most common reason for knee replacement surgery. Arthritis causes the cartilage to wear away, exposing the bone in the joint, resulting in extreme pain.
"Our technologically advanced knee surgery is a solution for patients suffering from osteoarthritis," said Dr. Jackson. The total joint replacement surgery involves removing a small amount of the bone and resurfacing it so patients can be pain-free. "Total joint replacement surgery has proven to be an incredible medical breakthrough," Dr. Jackson said.
Genesis offers the latest in technology to provide the best in joint replacement surgery regionally. "Our specially trained surgeons and advanced providers provide expertise for patients like Laura to get them back to enjoying life," Dr. Jackson said. "Plus, our advanced minimally invasive technologies help patients recover faster."
"I had confidence in Dr. Jackson," Laura said. "He explained every part of the surgery and recovery clearly and made me feel at ease."
Life-changing surgery

"The principle goal of this surgery is for patients to walk pain-free," Dr. Jackson said. "Laura was in misery. She couldn't
straighten her knee, and every step caused discomfort. Now she is pain-free."
Laura appreciates Dr. Jackson's compassionate care that enables her to walk, run and sleep at night without pain. "The knee replacement surgery has been life-changing. I am so fortunate that I found Dr. Jackson."