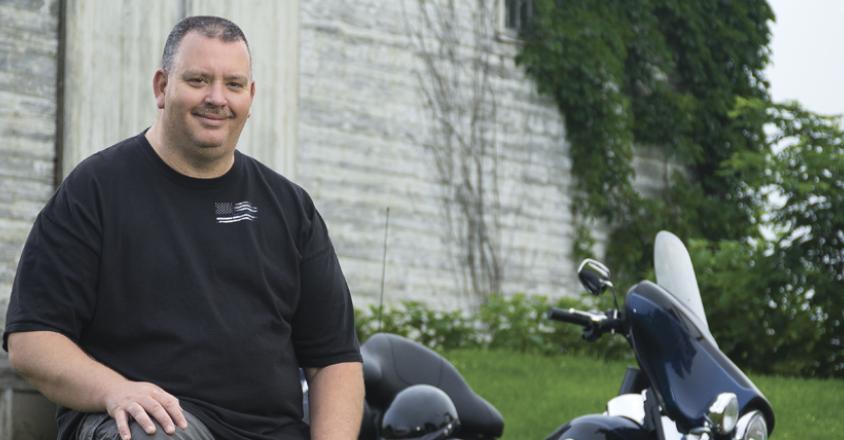 Early Colonoscopy Diagnoses Police Officer With Stage III Colon Cancer
Don't ignore changes in bowel habits or energy levels
Marcus Ramsey is a career law enforcement officer who risks his own life to help others every day. That is, until he learned his life was to be in someone else's hands for a while.
Marcus felt tired and lethargic, which was unusual because the 45-year-old was normally physically active. He also noticed disturbing changes in his gastrointestinal habits. After weeks of dealing with the symptoms, Marcus made an appointment with his family doctor, and a colonoscopy was scheduled immediately. The colonoscopy revealed stage 3 sigmoid colon cancer.
Although Marcus' life suddenly changed, the first responder maintained his bravery. "I thought from the beginning, 'We'd get through this,'" said the Roseville resident.
Before-50 colonoscopy saved his life
The expert team of surgeons and cancer specialists at Genesis were with Marcus to help him through the diagnosis and treatment. First, Marcus had surgery performed by Thomas Diehl, M.D., a general surgeon at the Genesis Center of Surgical Excellence, to remove part of the colon and lymph nodes.
Dr. Diehl applauded Marcus' decision to make an appointment with the family doctor and follow up with a colonoscopy. "While a colonoscopy is recommended beginning at age 50, if you see a change in bowel habits, get the colonoscopy even if you're younger than 50," said Dr. Diehl. Discovering the cancer under age 50 worked in Marcus' favor. "Someone in their 40s will recover faster, particularly with a positive attitude," Dr. Diehl said.
Marcus underwent about six months of chemotherapy at the Genesis Cancer Care Center and kept his spirits up throughout the treatments. "He tolerated his treatment well and is a very optimistic guy," said Phu Tran, M.D., hematologist and oncologist, Genesis Cancer Services. "I believe his positive personality and his family support helped him significantly," Dr. Tran said.
Optional video caption
Choosing your cancer team for colon cancer treatment
"A cancer diagnosis is a life-changing experience for most patients. We have a strong team committed to our patients, and we support them every step of the way through the cancer treatment," Dr. Tran said. Marcus appreciated the support throughout his cancer treatment. The Genesis staff made his hospital stay and treatments a positive experience. "I had excellent care throughout," said Marcus. "My wife stayed with me, and as a caregiver, she was treated well, too. The medical staff here is absolutely fantastic."
Marcus appreciated the team's constant compassion. "The staff always let me know what was going to happen next and was beside me every step of the way," Marcus said. "I've had really great care, which made my job of healing much easier."
Marcus was grateful for the high-quality care close to home. "While I was having treatments, all the responsibility for continuing life at home was put on the family," he said. "My wife and children didn't get to check out when I got cancer."
A cancer diagnosis is life-changing for most people
In law enforcement, Marcus faces adrenaline-charged circumstances every day. He now views the fast-paced life a little differently. "Every day is a gift. My perspective on life has changed considerably. I tend to focus on my family a lot more," he said. Marcus also thinks about how important it is to slow down and enjoy one's surroundings, particularly from the road. An avid Harley-Davidson® motorcyclist, he was thrilled to return to his favorite hobby.
Marcus is now cancer-free. "Of course, I'm not avoiding doctor's visits anymore," Marcus admitted. He will continue to return to the Genesis Cancer Care Center every several months for check-ups.
Today, thanks to the Genesis Cancer Care team's support, Marcus is back on the beat, protecting and serving the rest of us.