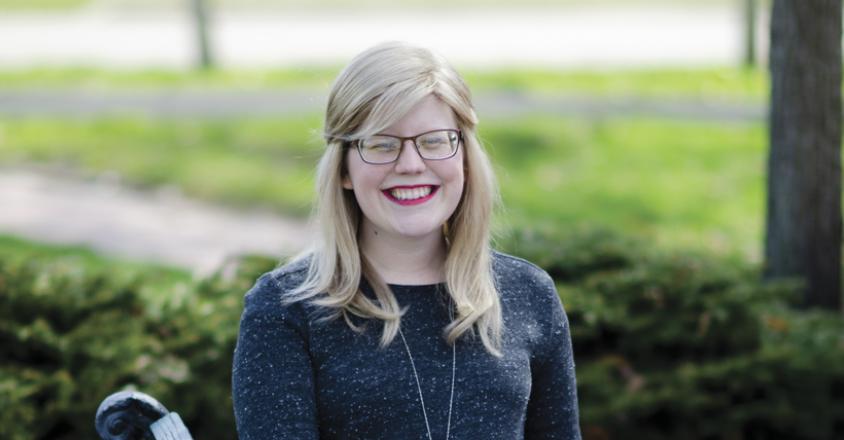 College Student Wins Fight Against Hodgkin's Lymphoma
Advanced 'breath-hold' treatment limits radiation exposure
As a college student, Becky Downing, 21, radiated with enthusiasm for the future. She excelled at Hope College in Michigan, and during her senior year, she lined up an interview for a coveted internship at Walt Disney World Resort. Everything seemed perfect.
But one day before her internship interview, she woke with a curious, itchy rash. Topical cream from an urgent care didn't help although Becky completed her interviews.
Weeks later, another physical change appeared—a small lump on the left side of Becky's neck. Her school's health center referred her to a specialist. An initial needle biopsy of the lump was inconclusive. A surgical biopsy that Becky underwent during finals week produced a diagnosis of Hodgkin's lymphoma.
Symptoms of Hodgkin's lymphoma
• Lump in the neck, underarm or groin
• Itchy skin
• Drenching night sweats
• Fever
• Unexplained weight loss
Coming home to Zanesville for cancer treatment
Determined to graduate on time, Becky decided to complete her last semester online, while receiving chemotherapy and radiation treatment in her hometown of Zanesville at the Genesis Cancer Care Center.
Registered nurse and oncology specialist Annette Barr was Becky's cancer navigator. "Navigation is about developing a relationship with a patient. It's important to identify the care recommendations along with a patient's goals," said Barr. "Becky was amazing during treatment. It was immediately obvious that Becky had developed her life plan, and this cancer was not about to slow her down. She was always upbeat. She was also surrounded by a supportive and cohesive network of family and friends who were there for her during her good days and her not-so-good days."
Under the care of hematologist/oncologist Scott Wegner, M.D., Genesis Cancer Services' medical director, Becky initially received chemotherapy infusions every other week for two months. Other than losing her hair, she said this part of her journey was the easiest. Next came radiation treatment.
Treating Hodgkin's lymphoma in younger patients
The good news: Hodgkin's lymphoma cure rates stand between 80 and 90 percent. The bad news: When patients receive radiation for Hodgkin's lymphoma at a young age, treatment-related health problems can arise later in life. Today's advanced technology and techniques aim to change that.
"We know patients receiving treatment for Hodgkin's lymphoma in their 20s often experience side effects decades after treatment," said Eugene Hong, MD, a Genesis radiation oncologist. "For example, people treated in the 1960s developed health issues more problematic than the original cancer itself such as heart disease and secondary cancers. That's why today's treatments for young patients strive to minimize potential long-term side effects while maintaining cure rates. With that in mind, we chose the deep-inspiration breathing technique for Becky."
Limiting radiation exposure for healthy organs and tissue
The Deep-Inspiration Breath Hold (DIBH) technique dramatically reduces radiation exposure to the heart, breast tissue and lungs. Here's how it works:
Physicians use advanced 4-dimensional (4-D) imaging technology to plan treatment. The technology captures images in real time, displaying the rise and fall of the chest, and the movement of organs and tumors within as patients breathe.
Radiation specialists use the 4-D images to map a path for the radiation beam that targets tumors and avoids exposure to surrounding areas. The technology calculates exactly how much radiation exposure tissue and organs receive.
During treatment, the patient holds a deep breath for 30- to 40- second intervals, keeping internal organs in a constant, precise position while radiation is administered.
Long-term effects of chest radiation
It sounds simple, but inhaling a precise amount of air repetitively takes practice and patience.
"It often requires multiple tries to align everything within the strict parameters," Dr. Hong said. "Our computer records a surface map of the body and shows when the body, belly and lungs are perfectly placed for the radiation."
Although DIBH requires more time and effort than conventional radiation therapy, the added accuracy pays off.
"With traditional radiation techniques, Becky's heart would've been exposed to the full radiation dose and her long-term heart disease risk would've increased significantly," Dr. Hong said. "Using DIBH, Becky's heart received a tiny fraction of the radiation."
Radiation therapy and heart disease
One risk associated with chest radiation therapy is heart and cardiovascular problems years after treatment. For Hodgkin's lymphoma patients, studies show many patients who have received radiation therapy eventually require cardiac treatment or cardiac surgery for heart disease.
Long-term effects of radiation therapy can include:
• Valve disease
• Coronary artery disease
• Aorta disease
• Valvular disease
• Pericardial disease
• Myocardial disease
Treating Hodgkin's lymphoma with radiation is necessary to save a patient's life. DIBH and other radiation therapy techniques are reducing the damaging effects of chest radiation for cancer patients. According to the American Cancer Society, the 5-year relative survival rate for all cancers diagnosed between 2002 and 2008 is 68 percent, and that's a marked increase from the 49 percent documented between 1975 and 1977.
Although heart disease may not develop for 10 or more years after radiation therapy, it's important to let your doctor or cardiologist know about your treatment history. DIBH also can benefit certain patients with lung cancer, breast cancer and non-Hodgkin lymphoma. While the capabilities of using DIBH at Genesis are limited now, the Cancer Services team is considering purchasing the equipment to enable more qualified patients to be able to use this innovative technique.
Cancer-free … and a bright future
After completing treatment at the Genesis Cancer Care Center, Becky returned to Hope College in May – cancer-free and in time to graduate with her class. While her classmates cheered her recovery, Becky says Genesis' cancer team also deserve a round of applause.
"The doctors and nurses are amazing. They put confetti on my chair on my birthday, brought me crackers and drinks, and took great care of me," she said. "It's obvious they know what they're doing and they genuinely care. Cancer, no matter how you slice it, is awful and hard, but I had an overall good experience … a lot better than I expected."
"Becky was so outgoing during her treatments," said Barr. "She met and developed a friendship with another cancer patient in her age group who was on a different journey, yet had similar challenges. That's one of the advantages of our chemotherapy area. It allows the opportunity for networking between cancer survivors as well as many other benefits."
Today, Becky is a cancer-free college grad, armed with a plan for survivorship that the Genesis cancer team developed for her. She is moving forward to her much-anticipated internship with Disney, and her future feels bright again.