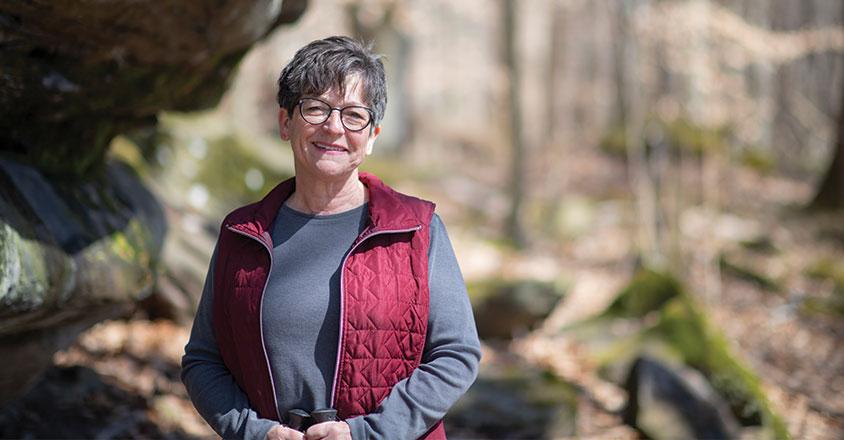 Climbing cancer's uphill journey with local, expert guides
Debbie Lovensheimer's hiking buddies looked concerned after traversing 25 miles on the Appalachian Trail. Normally, Debbie thrives as their fearless leader, but this time she felt bad. In addition to unusual fatigue, she consistently experienced stabbing pain after she ate. The discomfort had been going on for a while, and she had unintentionally lost 20 pounds within a month. Debbie knew this was more than indigestion, so she sought advice from her local primary care physician.
"My blood work came back whacky from that first doctor's appointment. Within days I had a CT scan that showed a mass in my pelvis, and just days after that I had a surgery scheduled. Everything was set up quickly and smoothly," Debbie said.
Local experts provide close-to-home care

Based on her blood work and CT scan results, Debbie's primary care physician contacted the Genesis Cancer Care Center specialists. Known for providing expert and compassionate cancer care, the nationally accredited center offers top-quality treatment close to home.
Genesis physicians then collaborated with gynecological oncologists at OhioHealth, where Debbie underwent a hysterectomy and removal of the mass that grew around her uterus and colon. After recovering from the surgery, Debbie began six rounds of chemotherapy at the Genesis Cancer Care Center.
"We are lucky to have a top-notch cancer center in Zanesville. It made chemo so much easier for me to have a short, nice ride and not have to battle with traffic in Columbus," Debbie said. "Plus, everyone at the center was upbeat and kind. I felt comfortable and cared for."
Genesis Cancer Care Center offers support for a successful climb
"Patients walk through our doors and immediately feel like they're among friends and family. I love working here because we really get to know our patients and what's important to them," said Annette Barr, BSN, RN, OCN, Oncology Nurse Navigator at Genesis Cancer Care Center. "We give personalized care with a hometown feel, and our patients appreciate that."
Debbie agrees.
"They helped me successfully get through this," Debbie said. "I can't say enough great things about them! Now, I want to take my experience and help others with their journey."
Helping others get on their feet
"Cancer is a journey. It starts the day of diagnosis and continues until a patient completes treatment and rebuilds a new normal," Annette said. "With the pandemic, patients have said it's more difficult to get out and recondition their bodies. That's where Debbie is reaching out and making a difference."
Eight years ago, Debbie and three friends initiated a Facebook group called "Forever Young Adventurers" for women looking to get active outside. After COVID-19 hit the United States, many new members eagerly joined, and some of them are cancer patients looking to rebuild their muscles and motivation.
"Having fellowship and outdoor experiences inspired me to get out of the chemo chair and back to hiking. I want to encourage others in the same way. Our group is free to join. I'd like to help cancer patients build up their stamina and get outside so I hope you join our group of fun, enthusiastic, inspiring women," Debbie said. If you're interested, you can phone Debbie at 740-828-2594 or join the Facebook group, "Forever Young Adventurers".  
To contact specialists at the Genesis Cancer Care Center, call 740-454-5271.
Supporting Health Care in Our Communities
The Genesis HealthCare Foundation is here to promote charitable support for Genesis HealthCare System.