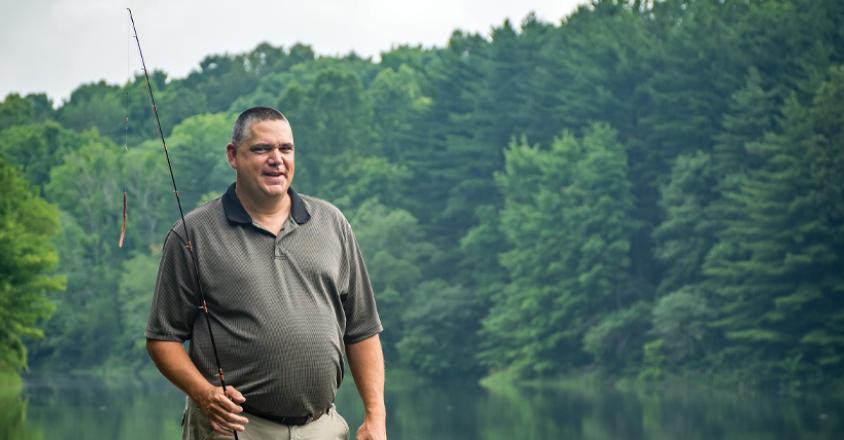 Avid Fisherman is Pain-Free After Minimally Invasive Shoulder Surgery
Surgeons use advanced 4k camera to save rotator cuff
Mark Morris tried everything – physical therapy, injections, chiropractic care, changing the way he maneuvered his shoulder during everyday activities, even the "grin and bear it" approach – but the pain stubbornly remained.
"It got to the point where it was extremely difficult to carry or lift a gallon of milk," said the 48-year-old New Concord resident. "I like to hunt and fish, but it was painful to cast a pole. I like to do yard work, but I couldn't manage pushing or pulling. My range of motion without pain was very minimal."
Choosing the right orthopedic surgeon for shoulder surgery
Mark doesn't know exactly when or how he injured his shoulder, but he knows that after seven years of hurting, he wanted his quality of life back. Though Mark said he'd willingly travel to find the best doctor, his family physician highly recommended a new, expert orthopedic surgeon in Zanesville – Thai Trinh, M.D., with Genesis Orthopedic Sports Medicine.
Before joining Genesis, Dr. Trinh obtained his doctorate from The Ohio State University College of Medicine and then completed an orthopedic surgery residency at Mount Carmel Health System in Columbus. He also underwent a fellowship in sports medicine and shoulder surgery at the University of Michigan. His thorough specialty training and expertise qualifies him to care for a wide variety of orthopedic injuries – from athletic damage to advanced impairments like Mark's.
Optional video caption
Acromioclavicular (AC) joint arthritis and bicep tendonitis cause pain
Upon looking at Mark's MRI results, Dr. Trinh identified a two-part problem with Mark's right shoulder: acromioclavicular (AC) joint arthritis and bicep tendonitis. Both issues frequently result from strained, heavy use of the shoulder over time.
"The AC joint is the only joint that suspends your arm from your body," Dr. Trinh explained. "So, every time you bring your arm above your head, your AC joint is under stress. After years of heavy use and lifting, arthritis can develop."
Likewise, bicep tendonitis, or inflammation of the tendons connecting the bicep muscle, flares up with heavy labor and repeated overhead motion. To repair the damage, Dr. Trinh performed an advanced surgical procedure at Genesis.
"I removed the arthritis in his AC joint, then I removed the diseased bicep tendon from inside the shoulder where it's surrounded by highly sensitive nerves. Then I reattached it to the humerus, where there are less nerves," Dr. Trinh said.
"Also, based on the MRI, we weren't sure if his rotator cuff was torn or not," he said. To obtain an accurate, clear view of Mark's rotator cuff, Dr. Trinh used a new 4K surgical camera. The impressive technology offers the highest resolution images available – right here at Genesis.
4k surgical camera leads to precise diagnosis
"The state-of-the-art, live imaging allowed us to determine that his rotator cuff was healthy and undamaged," Dr. Trinh said. "We were able to use minimally invasive technology," he said. "The whole thing was outstanding," Mark said. "The Genesis team made sure my comfort was the top priority. They kept me 100% informed as to what they were doing, and I've had zero pain."
Following surgery, Mark underwent physical therapy, has regained range of motion and seen tremendous progress.
Regrets waiting many years to seek treatment
"I've been fishing, and casting my pole didn't cause any issues at all," Mark said with a smile. "Plus, I just spent part of the weekend cleaning my pool and working in the garden – I think I'm getting along well."
For Dr. Trinh, that kind of response makes his work worthwhile. "I absolutely love seeing people get back to what they enjoy – whether that's an athlete returning to the game, a weekend warrior getting back into action, or a hard worker getting back on the job. They get their life back, and that brings the most rewarding feeling."
The only thing Mark said he regrets is trying to deal with the pain for seven years. "I'm a living testimonial that Dr. Trinh knows all the new techniques, and as far as I'm concerned, I'm back 150 times better than I was before surgery. To those just living with the pain I say, 'Why wait?' Get it done – and make sure you see Dr. Trinh," Mark said.