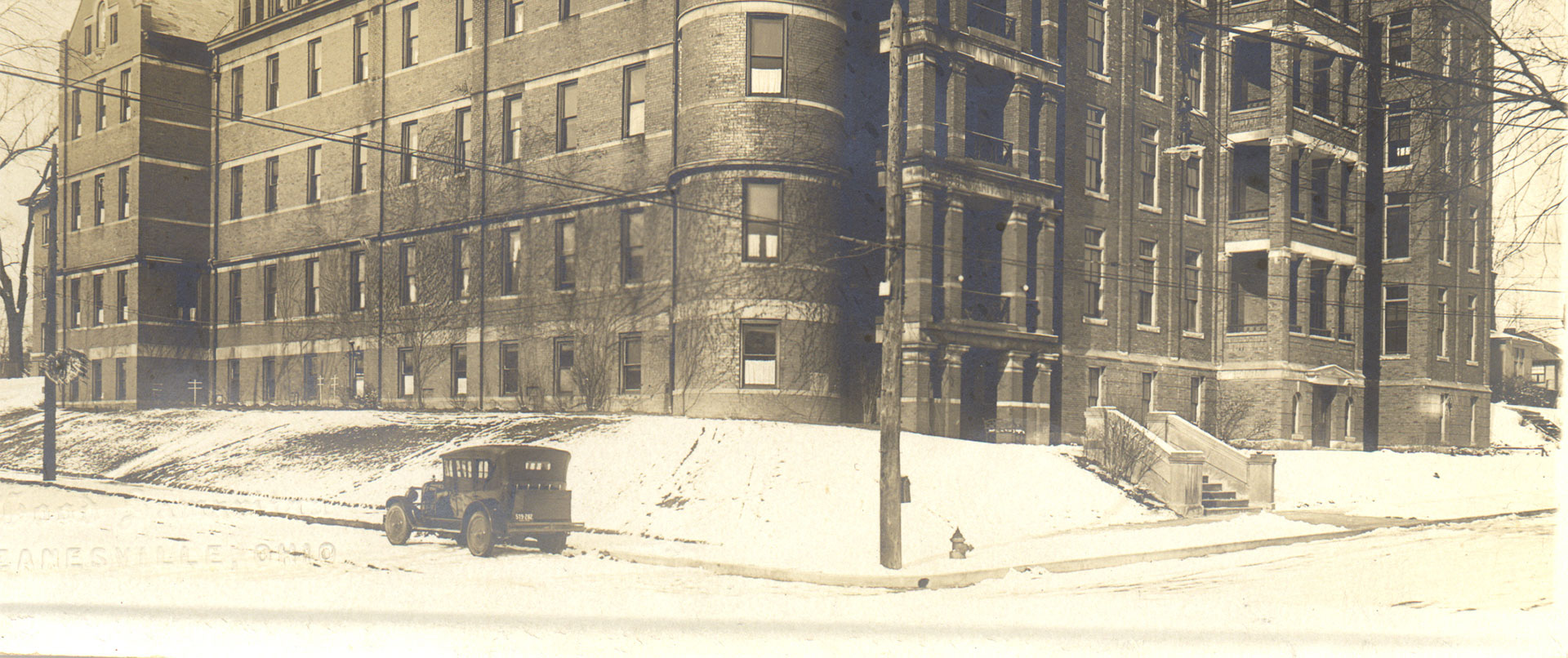 More Than a Century of Care
The affiliation of Bethesda and Good Samaritan joined two organizations with more than 100 years of service to Muskingum County and southeastern Ohio communities. Both hospitals were founded in the 1890s by Zanesville citizens who saw a need to provide treatment and care for the growing population of the area.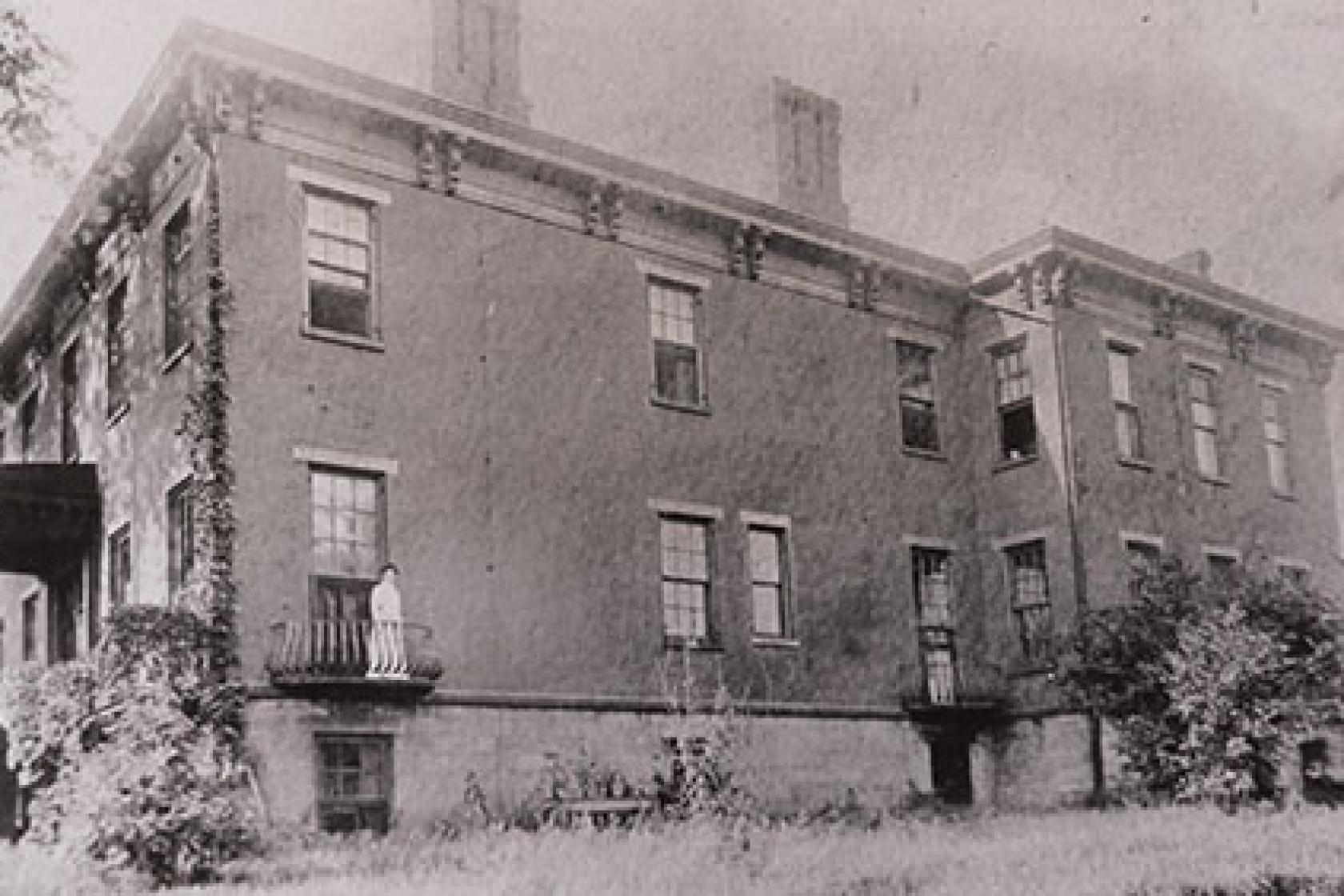 The diligent work of 84 civic-spirited women is credited with bringing Zanesville its first hospital in 1891 and starting a century of caring and compassion. On Jan. 22, 1891, the 12-bed Zanesville City Hospital was dedicated. It was also in this building Zanesville's first training school for nurses began, with the first class of three graduating on Nov. 11, 1895.
Margaret Blue Sanitarium
Margaret Blue was very involved in the health care of the community, and in 1895 she joined Dr. H.T. Sutton in an enterprise that resulted in the establishment of the Margaret Blue Sanitarium. Three years after Margaret's death in 1900, Rev. A. Leininger, pastor of St. Nicholas Church, Zanesville, invited Mother Alexia, community director of the Franciscan Sisters of Christian Charity, to send sisters to run the sanitarium. In response, five sisters arrived from the Holy Family Convent in Manitowoc, Wis.
Through the years, the population of sisters grew to a peak of about 60 in Zanesville, all here to serve from the Franciscan Sisters of Charity. This partnership is as strong today as it was when they came in 1900.
With the sanitarium filled to capacity, and expansion of the building not an option, Father Leininger and Mother Alexia found the E.J. Brush house on Laurel Avenue a better possibility for expansion. The 25-bed facility was called Good Samaritan Hospital.
Zanesville City Hospital Renamed Bethesda
By this time Zanesville City Hospital was growing rapidly and accepting patients from many neighboring communities. In 1901 a 12-room addition was built costing $3,000, sparking a name change in 1907 at the request of Rev. George R. Dickinson of Putnam Presbyterian Church. The hospital was renamed Bethesda after Jerusalem's healing pool mentioned in the New Testament.
Hospitals Experience Growth
In the early 1900s health care was becoming more prominent with advances in medicine and surgery. It became apparent that Bethesda Hospital needed to expand; however, the former Peabody residence could not be expanded anymore. Therefore, in 1914 a campaign was organized to raise funds for the construction of a new building that would house the most modern equipment available. In 1915 the cornerstone for the new 60-bed hospital was laid. After completion, the fireproof three-story building totaled $90,000.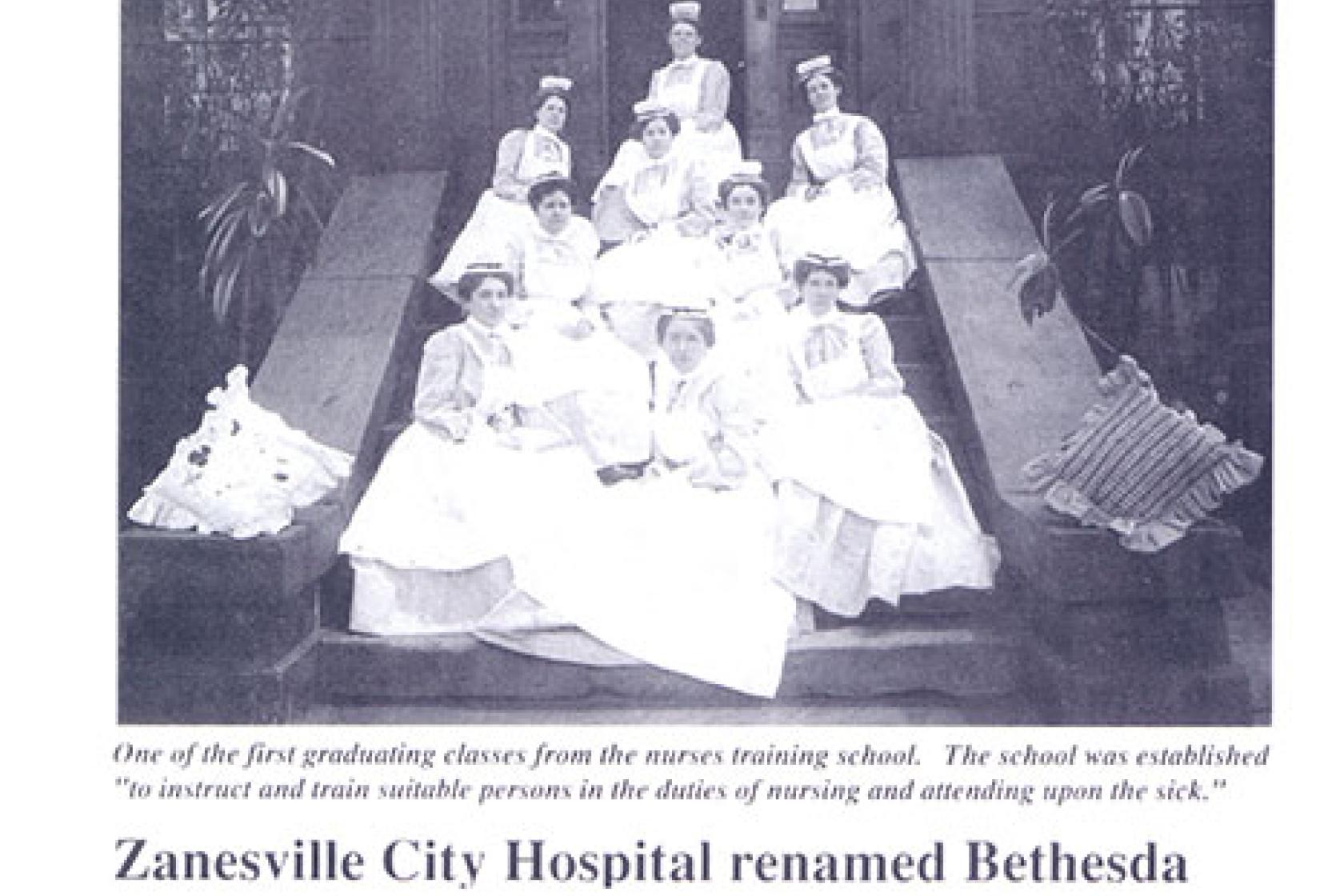 Good Samaritan was growing quickly as well and also underwent several expansions and moves during this time. In 1906 a five-story, 100-bed building was added to the Laurel building, costing $65,000. In 1914 a $10,000 nurses' home was built and followed by a five-story wing in 1924.
In 1929 Good Samaritan nursing students moved into a new residence and were given room and board and $5 a month. The students' work consisted of not only patient care but also cleaning, washing, ironing and whatever was needed. Bethesda also needed a new nurses' home, and in 1952 a three-story brick building costing $563,338 was built on the east side of Bethesda Street.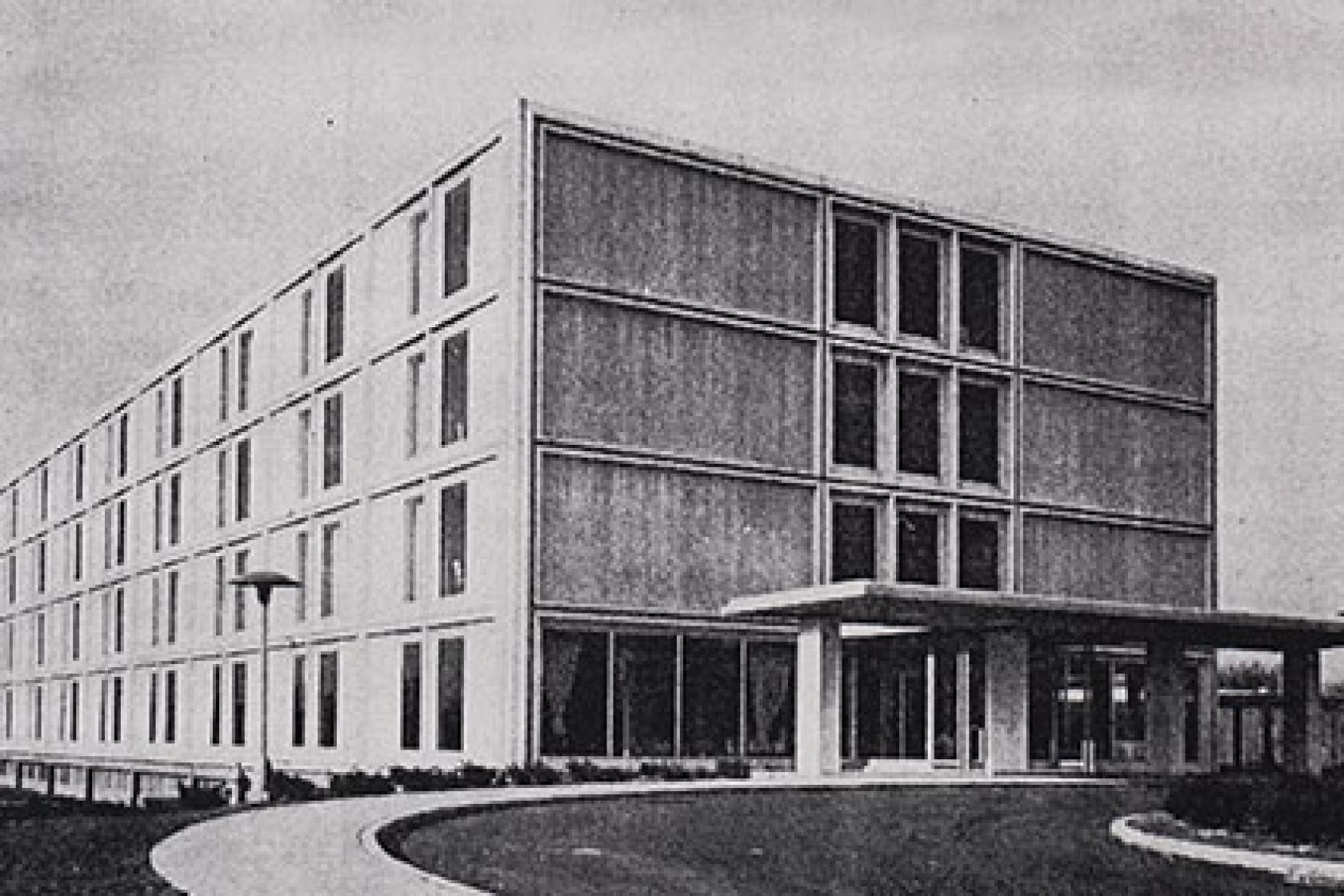 Throughout the 50s growth continued for both hospitals, and further expansion was needed. After much searching, in 1959 Bethesda Hospital purchased and settled on a 40-acre lot on the west side of north Maple Avenue, in its current location. Good Samaritan also added a seven-story addition in 1956, and another seven-story building on Myrtle Avenue was finished, bringing the bed capacity to 420 in 1966. This building met the need for improved outpatient, social services, emergency services, rehabilitation services and critical care and intensive care units.
Both hospitals continued to grow during the 60s, and with Good Samaritan's growth came a name change. With its extensive list of health services, it seemed more appropriate to be called Good Samaritan Medical Center. This change was effective in March 1969.
More changes came for Good Samaritan in 1974 with the demolition of older buildings to make room for a three-story service building to house personnel offices, lounges, lockers, a purchasing department, loading dock and print shop. In 1977 the first Medical Arts building opened, with custom-designed offices to meet the needs of individual physicians. In 1995 the second one was erected to provide office space for the growing number of physicians.
Bethesda also continued to add new services, such as a laboratory and radiology-nuclear medicine clinical services in 1980, which were housed in the Susan H. Edwards Memorial Pavilion, where the emergency room is today. The addition of a cardiac catheterization laboratory and psychiatric center followed in 1986 and 1987, respectively, and in 1990 the Physicians Pavilion opened with space for outpatient services and physicians' offices.
Facing Financial Realities
With competition growing between the two organizations, and the health care industry continuing to be faced with pressures from government, insurance companies and the public to provide quality care at reduced cost, the two organizations realized they could achieve more by collaborating. Building a strong unified health care system was the best option to continually meet the community's needs. In 1989 the first joint effort occurred with the opening of community trauma and oncology registries. In 1990 a joint cardiac catheterization laboratory was launched, and a Magnetic Resonance Imaging (MRI) facility opened in 1991.
Community Health Alliance Formed
On Sept. 22, 1993, the two organizations made a stronger commitment as they formed the Community Health Alliance (CHA); it was committed to bring better health care and an improvement in health to all people of the community. The first joint project after the formation of CHA was in 1994, with the creation of Community Ambulance Service (CAS), which provides ambulance and EMS educational services. In 1995 Good Samaritan developed a provider-sponsored HMO in collaboration with 14 Ohio community hospitals, including Bethesda, to form Community Hospitals of Ohio.
Genesis Emerges
In 1997 Bethesda and Good Samaritan made their commitment permanent when they combined operations and became Genesis HealthCare System. As a single organization, the organization has prospered and continues the tradition of caring that began more than 100 years ago.