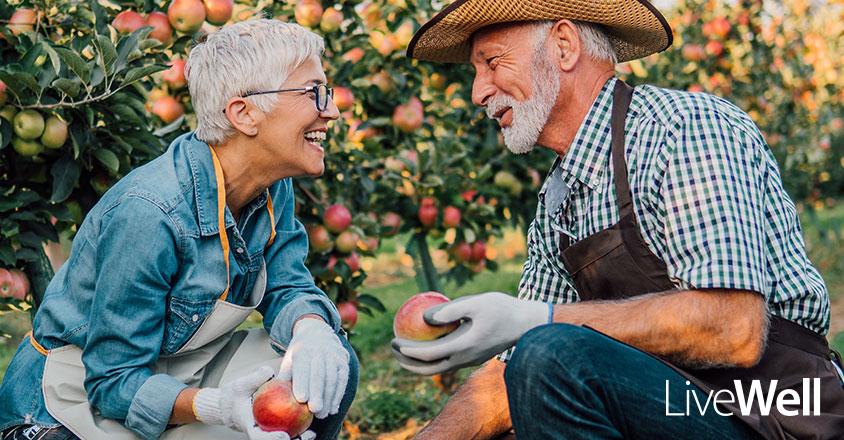 What's in Season
Farmers' markets, produce stands and backyard gardens are some of the best places to get seasonal fruits and vegetables. In fall, we eagerly visit apple orchards to pick, or pick up, a bushel or a peck (we love both). With our freshly picked fruits, pumpkins, squash and other fresh root vegetables, we make seasonal salads, pies and other delicious dishes from recipes passed down through generations. Aside from pleasing your tastebuds, there are benefits to eating what's in season.   
Health benefits of eating what's in season  
Seasonal food is typically fresher, tastier and more nutritious than eating it when it's out of season. Vegetables and fruits out of season in our area are typically picked early to ripen on the long journey to our grocery stores. Researchers at Montclair State University found that the vitamin C content of broccoli is cut in half when it's shipped out of the country compared to when it's sourced locally.   
Locally grown fruits and vegetables last longer in the fridge and on countertops. That's because they're harvested and in your hands well before produce from a different state or country. Produce that can fully ripen on the vine has more nutrients, making it healthier for us to eat. Buying local produce tastes better, lasts longer and has a higher nutritional value. That sounds like a win-win-win.  
What's in season in the fall? 
There are plenty of delicious, nutritious foods harvested this time of year. Here's a list that includes the vitamins and minerals in many fall favorites, courtesy of the United States Department of Agriculture:  
Apples – a great source of vitamin C, fiber and antioxidants.   
Cabbage – contains antioxidants, calcium and vitamin B.   
Cauliflower – a good source of folate, vitamins B, C and potassium.  
Potatoes – a good source of potassium and vitamin C.
Pumpkins – rich in vitamins A, B1, B6, C and E, potassium and the antioxidant beta carotene.  
Winter Squash– rich in vitamins A and C.  
Supporting local farmers is good for the economy and our health. It's also reassuring to know where our food comes from by buying locally. 
---
Ready to get healthy?
Sign up for our digital newsletter to receive health tips, recipes, success stories for inspiration and information about new doctors to help you on your journey to better health.
Genesis HealthCare System's Health and Wellness content conveniently provides accurate and helpful information. Your health history and current health may impact suggestions provided through our Health and Wellness content. Although we hope this information is helpful, it is not a substitute for your doctor's medical advice. Before making any significant changes, please consult your doctor.