 Welcome New Physicians
Wednesday, February 9, 2022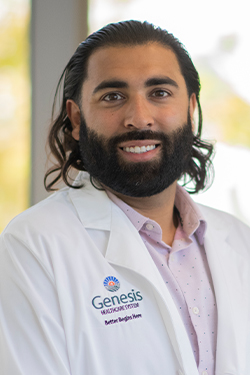 Abdul Dada, M.D.
Genesis Primary Care

Doctor of Medicine: Saint James School of Medicine in Anguilla
Family Medicine Residency: AMITA Health Saints Mary and Elizabeth Medical Center in Chicago, Illinois

"Medicine is changing from a physician to a patient-centered approach," said Abdul Dada, M.D., who joined Genesis Primary Care as a family physician in September. "We now ask patients for input on their treatment," he said. "This is a great way to practice because if patients are reluctant to do something the physician tells them, they may not do it. However, if patients are involved in the medical decision making, they will be more inclined to do what helps them."
Dr. Dada chose family practice because it covers the entire scope of medicine. "This is the type of medicine I want to be a part of," Dr. Dada said. "I want to be a physician who can treat any patient with any problem. Typically, primary care physicians can treat most patients' problems."

"A common misconception about what I do is that I just prescribe medications and tell people to go on about their day," Dr. Dada said. "This is not how family medicine works. We are in a field where communication and working together is of utmost importance." He said rarely does a patient arrive, tell him his or her symptoms and leave the office with a prescription. 
"During visits, I talk to the patient about things they may be going through to get to know them better," Dr. Dada said.
Dr. Dada enjoys playing basketball in his free time. "I try to play three or four times a week, and I'm in a league right now," he said. "I also enjoy spending time with my family and friends. I could be doing anything and enjoy it as long as I am with the people I love."
Dr. Dada is located at Genesis Primary Care, 1210 Ashland Ave., Zanesville and is accepting new patients. His office phone number is 740-454-0370.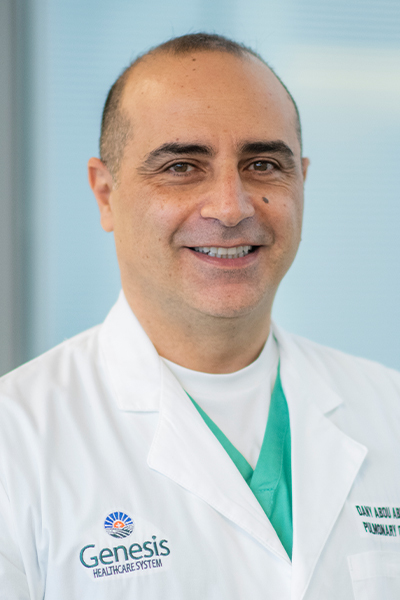 Dany Abou Abdallah. M.D.
Pulmonary/Critical Care Medicine

Doctor of Medicine: Saint-Joseph University in Beirut, Lebanon
Board-certified: Pulmonary, critical care and sleep medicine
Sleep Medicine Fellowship: The Medical College of Ohio, The Toledo Sleep Disorders Center in Toledo, Ohio
Pulmonary Critical Care Medicine Fellowship: SUNY Upstate Medical University in Syracuse, New York
Internal Medicine Residency: Cleveland Clinic Health System in Cleveland, Ohio

A good night's sleep is critical, according to Dany Abou Abdallah, M.D., who joined Genesis Pulmonary & Critical Care Specialists in September. Most Americans are sleep deprived; however, Dr. Abou Abdallah said studies strongly support the potential dangers of sleep deprivation on cognition and work performance. Unfortunately, taking a nap will not solve sleep deprivation. "The best resolution for lack of sleep is to have a restful and regular sleep-wake schedule," he said.

The field of critical care medicine and its disciplines fascinated Dr. Abou Abdallah during his training in internal medicine. He chose pulmonary medicine as his second specialty so he could treat critically ill patients whose condition affects their respiratory systems. "My background in pulmonary medicine enables me to treat patients who have acute lung diseases and manage those who have chronic respiratory diseases," Dr. Abou Abdallah said.

"I chose to specialize in sleep medicine after I noticed sleep or lack of sleep can affect my patients' chronic lung diseases or vice versa," Dr. Abou Abdallah said. The field of sleep medicine is quite extensive and encompasses other sleep-related conditions such as insomnia and narcolepsy.

"My best time is spent around my wife and two young boys," Dr. Abou Abdallah said. His hobbies include skiing, jogging, soccer and ping-pong. Dr. Abou Abdallah brings more than 20 years of experience to Genesis. He is located in the Genesis Pulmonary/Critical Care Specialists office, 945 Bethesda Drive, Suite 260, Zanesville. The office phone number is 
740-586-6888. Dr. Abou Abdallah is accepting new patients. A referral is required.