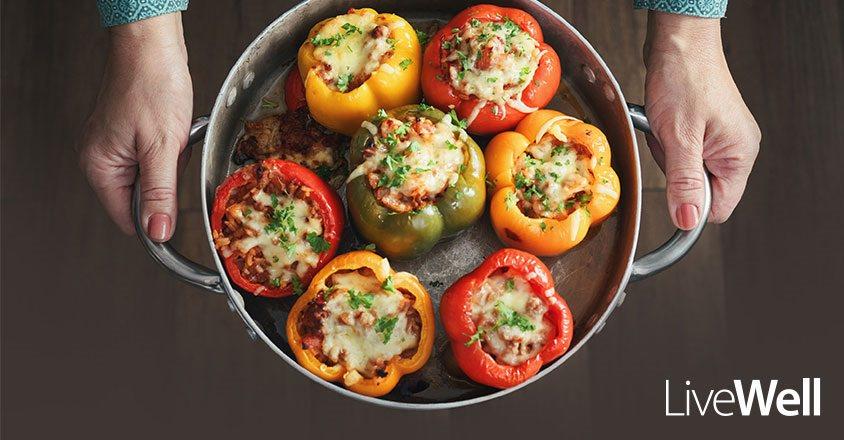 Turkey Stuffed Peppers 
Ingredients: 
6 large bell peppers 
1 cup low-sodium chicken broth, divided 
¼ cup tomato sauce 
1 ½ cups cooked brown rice 
6 tablespoons low-fat, sharp cheddar cheese, shredded 
1 lb. 93% lean ground turkey 
2 garlic cloves, minced 
1 medium onion, minced 
1 teaspoon cumin powder 
¼ teaspoon salt (optional) 
¼ teaspoon pepper 
Instructions: 
Heat oven to 400°F. 
Lightly spray olive oil in a medium nonstick skillet on medium heat. 
Add onion and garlic and sauté for 2 minutes. Add ground turkey, salt, pepper and cumin and cook for approximately 5 minutes until the meat is cooked. 
Add ¼ cup of tomato sauce and ½ cup of chicken broth, mix well and simmer on low for about 5 minutes. 
Turn off the heat and add cooked brown rice. 
Cut the tops off the peppers. Remove all seeds. Spoon the meat mixture into each pepper evenly. Place peppers in a 9 x 13-inch baking dish. 
Pour the remainder of the chicken broth on the bottom of the pan. Cover with aluminum foil and bake for about 35 to 40 minutes or until the internal temperature is 165 degrees Fahrenheit. 
Remove from the oven, add a tablespoon of shredded cheese to the top of each pepper, and bake for 5 minutes or until the cheese is melted. 
Nutritional information: 
Calories: 499 calories 
Total Fat: 35 g 
Sodium: 946 mg 
Cholesterol: 131 mg 
Carbohydrates: 24 g 
Approved by: 
Maurine Maneely, 
Registered Dietitian 
Find more recipes at genesishcs.org/eatwell.