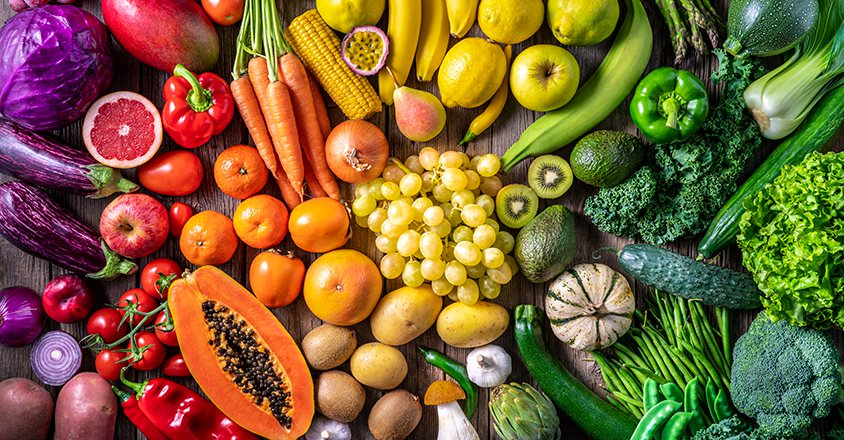 Taste the Rainbow: Ways to Incorporate Healthy Foods of Every Color
Tuesday, December 13, 2022
Sugary candy isn't the only way to taste the rainbow. Here are ways to incorporate fruits and vegetables of every color into your diet. 
Red 
For red foods, try brightening up a salad by adding sliced strawberries. Red bell peppers can be diced and added to pizza or roasted, blended and added to pasta sauce. 
Orange 
Sliced oranges make a delicious, refreshing snack on their own, but they can also be diced and added to fruit salad. Sweet potatoes can be mashed instead of regular potatoes for a nutrient-packed twist on a classic, or they can be roasted and served with chicken for a warm meal. 
Yellow
A mashed banana is versatile—it can be used as the basis of a healthy ice cream substitute or a smoothie, or it can be made into pancakes, among many other recipes. Corn kernels can be added to Mexican food, chili or cornbread. 
Green 
For a pear-ing you'll love (see what we did there?), try pears and feta in a salad, and add walnuts for an additional crunch. Blend spinach into a smoothie for an antioxidant boost that you'll barely taste, added to pesto or baked into a creamy pasta dish.  
Blue 
Blueberries can be added to oatmeal or yogurt for additional flavor in your breakfast. Your blueberry pancakes or muffins can be healthier by making them with whole wheat flour instead of all-purpose. 
Purple 
Grapes are the perfect addition to your snack of cheese and crackers, and frozen grapes make a fun summer treat. Shredded purple cabbage is wonderful in Thai food or a pulled pork sandwich for a crunch in every bite. 
---
As a general rule, most fruits are delicious in smoothies, and most vegetables taste great when cooked into an omelet. For picky eaters, cut vegetables into small pieces and add them to meatloaf or meatballs. For variety in textures, tastes and nutrients, be sure to eat fruits and vegetables in every color of the rainbow. 
Genesis HealthCare System's Health and Wellness content conveniently provides accurate and helpful information. Your health history and current health may impact suggestions provided through our Health and Wellness content. Although we hope this information is helpful, it is not a substitute for your doctor's medical advice. Before making any significant changes, please consult your doctor.