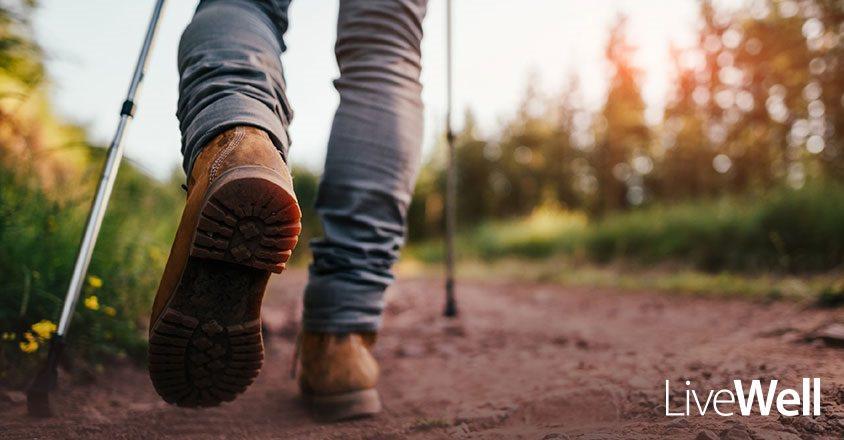 Take the Scenic Route
Lace up your boots and go 
Close your eyes. Feel the warmth of the sun on your face. Listen to the sound of the wind softly whooshing through the trees. Take a deep breath and inhale the smell of honeysuckle. Delightful imagery like this is real when you spend time walking or hiking outdoors. 
Ohio is home to 75 state parks with trails that span more than 7,680 miles. With thousands of miles to explore, you can start a new hobby. Pretty soon, you'll begin to experience all the benefits of trail walking. 
Physical benefits of trail walking 
No matter your age or fitness level, staying active is important to your overall health. Walking comes with a long list of positive side effects. According to the National Institute on Aging, staying active helps: 
•Reduce your risk of heart disease. 
•Improve arthritis. 
•Increase energy levels. 
Mental benefits of trail walking 
A Stanford University study found that people who walked for 90 minutes in a natural area showed decreased signs of depression. Through this study, researchers show a link between nature and improved mental health. Walking can: 
•Reduce anxiety and depression. 
•Regulate your sleep.  
•Improve your memory. 
Trail walking tips 
Before you hit the trail, there are a few things you should keep in mind. Most importantly, you need to stay hydrated. Bring water to sip on throughout your walk.  
Protect your skin and eyes from the sun. Apply sunscreen before you head out. For extra protection, consider wearing a hat and sunglasses.  
A good pair of shoes will make a big difference in your ability to hit the trail and stay on it. Find a pair that provides comfort and stability. This will help you tackle hills and uneven sections with ease.  
While you're on the trail, keep an eye out for native plants and wildlife. Taking in the sights and sounds of the outdoors can help keep you motivated.  
Finally, go at your own pace. Any amount of movement is good for you. If you need to, start slow. Once you feel comfortable, you can add distance to your walks. Find your local state park or nature preserve and enjoy your time outdoors.  
Before you begin a new exercise routine, be sure to talk it over with your primary care provider.  
Safety tip 
Prevent exposure to the infected ticks that transmit Lyme Disease. Listen to Jignesh J. Modi, M.D., a Board-certified and Fellowship-trained Infectious Disease Specialist at Genesis HealthCare System's Infectious Disease Clinic, discuss symptoms, treatment and prevention of Lyme Disease in our podcast, "Avoid getting ticked off by Lyme Disease." 
---
Ready to get healthy?
Sign up for our digital newsletter to receive health tips, recipes, success stories for inspiration and information about new doctors to help you on your journey to better health.