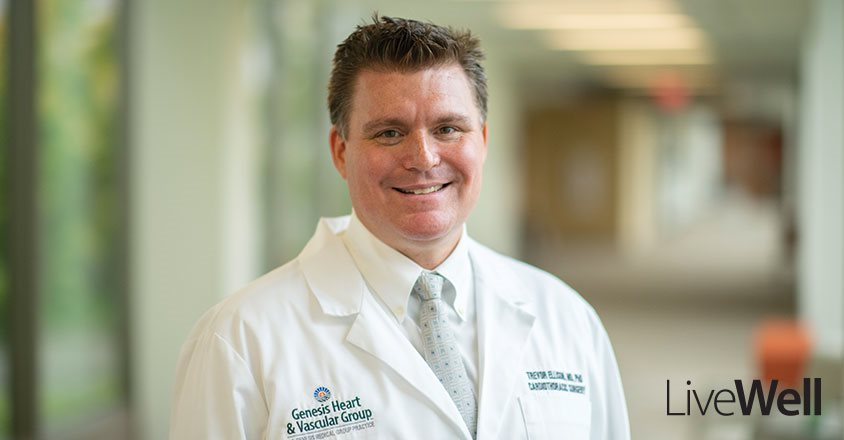 Spotlight on Trevor Ellison, M.D., Ph.D.
Cardiac Surgery 
Cardiothoracic Surgeon Trevor Ellison, M.D., Ph.D., recently joined the Genesis Heart & Vascular Group, serving as Medical Director. In this role, he oversees cardiothoracic services at the Genesis Heart & Vascular Institute and will lead the clinical team in cardiac surgery.  
As a surgeon, he will perform a full range of traditional and minimally invasive heart procedures, such as aortic surgery, coronary artery bypass grafting, TAVR, TEVAR, MitraClip and open valve repair and replacement. 
Dr. Ellison said that the intricacy, nuance and technical skill required to perform operations with outcomes that are seen immediately is what drew him to cardiology. "There is non-stop variety, and the field is developing so rapidly that it requires constant study — both of which I enjoy." 
Growing up, Dr. Ellison witnessed frequent medical care given to his three siblings, all of whom have special needs. His brother has cerebral palsy and needed to undergo many orthopedic surgeries, which opened Dr. Ellison's eyes to the medical profession. From the age of 12, he knew he wanted to become a doctor. 
Dr. Ellison was awarded a prestigious scholarship from the Gates Cambridge Trust through the Bill and Melinda Gates Foundation. With the scholarship, he focused on international medical relief while earning his MBA from the University of Cambridge in Cambridge, England. 
Outside of work, Dr. Ellison's favorite activity is to spend time with his family. He and his wife have two girls, ages 5 and 9, and two boys, ages 11 and 13.  
Dr. Ellison is accepting new patients by physician referral. His office is in the Genesis Heart & Vascular Institute, 955 Bethesda Drive, First Floor, Zanesville. The office phone number is 740-454-0804. 
Doctor of Medicine: Johns Hopkins University School of Medicine, Baltimore, Maryland  
General Surgery Residency: The Johns Hopkins Hospital, Baltimore, Maryland 
Fellowships: Cardiothoracic Surgery, The Johns Hopkins Hospital, Baltimore, Maryland  
Ph.D.: Health Economics and Policy, Johns Hopkins Bloomberg School of Public Health, Baltimore, Maryland 
Board-certified: American Board of Surgery, American Board of Thoracic Surgery