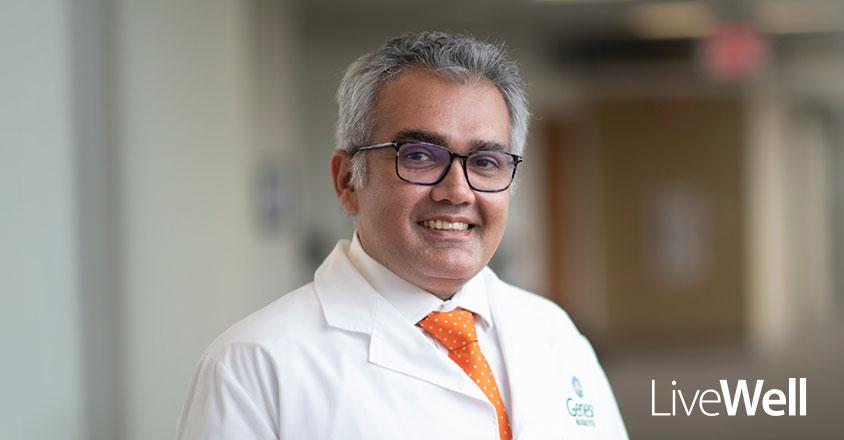 Spotlight on Puneetpal S. Bains, M.D.
"An endocrinologist is a detective who looks for clues and asks pertinent questions to solve a case," said Puneetpal S. Bains, M.D., who joined Genesis Endocrinology in March. He was drawn to endocrinology by its complexity. "I have always loved solving problems, and this specialty allows me to investigate complex issues and fix them," Dr. Bains said. "Moreover, endocrinology also presents an intersection between medicine and technology. I find this specialty very rewarding."
Dr. Bains said endocrine disorders are increasing, but the number of endocrinologists is not keeping up with demand. "So, I am happy to bring my expertise to this community," he said. Dr. Bains treats such common disorders as diabetes, thyroid issues and osteoporosis, and also treats gender dysphoria with hormone replacement therapy.
Dr. Bains said he functions as a team member with Genesis staff and a patient's primary care provider. This team has a common goal of helping fix or manage an endocrine issue. "My patients are one of the most important things in my life, along with my family," Dr. Bains said.
Endocrinological technology attracted Dr. Bains to the specialty. "Technology has changed our lives dramatically, and we continue to see its benefits in healthcare." Particularly diabetes, he said. "Years ago, the only way for individuals to check their blood sugar was by poking their fingers four to six times a day or more," he said.
Continuous glucose monitors changed that, as have insulin pumps. "Eventually, I think the insulin pumps will do more," Dr. Bains said.
Dr. Bains spends his free time with his wife and two children — an 18-month-old son and a 6-year-old daughter. He also enjoys watching sports. "I am a big Cleveland Browns and OSU Buckeyes fan," he said. "Hopefully, one day, the Browns can make it to the Super Bowl. We can all dream, can't we?"
Dr. Bains' office is located at Genesis Endocrinology, 860 Bethesda Drive, Building 2, in Zanesville. His phone number is 740-586-6690. A physician referral is required.
Doctor of Medicine: Saba University School of
Medicine, Netherlands-Antilles
Board-certified: Endocrinology, diabetes,
metabolism and internal medicine
Residency in Internal Medicine:
The Jewish Hospital, Cincinnati, Ohio
Fellowship in Endocrinology:
The State University of New York Upstate Medical
University, Syracuse, New York