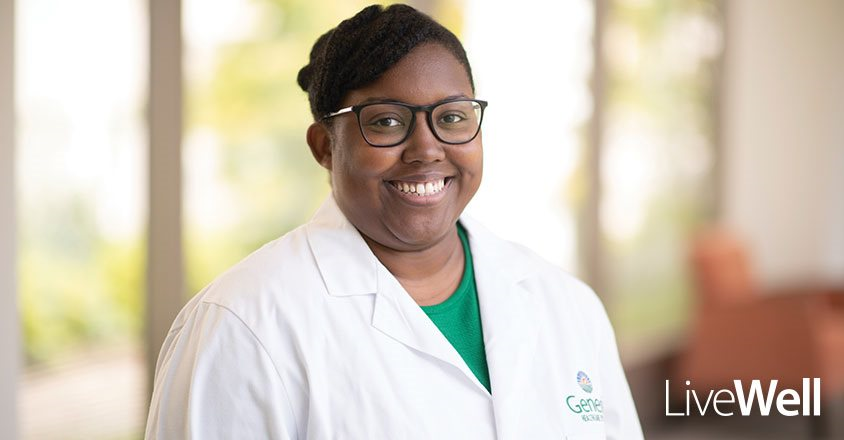 Spotlight on Kethelyne Beauvais, M.D.
Genesis Primary Care  
Kethelyne Beauvais, M.D., joined Genesis Primary Care in August 2022, specializing in family medicine. As a teen, Dr. Beauvais says she liked to study biology. Outside of school, she participated in many service activities. She says it didn't take long for her to realize that becoming a doctor would allow her to pursue both passions. 
In college, she volunteered at a free clinic. She worked with a family medicine physician and observed how he served. "It made an impact," Dr. Beauvais said. "It was about helping and healing the community, and I knew that's what I wanted to do." 
Dr. Beauvais also believes education is an important part of healthcare. When asked to give some advice about staying healthy, she offered several tips. 
"Don't underestimate the power of washing your hands — it seems like a little thing. With so many viruses around, it's important," she advised. "If you have kids, have them wash their hands when they come home from school and teach them to wash before they eat." 
She also encourages everyone to become familiar with the three-digit number "988." Dialing the number routes callers to the 988 Suicide & Crisis Lifeline, which provides free and confidential emotional support to people in suicidal crisis or emotional distress 24/7. 
Any more words of wisdom? "The phrase 'An ounce of prevention is worth a pound of cure' is good advice," Dr. Beauvais said. "Even if you feel great, it's important to check in with your primary healthcare provider. If you catch things early, it can make a big difference."  
Dr. Beauvais is accepting new patients at Genesis Primary Care, 401 Lincoln Park Drive, Suite A, New Lexington. Her office phone number is 740-342-5107.  
Doctor of Medicine: Eastern Virginia Medical School, Norfolk, Virginia 
Residency: Family Medicine, Brown University, Pawtucket, Rhode Island 
Board-certified: The American Academy of Family Medicine