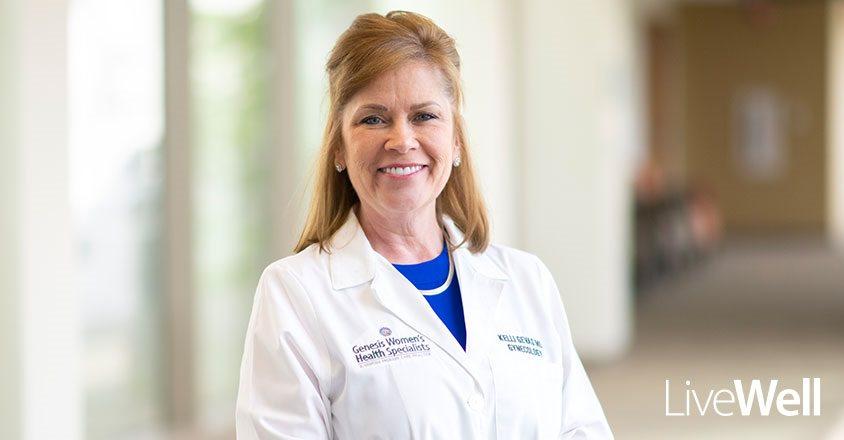 Spotlight on Kelli Gevas, M.D., FACOG, ABOMD
Gynecology, Women's Health and Obesity Medicine 
Kelli M. Gevas, M.D., joined Genesis Women's Health Specialists-Perry County in May 2023, specializing in gynecology, women's health and obesity medicine.   
Dr. Gevas thought she was going to retire from obstetrics and gynecology but instead began studying to be board certified in Obesity Medicine because she has always had an interest in this field of medicine. "There is a need for a greater understanding of how obesity affects all other aspects of health, especially in women," she said.  
The opportunity to relocate to this area and use that board certification came from a conversation with a Genesis team member about the need for a women's health specialist in Perry County. "I like the small-town community feeling and being able to get to know my patients," she said. "I want to be able to narrow down what their needs are and find what works for them."  
There are family ties to this area too. Her parents were born and raised in Zanesville and moved the family to Canton, Ohio, shortly after they married. Dr. Gevas' daughter, Anastasia Gevas, D.O., is an internal medicine physician with Genesis Primary Care in Zanesville.  
Dr. Gevas said she has an evidence-based and patient-centered philosophy on healthcare that requires educating her patients. "My patients are typically more invested in their healthcare when they understand how and why to prevent complications."   
Her interest in medicine grew from caregiving as a child. "I think you're born with that gene in your DNA," she said. "I loved animals, babysat a newborn when I was nine and was always rescuing or taking care of something."  
Recently Dr. Gevas was able to save a patient the time and expense of a trip to the hospital by performing a procedure in her office. "I love the opportunities here," she said.  "It is a privilege to care for the people of Perry County."
When she is not working, Dr. Gevas said she enjoys making designer cookies, woodworking, reading and spending time with family. She and her husband have three grown children and six grandchildren, with number seven due in October, and a very spoiled Yorkie named Dr. Cooper. She has also written several children's books.  
Dr. Gevas is accepting new patients at her office in the Genesis Medical Group Perry County Specialty Clinic, 301 Mike Clouse Drive, Suite 2A, Somerset, Ohio. Call 740-900-0066 to make an appointment.
Doctor of Medicine:  
University of Medicine and Health Sciences  
Basseterre, Saint Kitts  
Residency:  
Obstetrics and Gynecology  
Georgetown University  
MedStar Franklin Square Medical Center  
Baltimore, Maryland   
Board-certified:  
American Board of Obstetrics and Gynecology  
American Board of Obesity Medicine