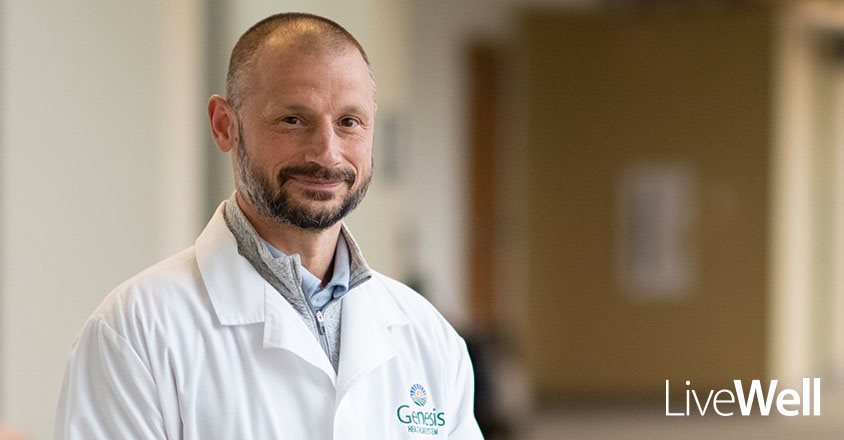 Spotlight on Edmund Kassis, M.D.
Edmund Kassis, M.D., a Fellowship-trained and Board-certified Thoracic Surgeon, brings both clinical experience and leadership skills to his new position with Genesis HealthCare System.  
In addition to performing surgeries at Genesis Hospital, Dr. Kassis serves as medical director of cardiothoracic surgery within the Genesis Heart & Vascular Group.   
Dr. Kassis specializes in the surgical removal of lung cancer, esophageal cancer and mediastinal tumors. He performs a full range of traditional and minimally invasive procedures, and optimizes patient benefits by frequently utilizing innovative robotic-assisted technologies in the treatment of thoracic cancers.    
"Robotic-assisted technology allows outstanding visualization of the chest," he said. "The instrumentation is like working with your hands but doesn't require spreading a patient's ribs and uses much smaller incisions. Patients who are candidates benefit from shorter hospital stays, less pain and the ability to return to work and normal activities faster."    
Initially inspired to pursue medicine by family members who passed away from lung cancer, Dr. Kassis aims to help others facing similar diagnoses. He takes a direct approach to educating patients and strives to provide top-quality surgical care. "I always have my patients' best interests in mind and want them to understand their treatment," he said.  
When asked about his most rewarding professional moments, Dr. Kassis said they include the satisfaction of an operation well done, seeing patients thriving in the hospital post-surgery and congratulating patients at the five-year mark when they are declared cancer-free.
Outside of work, Dr. Kassis enjoys taking his body to the extreme. Always moving, he has completed multiple Ironman competitions and is training for a 36-hour endurance hike. He also golfs and scuba dives.
Doctor of Medicine:    
University of Pittsburgh, Pittsburgh, Pennsylvania
General Surgery Residency:    
The Johns Hopkins University,
Baltimore, Maryland 
Chief Resident   
Fellowships:    
Surgical Oncology, National Cancer Institute, Bethesda, Maryland 
Cardiothoracic Surgery, The University of Texas, Houston, Texas   
Board-certified:    
American Board of Surgery, American Board of Thoracic Surgery