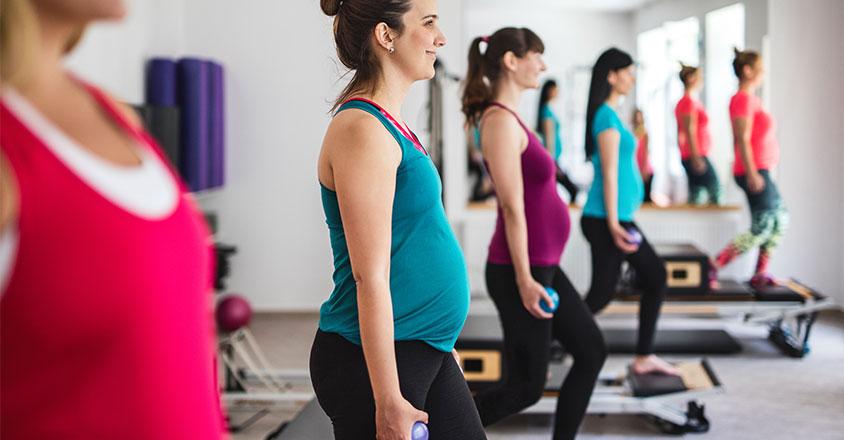 Running Out of Womb - Fitness as You Grow
If you were into exercise before you became pregnant, woohoo. If you are pregnant and want to get in shape, go for it. But before you begin, discuss your exercise plans with your obstetrician–gynecologist or other member of your healthcare team during your prenatal visits.
Q: How much should I exercise during pregnancy?
A: If you were active before pregnancy, you can keep doing the same workouts with your obstetrician's approval. However, if you start to lose weight, you may need to increase the number of calories that you eat.
If you're new to exercise, start out slowly and gradually increase your activity. Begin with as little as five minutes a day. Add five minutes each week until you can stay active for 30 minutes a day.
Q: What are some safe exercises I can do during pregnancy?
A: Examples of moderate-intensity aerobic activity include brisk walking, general gardening, modified yoga and modified Pilates, swimming and water workouts. If you're an experienced runner, jogger or racquet-sports player, you may be able to keep doing these activities during pregnancy. If it's bicycling you enjoy, ride a stationary bike. Your growing belly can affect your balance and make you more prone to falls.
You can divide the 150 minutes into 30-minute workouts on five days of the week or into smaller 10-minute workouts throughout each day.
Q: What are the benefits of exercise during pregnancy?
A: Regular exercise during pregnancy can:
· Reduce back pain
· Ease constipation
· Promote healthy weight gain during pregnancy
· Improve your overall general fitness and strengthen your heart and blood vessels
· Help you to lose the baby weight after your baby is born
Q: What exercises should I avoid during pregnancy?
A: While pregnant, avoid activities that put you at increased risk of injury, such as:
· Contact sports and sports that put you at risk of getting hit in the abdomen
· Activities that may result in a fall, such as downhill snow skiing, water skiing, surfing, off-road cycling, gymnastics and horseback riding
· "Hot yoga" or "hot Pilates," which may cause you to become overheated
· Scuba diving
· Activities performed above 6,000 feet (if you do not already live at a high altitude)
Before you know it, you'll be saying "goodbye tummy, hello mommy."
Source: American College of Obstetricians and Gynecologists
Genesis HealthCare System's Health and Wellness content conveniently provides accurate and helpful information. Your health history and current health may impact suggestions provided through our Health and Wellness content. Although we hope this information is helpful, it is not a substitute for your doctor's medical advice. Before making any significant changes, please consult your doctor.