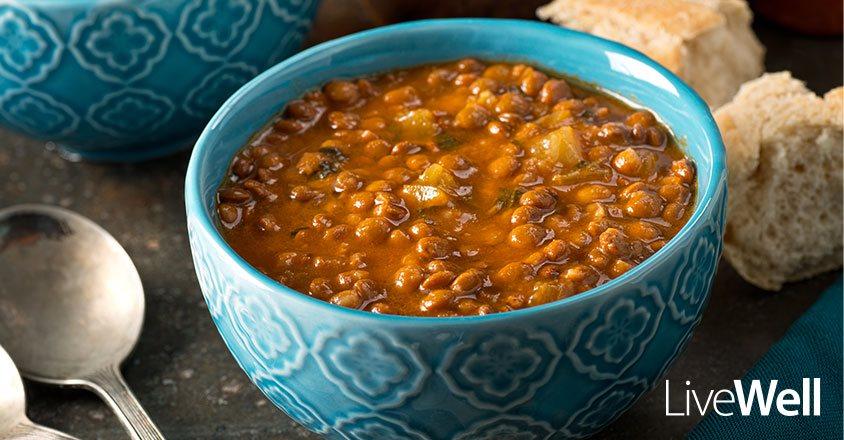 Recipe: Insta Pot Lentil Soup
Ingredients:  
2 tablespoons extra-virgin olive oil  

1 medium yellow onion, diced  

4 medium carrots, diced  

3 stalks celery, diced  

4 sprigs fresh thyme  

1 teaspoon kosher salt  

¾ teaspoon smoked paprika  

½ teaspoon black pepper  

1 ½ cups French green lentils  

4 cloves garlic, minced (about 4 teaspoons)  

1 can fire-roasted tomatoes, diced (15 ounces)  

1 can crushed tomatoes (15 ounces)  

4 cups low-sodium vegetable broth  

Fresh parsley for serving, chopped  

Parmesan cheese, freshly grated, optional  

Crusty bread, optional  
---
Instructions:   
Drizzle the oil into the pot. Set to sauté. Once the oil is hot, add the onion and stir. Continue to cook the onion, stirring often, until it is very soft, beginning to lightly brown and break down, about 8 minutes.  
Dice carrots and celery and add to the pot. Sauté until the carrots and celery are barely soft, about 2 minutes. Bundle the thyme sprigs together to make them easier to pull out later. Add salt, smoked paprika and pepper.  
Add the lentils and garlic to the pot and stir to coat them in the spices. Let cook 30 seconds until the garlic is fragrant. Add the diced tomatoes, crushed tomatoes and vegetable broth.  
Cover and seal the instant pot. Set to cook on high pressure for 15 minutes, then allow the cooker to release pressure naturally. This will take about 10 to 15 additional minutes.  
Open the lid and stir the soup. Remove the thyme stems, leaving the leaves in the soup. If the soup is too thick for your liking, thin with a bit of water or additional stock until you reach your desired consistency. Taste and adjust the seasonings as desired.   
Serve hot with a sprinkle of parsley, Parmesan cheese and bread for dipping.  
---
Nutritional information:  
Serving size: 1 ½  cups  
Number of servings: 6   
Calories per serving: 236   
Total fat: 12 g  
Saturated fat: 5 g  
Cholesterol: 135 mg  
Sodium: 516 mg  
Carbohydrates: 12 g  
Fiber: 16 g  
Sugar: 10 g  
Protein: 36 g  
---
Storage:
Place leftover soup in an airtight container in the refrigerator for up to five days, or freeze for up to three months. Let thaw overnight in the refrigerator before reheating. 
---
Approved by:  
Maurine Maneely  
Genesis Registered Dietitian 
Find more recipes at genesishcs.org/eatwell.