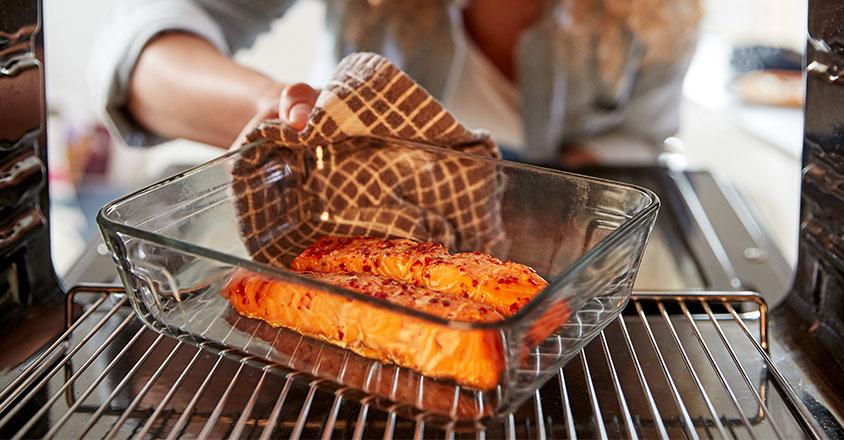 One fish, two fish, catfish, shellfish
There's something fishy about eating fish. Nearly half of Americans eat fish occasionally or not at all. Yet the American Heart Association, the National Institute of Health and Myplate.gov, to name a few, recommend eating fish at least twice a week. We won't go into why people don't eat fish – that's personal. Here are the reasons why we should:  
Strong evidence has shown that eating fish and other kinds of seafood improves brain, eye and heart health.  
Fish is packed with protein, vitamins and nutrients that can lower blood pressure and help reduce the risk of a heart attack or stroke. 

May decrease the risk of depression, ADHD, Alzheimer's disease, dementia and diabetes. 

May prevent inflammation and reduce the risk of arthritis. 

It is an important source of omega-3 fatty acids, which our bodies don't produce, so we must get them through the food we eat. 
Fish is rich in calcium and phosphorus and a great source of minerals, such as iron, zinc, iodine, magnesium and potassium and vitamins such as D and B2 (riboflavin). Omega-3 fatty acids are found in every kind of fish but are especially high in fatty fish. Some good choices are salmon, trout, sardines, herring, canned mackerel, canned light tuna and oysters. 
No thank you?  
As we know from the statistic previously mentioned, non-fish eaters are not alone. Our body benefits from omega-3 fats, and fortunately, there is a source besides fish. They can also be obtained through plants. Flaxseed, walnuts and a few vegetable oils are also high in omega-3 fats.  
Enter for a chance to win one of four $25 gift cards
Enter for a chance to win one of four $25 e-gift cards. Every Tuesday and Thursday, we post one piece of wellness information on our website and promote it through our Facebook page. To enter, you must be 18 years of age or older and respond to the "Useful" question at the end of the wellness information. Be honest, if it was not useful, tell us, it will not impact your odds of winning. One entry per person per piece of content. Genesis HealthCare System employees are not eligible. On the first Monday of the months of January - June 2023, we will draw four winners for the previous month and post on our Facebook page and notify them through email. Complete the form below to enter!
Genesis HealthCare System's Health and Wellness content conveniently provides accurate and helpful information. Your health history and current health may impact suggestions provided through our Health and Wellness content. Although we hope this information is helpful, it is not a substitute for your doctor's medical advice. Before making any significant changes, please consult your doctor.