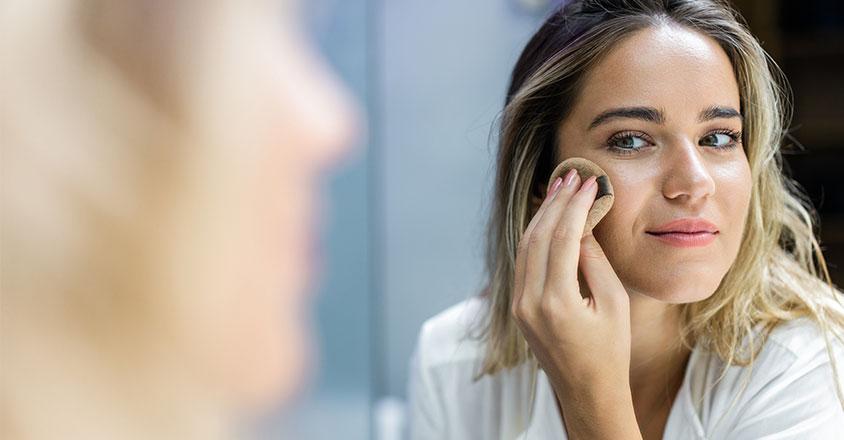 Makeup tips every woman should know
You probably update your closet and your hair style regularly – but what about your makeup? If your cosmetics routine hasn't changed in the last few years, it's probably time for an update. When you look good it can make you feel good too.  
Here's how to get started: 
Baseline boost 
As you age and your skin has less collagen and hydration, it's important to choose a foundation that makes you look just as radiant now as you did when you were younger. Your biggest weapon? A foundation with SPF, which moisturizes your skin and keeps the sun's rays at bay. 
Once your foundation is set, sweep a soft pink blush across your cheeks. Satin or cream blushes work best, especially in colors like coral and rose. Unsure of which color is best for you? Pinch your cheeks (really!) and choose the hue that most closely resembles it. Bronzers can also add a dash of highlights. 
Bright eyes 
A busy schedule and little sleep can mean dark circles and less-than-perky eyes. Brighten up your peepers by sticking to neutral shadows with soft finishes or a slight shimmer and avoid frosty shades. If you want to try more a more intense look for a night out, make sure to blend with a neutral color over the lid. Opt for liquid eyeliners and mascaras with volume. 
Starting to notice fine lines? Cooling eye gel can help smooth them out. 
Lip service 
Our lips become thinner with age, so if you're looking to add a little volume, use a lip pencil closest to your natural color. Line just outside of your natural lip line, and then layer with a rich shade. 
For everyday looks with little fuss, switch out your bright lipstick for translucent lip gloss in nude pink colors and leave the lip pencil at home. 
Safety first 
Makeup can get old and go can bad. It is important to watch expiration dates. If no expiration date is provided, write on the packing when you purchased the product and replace it after six months. If it smells bad, do not use it and throw it away. Also, it is important to keep your brush clean and never share your makeup with anyone. 
Genesis HealthCare System's Health and Wellness content conveniently provides accurate and helpful information. Your health history and current health may impact suggestions provided through our Health and Wellness content. Although we hope this information is helpful, it is not a substitute for your doctor's medical advice. Before making any significant changes, please consult your doctor.