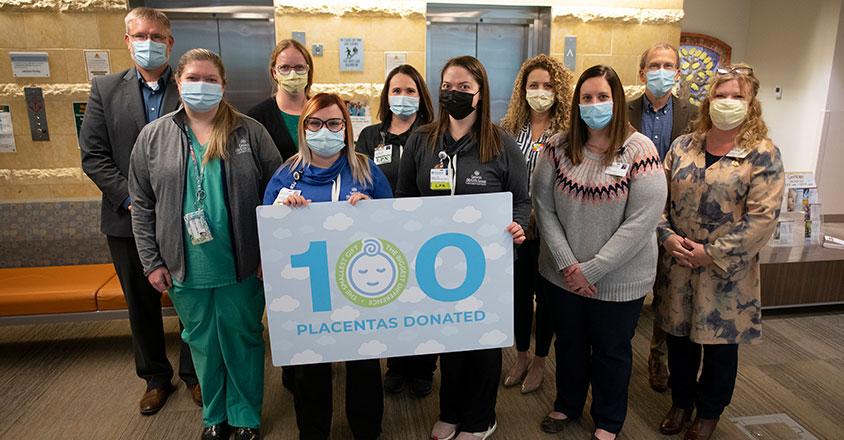 LOOP Recognizes Genesis HealthCare System for Placenta Donations
Thursday, December 2, 2021
Lifeline of Ohio (LOOP) recently recognized Genesis HealthCare System's 100th placenta donation that was made in September. Genesis began participating in the LOOP placenta donation program in 2019. This program is a collaborative effort of Genesis Women's Services and OB/GYN physicians at Genesis. 
"The opportunity to donate can be offered to every mom who is having a planned C-section," said Kristy Ritchie, M.D., OB/GYN with the Genesis OB/GYN Group. "The donation process is easy and doesn't disrupt the birthing plan for the mom or the protocols the physicians and hospital staff use for Cesarean births. Collaborating with Lifeline of Ohio to offer our patients an opportunity to donate has been easy. It's a great way for expectant moms to do a simple act that will help others."
Placentas are used to create healing grafts. On average, one donated placenta can create around 25 grafts. Multiple components in placental tissue are used for a wide range of procedures involving eye, oral and spine surgery and to treat difficult-to-heal wounds such as diabetic foot ulcers, venous leg ulcers, pressure ulcers and burns. An estimated 3,250 healing grafts have been created from these gifts. For more information, contact the Genesis OB/GYN Group at 740-454-8800.