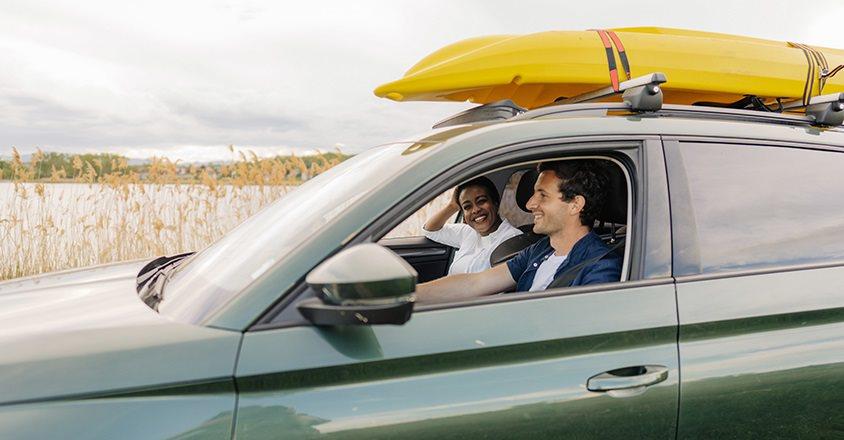 Getting Road Trip Ready
Nothing says summer vacation like the classic road trip. Whether you're off to see extended family, visit a national park or make a beeline for the beach, it's exciting to squeeze that last suitcase into your car and know it's time to head out for an adventure. 
Ready to hit the road? Here are three things you can do to ensure you don't sacrifice your health and well-being while cruising the highways and byways. 
1. Stay fueled with healthy snacks. 
Stay energized during your drive with healthy and protein-packed snacks. If you find yourself tempted to pull into a fast food restaurant, try going to a grocery store instead for healthier options. 
2. Plan for breaks. 
It's hard to pull over when you're making good time on the road but stopping to stretch is critical. According to the American Heart Association, extended periods of time in the car can be detrimental to people at risk for blood clots and people with orthopedic issues. Try to stop and stretch every two to three hours. You can seamlessly work breaks into your trip by planning stops at a restaurant or landmark. 
3. Keep all medications handy. 
Getting sick while on the road is no one's idea of a good time, but it's important to plan for it. If you or one of your passengers struggles with motion sickness, make sure to keep anti-nausea medicine or candies available. If you take routine medications, make sure to keep them on hand instead of buried in your suitcase. Keep a first aid kit easily accessible as well in case of emergency. 
Genesis HealthCare System's Health and Wellness content conveniently provides accurate and helpful information. Your health history and current health may impact suggestions provided through our Health and Wellness content. Although we hope this information is helpful, it is not a substitute for your doctor's medical advice. Before making any significant changes, please consult your doctor.