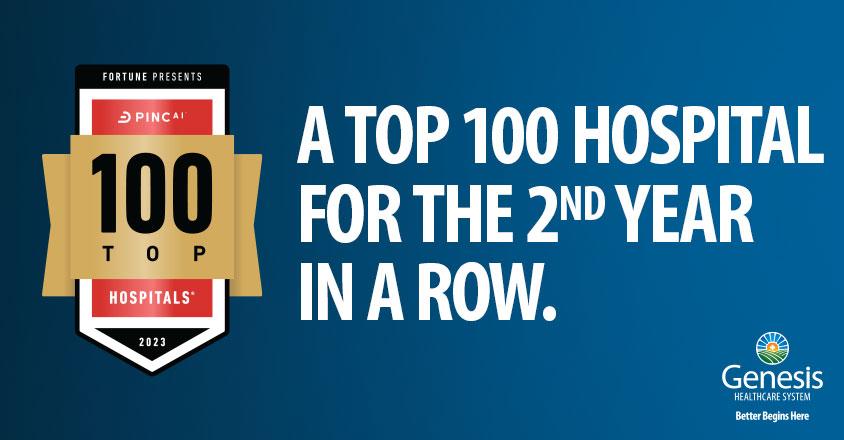 Genesis is a Top 100 Hospital in the nation for the second year in a row
Monday, November 20, 2023
When you bring exceptional people together who are committed to a cause, provide them with innovative technology and community support and continuously pursue excellence, you are rewarded with amazing results.  
In 2022, Genesis was named a Top 100 Hospital in the nation and Everest award winner by Fortune Magazine. Recently, for the second year in a row, Genesis was named a Top 100 Hospital in the nation and an Everest award winner by Fortune Magazine/PINC AI. Only 51 hospitals from the 2022 Top 100 list repeated in 2023. In addition to this tremendous accomplishment, earlier this year, Genesis was also recognized as a Top 50 Heart Hospital in the nation by Fortune Magazine/PINC AI.  
"The entire Genesis team is genuinely honored to receive these national awards," said Matt Perry, CEO of Genesis HealthCare System. "We have spent years bringing together the best people, implementing the latest technologies and continually striving for excellence in the care of our patients. Our dedicated team of compassionate care givers earned these awards, and I am proud of what they have accomplished."  
Community support is as crucial as the healthcare team and technology for producing patient care outcomes that result in national recognition. "We are very blessed that our community entrusts their care to the exceptional team at Genesis. It is only through community support that we can remain a thriving health system," said Perry.  
The Top 100 award was created so hospitals and the communities they serve have nationally verified, transparent data to evaluate performance against other hospitals and health systems. The Everest Award recognizes hospitals and health systems that achieve the highest improvement rates over a five-year period.  
The Top 100 award evaluates hospitals across the most vital categories of hospital performance:   
Clinical Quality: Inpatient mortality, complications of care, infection rates, 30-day mortality and 30-day readmission rates.
Patient Experience: patient satisfaction survey results.
Hospital efficiency: patient length of stay, inpatient expense per admission and financial results.
According to Fortune/PINC AI, if all hospitals performed at the level of the Top 100 hospitals: 
More than 272,000 additional lives would be saved.
More than 432,000 additional patients would avoid complications. 

$15.7 billion in inpatient costs would be saved. 


 
Supporting HealthCare in Our Communities
The Genesis HealthCare Foundation is here to promote charitable support for Genesis HealthCare System. Find more ways you can help.