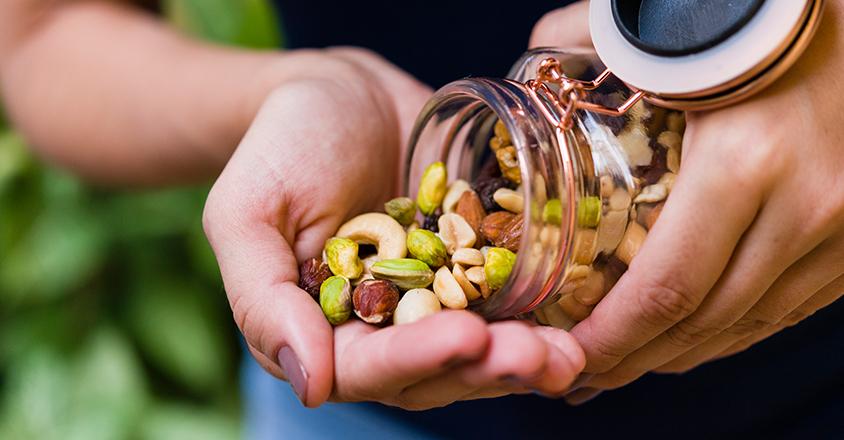 Don't Let Snacks Bite into Your Wellness Goals
Almost all of us do it. Usually, every day. In front of the TV, on a road trip, at your desk. Snacking may seem like a little bite here and a nibble there, but it often ends up being a big part of your wellness success or failure. Don't get hangry. We have gathered tips to help you control the munchies.
The most important thing you can do for successful snacking is to plan. When your stomach starts grumbling, and you head to the vending machine for an afternoon break, nearly all your options will be packed with sugar, ultimately leading to an energy crash and extra pounds on your body.
Bring healthy options from home, like unsalted nuts, low-sugar peanut butter, fruit or whole-grain products. Just be sure to read the labels to make sure sugar hasn't been packed into each bite. In addition to bringing food from home, make sure not to overpack. According to the experts at Harvard Health, snacks should typically total 150 to 250 calories and not interfere with your hunger during meals. This calorie total can vary on your age, gender, fitness level and fitness goals.
Another key tip is to determine why you are snacking. Are you hungry? Bored? Stressed? Or social snacking. Office birthdays with cake and chips have doomed more than one diet. You should only snack when you are hungry. If you discover you eat for other reasons, find strategies to avoid the unnecessary calories.
Snacking is an important part of a complete wellness plan. Just make sure you are not supersizing it and are making the right choices.
For help developing a personal plan appropriate for you, contact your family doctor.
---
Ready to get healthy?
Sign up for our digital newsletter to receive health tips, recipes, success stories for inspiration and information about new doctors to help you on your journey to better health.
Genesis HealthCare System's Health and Wellness content conveniently provides accurate and helpful information. Your health history and current health may impact suggestions provided through our Health and Wellness content. Although we hope this information is helpful, it is not a substitute for your doctor's medical advice. Before making any significant changes, please consult your doctor.