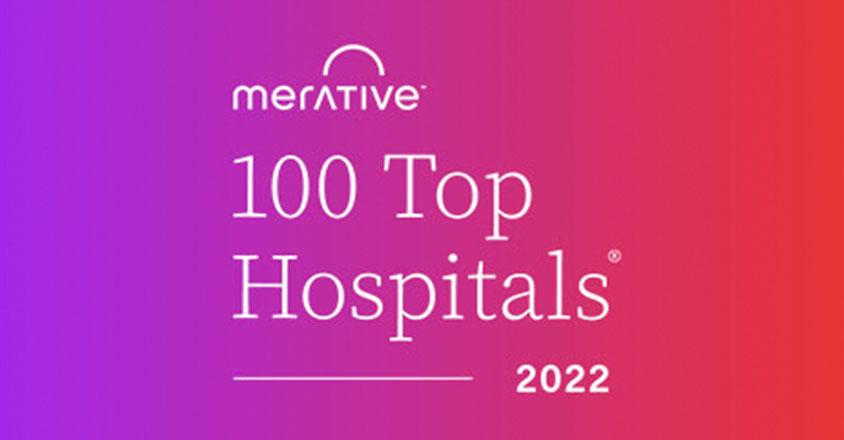 A Community Win for All
You can feel confident in choosing your healthcare close to home, right here in Southeastern Ohio. Your community hospital is one of the top 100 in the nation. 
According to Fortune Magazine and Merative, a data, analytics and technology partner for the health industry, Genesis HealthCare System is top among its peers for excellence in clinical outcomes, operational efficiency, patient experience and overall financial health. 
Merative, formerly IBM Watson Health, established the list to help identify best practices that may help other healthcare organizations achieve consistent, balanced and sustainable high performance. 
Merative has identified the top hospitals from a rigorous evaluation of 2,650 short-term, acute care, non-federal hospitals in the U.S. 
Winning the top award despite COVID-19 challenges 
For more than two years, we have been working as a community to battle COVID-19. We were in good company with every other health system in the nation. Challenges included the virus, supply and business disruptions and workforce shortages. Those challenges make this year's 100 Top Hospitals list, based on 2020 data, unlike any other in the study's 28-year history. 
"Recognition as one of the Fortune/Merative 100 Top Hospitals demonstrates Genesis' ongoing commitment to prioritizing patient-centered care." -Scott Wegner, M.D. Chief Medical Officer, Genesis HealthCare System 
Quality measures reflect high performance 
According to the Merative study, when compared to similar hospitals, Genesis had better results on key clinical and operational performance indicators. These include survival rates, patient complications, healthcare-associated infections, 30-day mortality and 30-day hospital-wide readmission rates, length of stay, throughput in emergency departments, inpatient expenses and ratings from patients. 
Community health measures 
The Fortune/Merative 100 Top Hospitals list also incorporates a community health measure into its ranking process. 
Hospitals were surveyed across three components: 
Assessing hospital contributions to community health as a provider of critical services for community health and preventive care. 
Identifying ways that hospitals contribute to community health as a community partner by teaming up with local organizations to implement critical programs. 
Focusing on ways that hospitals promote community health through their practices as anchor institutions supporting local economic and social progress. The community health measure is weighted equally with other ranking measures. 
Genesis also won the prestigious Everest Award 
The Everest Award winners are a special group of the 100 Top Hospitals award winners that, in addition to achieving benchmark status for one year, have simultaneously set national benchmarks for the fastest long-term improvement on a national balanced scorecard. In 2022, Genesis was one of only 25 organizations to achieve this level of performance. 
Frontline employees drive quality and safety 
The High-Reliability Patient Safety Council and the Care Coordination Council empower frontline workers to implement best practices once they determine solutions to issues. Standardizing care has led to efficiencies and a higher quality of care. 
Epic, Genesis' electronic medical record system, has propelled the health system forward by enabling the power to track results and then develop evidenced-based practices based on the scenario. 
What if all hospitals were of the highest quality? 
Based on comparisons between the 100 Top Hospitals study winners and a peer group of similar hospitals that were not winners, it was reported that if all hospitals performed at the level of this year's winners: 
Over 104,000 additional lives could be saved in-hospital 
Over 55,000 additional patients could be complication-free 
Over $12.5 billion in inpatient costs could be saved 
The typical patient could be released from the hospital almost a half-day sooner 
Over 18,600 fewer discharged patients would be readmitted within 30 days 
The national award and the Everest Award are based on a set of measures that reflect performance across the whole organization. 
Using independent public data and proprietary analytics, the 100 Top Hospitals study recognizes hospitals that have clearly demonstrated top performance in care, efficiency and community value. 
Learn more at genesishcs.org/top100.