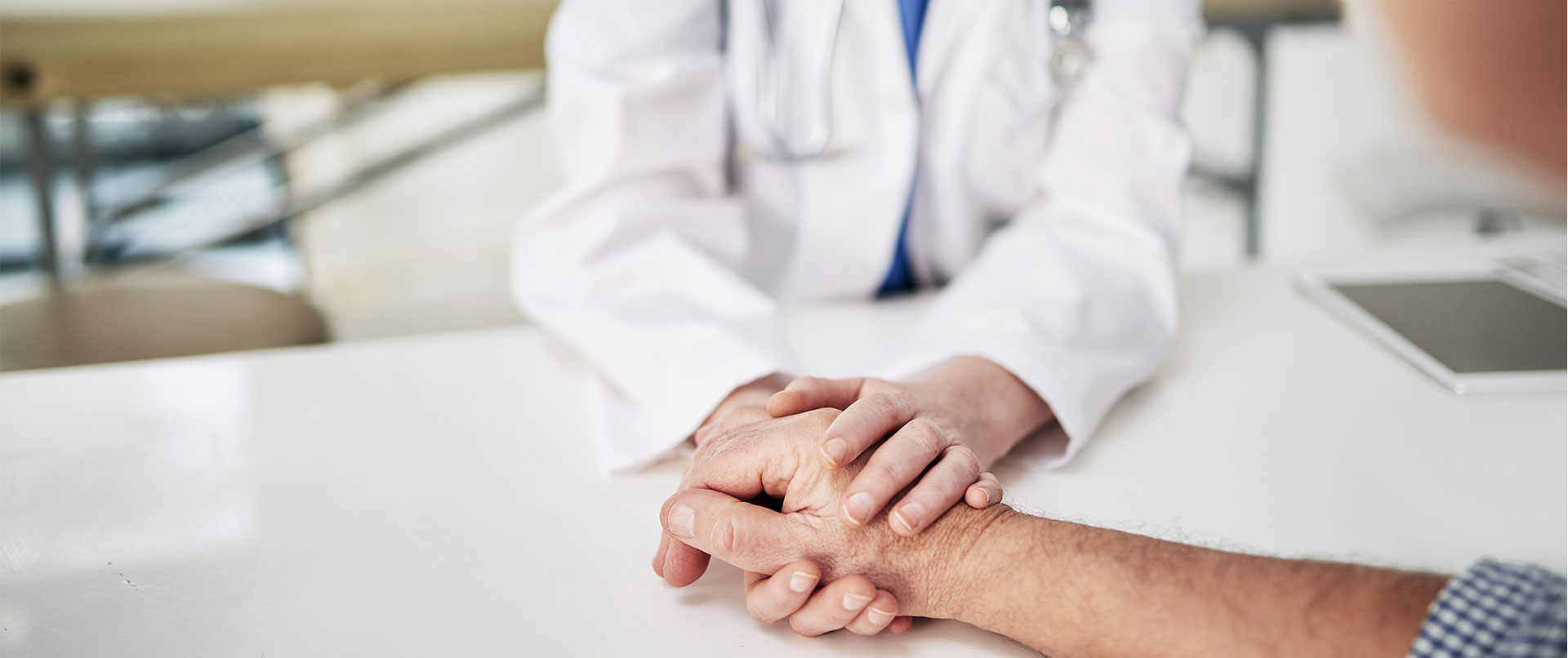 Cancer Care
When you have a cancer diagnosis, you want to find the best care no matter how far away. Fortunately for patients in Southeastern Ohio, excellent cancer care is right here at Genesis. From diagnosis to treatment, we offer personalized, comprehensive services that help you experience the best outcomes.
From diagnosis and surgery — to life after treatment
Genesis is here for you with experts in cancer diagnostics and treatment. From the minute you come through the door to the time you complete treatment, you'll feel the difference Genesis offers. We support you after treatment as well with survivorship care plans, therapies and follow-up to ensure quality of life post-treatment.
Nationally accredited cancer care
The Genesis cancer physicians' group was among the first practices in Ohio to be certified by the American Society of Clinical Oncology (ASCO) as a Quality Oncology Practice. This means our cancer team diagnoses and treats cancer patients based on evidenced-based care, education about your diagnosis and treatment options, and close monitoring of your condition and symptoms, so you get the right treatment at the right time.
Certified surgeons and cancer nurse navigators
Your cancer team combines knowledge and expertise to develop a well-rounded, customized treatment plan designed around your needs. Our qualified staff is comprised of cancer surgeons, medical and radiation oncologists, pathologists, oncology certified nurses and plastic surgeons who work together to provide personalized plans of care. Cancer nurse navigators are oncology-certified nurses who specialize in caring for your particular cancer. They follow you from the initial biopsy, diagnosis, surgery, treatment, follow-up and through survivorship. These nurses are a constant for you and your family. They help to provide education and answer questions you have throughout your cancer journey.
Same day test results, in-house pharmacy
Genesis Cancer Services offers same day radiology and laboratory results for our patients to decrease travel and multiple appointments in one day. Genesis Cancer Care Center also offers an in-house pharmacy with specially trained oncology pharmacists who answer questions and provide patient chemotherapy education about potential side effects. Our goal is to provide WrapAround Care by ensuring comprehensive same-day appointments.
Calming oasis for chemotherapy
The Cancer Care Center offers a chemotherapy and infusion suite that is modeled after a first-class airline cabin. Each bay has a leather, heated infusion chair with massage. You have a floor-to-ceiling window view overlooking a walking trail with lots of natural light. We offer a menu for meals during your treatment, and we have refreshments as well. We have iPads available for use and reading materials to help you pass the time. Your support person can sit with you during your treatment.
Genetic testing and clinical trials
You can count on us to provide access to a wide range of tests and treatments. This includes access to clinical trials and genetic testing. Genesis offers clinical trials sponsored by the National Cancer Institute and pharmaceutical companies. We also have the latest in genetics testing for prevention, diagnosis and risk assessment.
Services, Testing and Treatments
Genesis offers specialty centers, testing and treatment to meet your individual needs. Our goal is to provide quality care, at the right time, in the right place. And we do so with compassion for the journey you are taking.
Centers and services
Genesis has two centers, two additional services and a boutique for post-cancer treatment needs all dedicated to your needs throughout your care. These are the Breast Care Center, Cancer Care Center, Inpatient Care, Palliative Care and the Women's Boutique.
Breast Care Center
The Genesis Breast Care Center offers diagnostic testing including mammograms, ultrasound and ultrasound-guided biopsies. We have a board-certified breast surgeon, nurse practitioner and trained, compassionate staff to provide you expert care. We see patients with cancer and benign breast conditions at this location in the Genesis HealthPlex.
Cancer Care Center
The Genesis Cancer Care Center is attached to Genesis Hospital and offers everything you need in one location. The care you receive at the Cancer Care Center includes medical oncology, radiation oncology, chemotherapy infusion, on-site laboratory, on-site pharmacy, the Genesis Women's Boutique, patient financial counselors, spiritual care and pet therapy. For your convenience, the hospital cafeteria, gift shop and Lobby Bistro are just a short walk via a glass-enclosed hallway.
Inpatient Care
The Genesis Inpatient Care team has oncology-trained chemotherapy-certified nursing staff to care for you in the inpatient setting should you need that level of care. The inpatient team is here to assist if you should need to be admitted for symptom management, chemotherapy infusions and post-surgery care.
Palliative Care
Genesis has an on-site Palliative Care clinic within the Cancer Care Center. We have board-certified physicians in Palliative Care who are experts in managing symptoms for those with serious and chronic illness. Our team offers comfort for patients and their families at any age or stage of an illness.
Women's Boutique
At the Genesis Women's Boutique located in the lobby of the Cancer Care Center, you'll discover products that can help you feel more confident and comfortable during cancer care. Trust our caring staff to understand your concerns and answer your questions. We offer certified mastectomy fitters who can help you find the best fit for you after your surgery, breast forms and shapers, bras, wigs, scarves, hats, lotions and gifts. We want to help you look and feel your best after surgery and during chemotherapy.
Testing and treatments
Genesis offers additional services to assist you through your diagnostic work-up and treatment.
Genetic testing and clinical trials
The latest in genetic testing is available for screening, diagnostics and risk determination. Trained staff are available to provide genetic testing results. We also offer clinical trials for prevention, treatment, symptom management and registry that can help in improving outcomes for cancer patients.
Cancer rehabilitation
Cancer rehabilitation is available through physical therapy, occupational therapy, counseling and spiritual support. Our caring staff will assist you in determining which rehabilitation services may benefit you the most and help you make arrangements for these services.
Education, nutrition and support
Cancer nursing and pharmacy staff provide patient education regarding screening, diagnostics, treatment and survivorship. Nutrition support is offered through dietician consultation and education. We have spiritual support on-site and pet therapy.
Ready to take the next step in your journey?
Make an appointment to see how Genesis HealthCare System can help