Genesis Hospice Gives Woman the Ride of Her Life
Fulfilling patients' wishes is one of the goals of Genesis Hospice Care. Genesis Hospice staff recently had the opportunity to fulfill an 87-year-old's wish.
It all started when Dan Smith, a local pastor, visited patient Anna Reed while she was in Morrison House, inpatient hospice care. Dan had ridden his motorcycle on the 12-mile trip from Nashport and apologized to the elderly woman for wearing his motorcycle gear.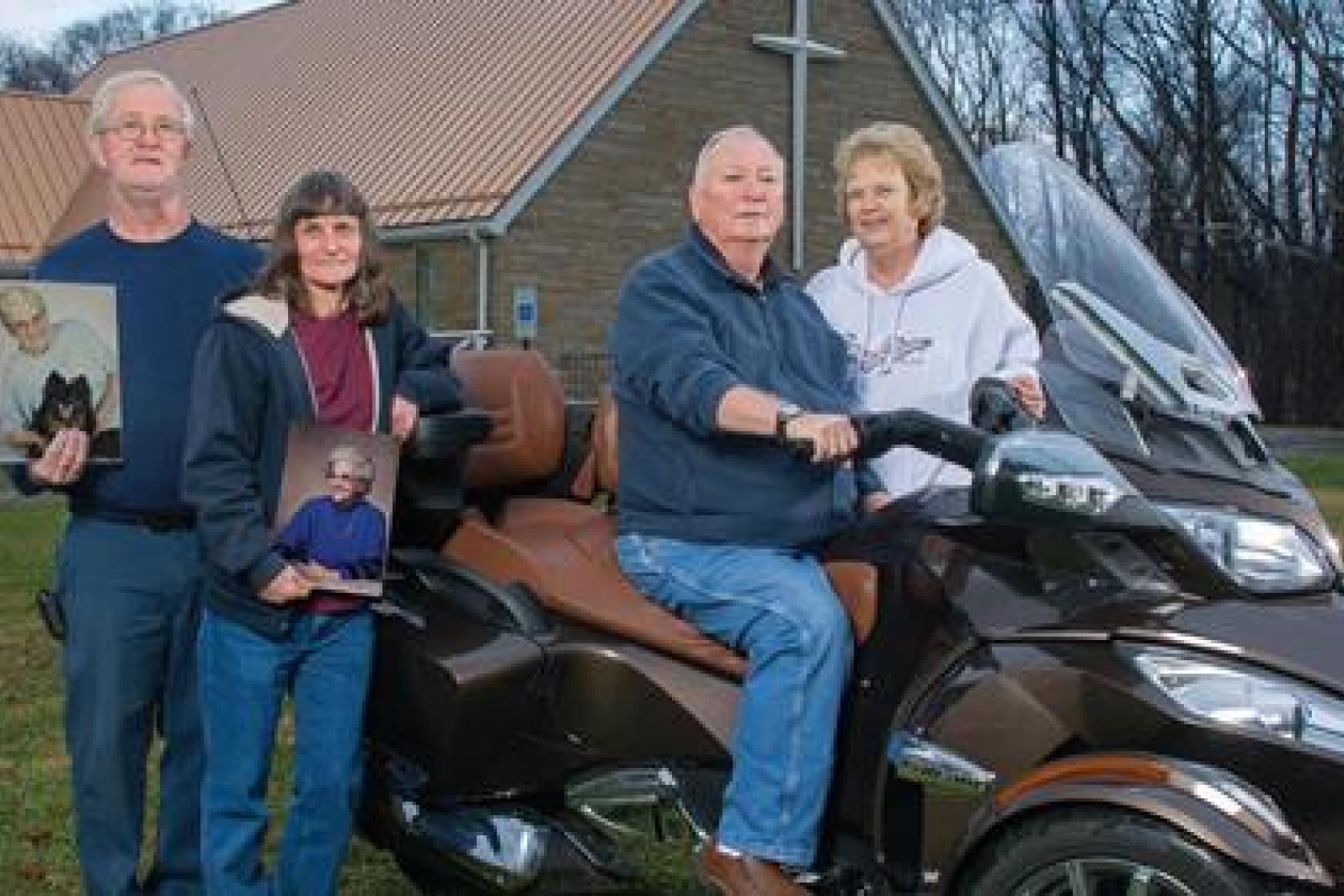 A Ride For Anna
Anna quickly replied, "When are you going to take me a ride?" The pastor began wondering if the ride could become a reality and asked the nurses if the ride could be arranged. Anna's condition was worsening, and the nurses suggested the ride be set up as soon as possible. The next day Anna's daughter, Susie, came to visit, and Anna told her daughter she wasn't ready to leave this earth until she got the motorcycle ride.
The motorcycle ride was arranged for the following day. Anna was brought in a wheelchair to the Morrison House parking lot and carefully lifted into the second seat of the three-wheeled motorcycle. The second seat had arm rests so Anna could sit comfortably without fear of falling off. Anna had ridden a motorcycle but not for a very long time.
The Ride of Her Life
Pastor Dan took Anna for a ride on his motorcycle around the parking lot one time. But it wasn't enough – Anna wanted another ride around the lot. The ride ended up with three loops around the parking lot. "She was in her highest glory," said Cindy Jenkins, Anna's daughter. "The smile never left her face."
Anna told everyone who came into her hospital room the next day that she'd taken a motorcycle ride. Some of Anna's visitors wondered if the older woman was dreaming and questioned the reality of the ride. "We even had people calling us wondering if the ride was real," said Earl Jenkins, Anna's son-in-law.
The ride was real and one that everyone involved with will never forget. "It was such a blessing for all of us to be able to do this for Anna," Dan said. Two days after the ride, Anna left this earth, and the family was grateful to Genesis Hospice Care for helping Anna fulfill her wish. 
Supporting Health Care in Our Communities
The Genesis HealthCare Foundation is here to promote charitable support for Genesis HealthCare System.