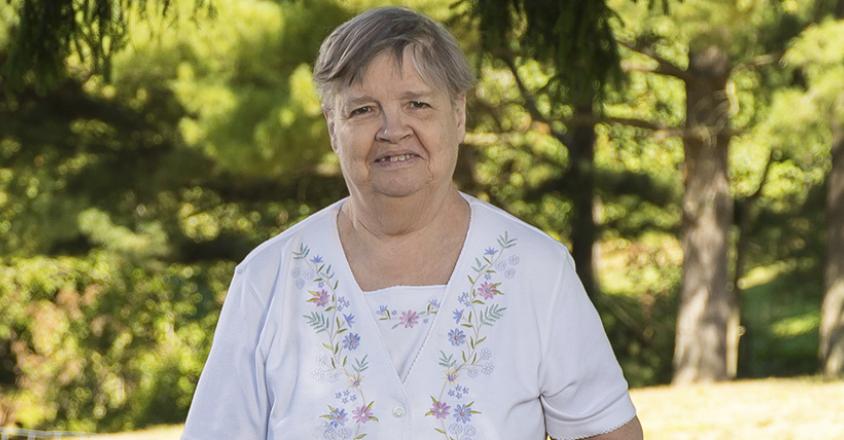 Woman Has Brain Surgery After 'False-Alarm Stroke' Reveals Brain Tumor
Friday, October 9, 2020

|
Advanced brain surgery using ORBEYE 4K-3D microscope
Mary Hoover, a native resident of Zanesville, was at a doctor's appointment and reported that she couldn't move her left hand and left leg. Then, when asked to write her name, all she could manage was a scribble.
I just couldn't get my leg or arm to cooperate. I couldn't hold on to anything. I wasn't sure what was going on, but I knew something wasn't right," Mary remembered. The doctor sent me straight to the Genesis Emergency Department.
Assessing if Mary was having a stroke, the Emergency Department team immediately ordered imaging of the brain. Surprisingly, the scans revealed that Mary wasn't experiencing a stroke; instead she had a large tumor pressing on her brain.
The imaging showed a large mass compressing the brain on the right side, thus impacting the left side of the body,explained Yasu Harasaki, M.D., neurosurgeon, Genesis Neurosurgery Group. It measured about 2 inches in diameter; and though 2 inches doesn't sound that big, when its pressing on your brain, that's actually a very large mass."
The diagnosis rightfully stunned Mary, but she quickly found consolation in her neurosurgeon.
When you hear brain tumor you think, "I'm going to die, but I didn't think that because Dr. Harasaki explained things so well from start to finish," Mary said. "He kept me calm."
Dr. Harasaki's calming presence comes from specialized experience and training in neurosurgery. Dr. Harasaki joined Genesis in May 2019. His training includes an internship and residency at the University of Colorado Health Sciences Center. He combines his intensive training in neuro and spine surgeries with the innovative equipment at Genesis to provide expert care right in Zanesville.
Detaching, removing and patching a meningioma tumor
Dr. Harasaki could tell from Mary's initial imaging that the tumor was likely a meningioma, an extremely slow-growing tumor that develops on the delicate membrane covering the brain. Thankfully, 90% of meningiomas are not cancerous.
To remove Mary's benign and enlarged tumor, Dr. Harasaki used cutting-edge technology, including a stereotactic navigation system (it's like a GPS for the brain) and the new ORBEYE 4K-3D microscope at Genesis during the intricate surgery. Genesis is the first healthcare system in Ohio to have this emerging technology.
With the finest available tools and a highly trained team of specialists, Mary's brain tumor removal surgery was completed with precision and accuracy. In addition to detaching the tumor from the membrane, Dr. Harasaki removed the section of membrane the tumor grew on, as well as the diseased membrane growing around the tumor. Then, he patched the membrane using a sheet of material made of collagen.
Walking her dog again after surgery
When I woke from surgery, I had 39 staples from ear to ear, and my head was wrapped in towels. I looked like a mummy," Mary said. "Dr. Harasaki came to check on me all the time. He had me concentrate and see if I could move my leg and I did. I could not believe I could finally move that leg. Then I got my pencil and colored in an adult coloring book which is great because before the surgery I couldn't even find the lines."
Mary spent several days being closely observed and recovering in Genesis Hospital before returning home. With brain surgery to recuperate from, she wisely takes it one day at a time, and she delights in small, yet steady, progress. For example, she recently took her longest walk yet with Bandit, her beloved dachshund; she also resumed crocheting and baking.
"Mary has done very well in recovery," Dr. Harasaki reported. "Her weakness in the left side is gone, the wound has healed nicely, and she's gone back to living her life."
For Mary, returning to her home and life is a sacred gift. "I feel like I've been given a second chance. I thank God every day, Mary said. God put the right doctor in the right place at the right time. I love Dr. Harasaki because he saved my life. Plus, he has excellent doctor-to-patient camaraderie."
For Dr. Harasaki, treating patients like Mary is an honored gift. "Zanesville is such a hard-working community. To be a resource and to be able to help take care of the people is a privilege," Dr. Harasaki said.
In addition to cranial surgeries, Dr. Harasaki specializes in complex spinal problems. He treats degenerative issues, as well as spine trauma and spine deformities.