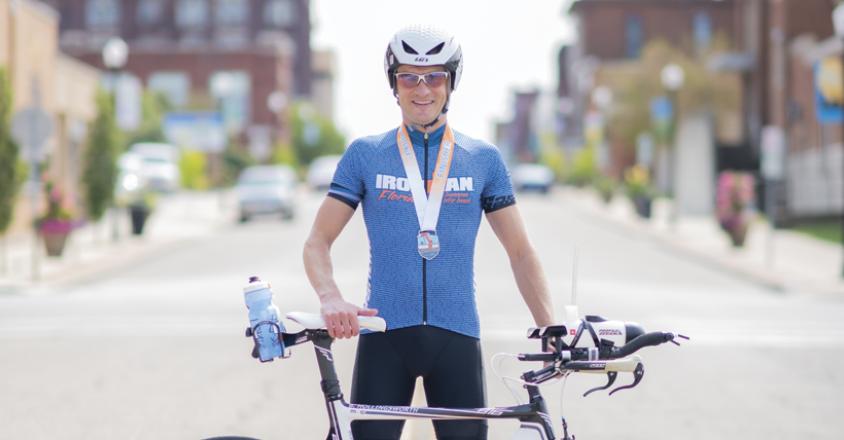 Taking It To The Limit
Tuesday, October 13, 2020

|
Heart Patient Competes
Brad Hollingsworth tests his limits and always has. The 41-year-old has accomplished amazing physical feats even though he has complete congenital heart block, diagnosed when he was about a year old. "Basically, it means the electrical impulses to stimulate the ventricles don't connect," Brad said. "It's like one end of the line is frayed, and the result is spotty reception."
Even with this heart condition, Brad has been able to compete in Ironman triathlon races with the help of his fellowship-trained electrophysiologist, Grant Chow, M.D., Genesis Heart & Vascular Institute. An electrophysiologist has additional years of training to specialize in the heart's electrical activity.
"Dr. Chow is part of my team that boosts my confidence to pursue my dreams of the Hawaii World Ironman championship," Brad said. He eagerly shares his health information to help others learn that what seems impossible – is possible. "I want to educate others that you can overcome obstacles – especially if you have physicians like Dr. Chow. Having his guidance gives me the confidence, and confidence is necessary to commit to the Ironman races and the training (8 to 15 hours a week for 6 to 12 months)." The Ironman races include 2.4 miles swimming, 112 miles biking and 26.2 miles running.
Although Brad's heart condition doesn't have symptoms and didn't require a pacemaker, it does require close monitoring. Brad lives every day with a resting heart rate around 38 beats per minute (bpm), while the average rate is 60 bpm. "This is an uncommon heart condition, only occurring about one in every 15,000 to 22,000 people," Dr. Chow said. "Brad's ability to compete, given his heart condition, is basically unheard of. Most people with his heart condition are bubble wrapped and told not to exercise."
Competing in Ironman races is such an anomaly for a patient like Brad that Dr. Chow is featuring his health numbers in a case report. Brad's biometric data was recorded during an Ironman race. "Nobody in the world, that I can find, has described and recorded this data on someone with a congenital complete heart block, who doesn't have a pacemaker. Our hope is that others with complete heart blocks are inspired by what Brad achieved." (As always, check with your physicians before beginning an exercise regimen.)
Brad completed the Florida 2019 Ironman race in 12 hours and 29 minutes. Over 200 participants didn't meet the 17-hour time limit to be an official finisher.
Brad appreciates having a physician guiding him to screen for heart palpitations, lightheadedness, shortness of breath, fainting or decreased physical ability. Brad recognizes the signs and knows when he needs to take a break. "Being able to have Dr. Chow's guidance has been very critical for me to go live and do these crazy things."
When asked why he pushes himself to do these 'crazy things', Brad responded, "I love the adventure. I love to push my limits. We're all capable of doing more than what we believe we can."