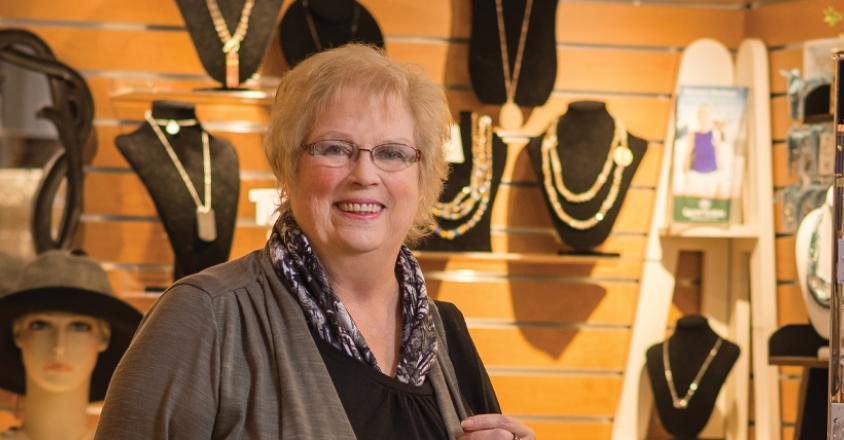 Patient Chooses Same Surgeon for Left Knee as Right Knee
Thursday, February 21, 2019

|
Rheumatoid Arthritis Knee Pain is Gone After Knee Replacement
It was a great holiday season for Laquita Triplett who played with her grandchildren and great-grandchildren, and left her walker far behind. "I've already been shopping a couple of times with my daughters in St. Clairsville, and I'm looking forward to getting outside more this summer," she said.
Just a few months ago, Laquita could barely walk. She had bone-on-bone pain and needed a total knee replacement. "I was in such bad shape before I got my knee done, I got out of the habit of doing things I enjoy," said the normally active 80-year-old woman.
Previously, Laquita was a patient of Corey Jackson, D.O., a Genesis orthopedic surgeon. At the time, Dr. Jackson practiced in Cambridge, Ohio, not too far from Batesville, Laquita's home. "I treated Laquita years ago with a right knee replacement, then I moved out of the area," Dr. Jackson said.
When bone-on-bone pain requires a knee replacement
Laquita began having problems in her other knee, along with rheumatoid arthritis. She wished Dr. Jackson was there to do her left knee, and then her wish came true. "I found out he was moving back to Zanesville, and I waited to get the surgery," she said. "I think Dr. Jackson's pretty special; he provides the best care."
Shortly after Dr. Jackson joined Genesis and returned home, he was reunited with Laquita. She could barely get in and out of a chair, had to climb stairs one at a time and depended on a walker for balance.
Dr. Jackson did Laquita's total knee replacement in October using Genesis' revolutionary KneeAlign technology. The state-of-the-art joint alignment tools provides orthopedic surgeons with real-time data and reproducible result. "Laquita's going up and down stairs now in a normal way," Dr. Jackson said. "There is nothing more satisfying than to see patients walk out of my office after undergoing surgery when they required a walker at the initial meeting," he said.
Making a full recovery after surgery
"It just turned out great," Laquita said. "Dr. Jackson is an extraordinary surgeon." She also had excellent care following surgery. "I couldn't have asked for a more wonderful group of people. You have no idea how great it is being able to walk again," she said. "Before, I couldn't go from point A to point B without my walker."
Laquita would encourage anyone experiencing knee pain, rheumatoid arthritis or any similar condition to contact the orthopedic specialists at Genesis.
Dr. Jackson agrees. "We can easily find out how much treatment would help," he said. "Often we can even restore some mobility function without surgery." Patients are no longer hospital-bound for days following orthopedic surgery. For Laquita it was an overnight stay.
Laquita progressed quickly following surgery, even climbing the long stairs to her house easily when she arrived home. "If people could see these stairs, they wouldn't have believed I could've done it," Laquita said. Time only increased her mobility. "By Thanksgiving, I had big improvements," she said. "I was pain-free."
Laquita welcomed a house full of 26 guests during the holidays. "To be able to walk around with no pain is just incredible," Laquita said. "It made my holidays much more joyful."
Knee replacements last longer with alignment technology
Dr. Jackson uses this innovative smart device about the size of a large cell phone, called KneeAlign, to improve accuracy in total and partial knee replacement surgeries. Using smart technology, similar to GPS navigation, the device precisely maps out each patient's alignment and anatomy. With the cutting-edge device, Dr. Jackson provides patients with customizable placement of their knee replacement components.
In comparison, traditional knee replacement surgeries use statistics and averages to determine where and at what angle to place the prosthetic knee components. With this technology, each patient's "new knee" sits perfectly horizontal to the rotation of the knee, based on each patient's unique anatomy.
Dr. Jackson is the only surgeon offering the KneeAlign technology in our region, which offers many benefits, including:
Increased accuracy
Decreased surgery time
Less blood loss
Less pain
Longer lasting knee replacements
If you are living with chronic knee pain, have been told that you need knee surgery or want to learn about this surgical technology, call (740) 586-6828.